Redshirt.
It's an ugly word amongst Irish fans, as Notre Dame doesn't officially redshirt anyone, but merely allows seniors to apply for a fifth year of eligibility and enroll in a graduate program.
But for the life blood of a competitive college football program, Notre Dame's inability to utilize a fifth-year of eligibility among its offensive line and defensive front seven may be the number one reason why the Irish have struggled in recent history, and a major factor as to why the 2010 Irish football team has gone 4-5 in the first nine games of the Brian Kelly era.
If there's one defining characteristic of the post-Lou Holtz era Notre Dame teams, it's been a puzzling lack of physicality. While recruiting rankings always kept the Irish in the upper-echelon of college football (except for a few Davie and Willingham squads), Notre Dame never seems to develop the impact players on their roster that many Top 25 programs rode to major bowl games. Under Charlie Weis specifically, the Irish enjoyed some high-level recruits, but never produced top-flight offensive or defensive linemen.
To crystallize this point, let's take a look at some of the best offensive line and front seven recruits that Notre Dame has brought to campus in the last seven years, who also turned into some of Notre Dame's highest draft picks. Victor Abiamiri, Trevor Laws, and Ryan Harris were three of the most highly touted recruits in the celebrated 2003 class. Both Abiamiri and Harris played immediately for the Irish, with Laws only staying off the field because he missed the year with an injury. Harris became only the third true freshman in Notre Dame history to start along the offensive line, playing as an extremely undersized left tackle, getting by on his athleticism, quickness, and smarts. Abiamiri flashed talent, but played wasted much of his first year, contributing only 16 tackles and one sack during his freshman year. All three left Notre Dame after four seasons, with only Laws retaining the option of returning for a fifth year.
Under Charlie Weis, the trend was even worse. Starting with the heralded class of 2006, Weis played just about every freshman with a chance to get on the field. Offensive linemen like Sam Young saw the field immediately, potentially stunting his development by being thrown immediately into the fire. Guys like Eric Olsen and Matt Carufel saw the field in only mop-up time, wasting a season of eligibility for Olsen with just 20 minutes of playing time and more egregiously, Carufel spent a year of eligibility in just three minutes. Dan Wenger and Bartley Webb didn't play, but mostly because they were hampered with injuries, while Chris Stewart was in the midst of a body transformation, having arrived on campus at nearly 400 pounds of poorly proportioned weight.
Weis' disregard for redshirts was hardly lost on just offensive linemen. Undersized and overwhelmed defensive end John Ryan saw the field as a true freshman, as did highly touted pass-rushing prospect Morrice Richardson, logging only eleven minutes of playing time, mostly on special teams. Tight ends Will Yeatman and Konrad Reuland both played reserve roles, spending a year of eligibility while combining for zero catches as they backed up John Carlson and Marcus Freeman. In the secondary, Weis played cornerbacks Raeshon McNeil and Darrin Walls immediately, as well as safeties Sergio Brown and Jashaad Gaines, with Brown and Gaines logging solely special teams play. On a veteran 2006 team that had national title aspirations, Weis wasted the eligibility of nearly a dozen freshman that could be contributing on the roster in 2010.
How important are fourth and fifth year seniors to a team's success? Let's take a look at the BCS Top 25 and see how well they utilize veterans along the offensive line and in the front-seven of the defense.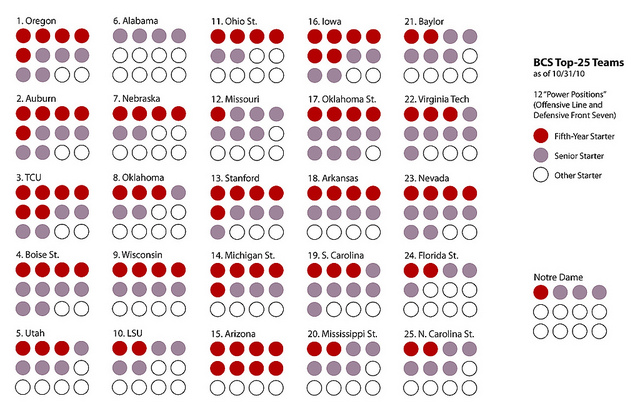 Of the 12 "power positions," look at how thin Notre Dame is compared to the rest of the top programs in college football. Only four players are fourth or fifth year players in the key positions along the line and in the front seven.
Digging even deeper, Notre Dame's best seasons since 2002 have come when the Irish had age-appropriate depth in their power positions.
2002 (10-3): Nine of Twelve players in power positions were fourth of fifth year seniors.
2005 (9-3): Seven of Twelve players in power positions. Junior quarterback starting.
2006 (10-3): Ten of Twelve players in power positions. True senior quarterback.
While the easy answer to Notre Dame's struggles is the early departure of Jimmy Clausen and Golden Tate, when you look deeper, the 2010 Irish are struggling not just because they lost two of their best offensive weapons, but because the Irish have failed systemically to build veteran depth over much of the last decade.
For the Irish to get back into the upper-echelon of college football, Brian Kelly will need to do something his predecessors showed no aptitude for: building a roster properly. The good news? Kelly already seems to understand that the best thing for young, talented players at non-skill positions — guys like Louis Nix, Christian Lombard, Kendall Moore and Justin Utupo — is the least logical thing for them to do.
Sit them on the bench and let them watch.
(Special thanks to the legendary FunkDoctorSpock and Brian Fremeau for their help in this column.)