It's Friday, so that means another Pregame Twelve Pack, this one a special Yankee Stadium edition. Here's twelve fun facts, tidbits, leftovers and miscellaneous musings as the Irish prepare to play Army at Yankee Stadium in primetime on NBC.
1. If a picture is worth a thousand words, the New York Times just spotted us eight thousand.
I'm a sucker for history, so if you are too, head over to the New York Times' website for a great photo gallery from the historic clashes between Notre Dame and Army in Yankee Stadium.
While we mentioned the 1946 Game of the Century earlier in the week, I'd be remiss if I didn't point out the wonderful column that ESPN's Ivan Maisel wrote about the Army vs. Notre Dame games of the 1930s and 40s. Maisel writes that the Army/Notre Dame rivalry had become so heated after the 1946 game that the Army had to call off the game to save the military's reputation.
Here's a snippet, describing why Army walked away from its biggest rival:
Notre Dame won 14 of those 22 games in Yankee Stadium. Army won five. Three finished in a tie. Through it all, the teams thrust and parried for supremacy on the field and among the fans. Army commanded national respect. After all, it was the United States Military Academy.

"West Point always has regarded its football team as representative of the service, the country, the people," wrote longtime Army coach Earl "Red" Blaik in "You Have To Pay The Price," his 1960 autobiography. "We were received that way wherever we played, with one exception: the Notre Dame game in Yankee Stadium."

Notre Dame had the urban working class, the Catholic sons and daughters of immigrants looking for a beachhead in a sport long dominated by Ivy League schools that excluded people whose name ended in a vowel…

The academy made an announcement late in the year that the 1947 game would be the last. Perhaps to soothe the separation, Army made its first trip to Notre Dame Stadium. The Irish won, 27-7.

"The game was generating a form of psychological hate detrimental to the best interests of the United States Army," Blaik wrote. "The Army could hardly tolerate a condition that bred such ill will for the service and the Military Academy."

Imagine the Red Sox announcing that they didn't want to play the Yankees anymore.

"The decision was wildly unpopular," Blaik said. "The animosity that descended on us was heavy and it lingered for at least three years. … I am as certain today, as I was then, that the break was a good thing. By coming when it did, it prevented a longer and more serious rift."
While many people are talking about the (potentially unsafe) transformation of Wrigley Field for Northwestern vs. Illinois this weekend, the 50th meeting of these two proud schools adds an element that not many rivalries can touch.
2. The primetime game will have the attention of some of Notre Dame's most prized recruits.
A primetime stage in one of sports most revered venues offers Brian Kelly and his coaching staff the opportunity to impress quite a few potential recruits. They'll do that on Saturday night with three top targets in attendance at Yankee Stadium.
No recruit draws the adoration of Irish fans quite like Brooklyn defensive end Ishaq Williams, a freakish athlete that has the size and speed to be a terror off the edge in Bob Diaco's 3-4 defense. While rumors have been flying of a potential commitment from Williams to the Irish, they've been refuted by those close to the star defender. Still, the Irish are in great shape, hanging in the race for the nation recruit far longer than many thought possible, and Williams will be there watching the Irish battle Army.
Also in attendance is Jersey City's Savon Huggins, who would be a great addition to the running back depth chart with the loss of Armando Allen and Robert Hughes. Brian Kelly came out and watched Huggins play while the Irish were in town to play Navy and Huggins is returning the favor this weekend in the Bronx.
IrishSportsDaily.com also reports that Miles Shuler will be at the game. Shuler isn't a name that Irish fans have talked a lot about recently, but he's got offers from Florida, Michigan, North Carolina, and Stanford, and has the Irish in his top seven schools. Irish defensive coordinator Bob Diaco recruits New Jersey, where Shuler is from, and I'm guessing Shuler could look really good out on an island in coverage or using his elite speed on the edge of the offense as well.
3. What's the difference between Army and Navy? Well, their schedules for one thing.
Only one win separates seven win Navy from six win Army. Both have a top ten rushing attack with Navy rushing for just over 300 yards a game and the Black Knights putting up 280 a game. But a closer look at the way Army got to their bowl eligibility shows were the two teams likely separate.
Jeff Sagarin, USA Today's statistical guru ranks Army's schedule as the 118th toughest in college football, virtually the bottom of the barrel. The most impressive win on the Army schedule came during week four when they beat Duke 35-21. The Knights hung with Hawaii, Temple, and Rutgers, but lost big to Air Force before recovering to route Sagarin's 121st ranked team, Kent State.
Take nothing away from Rich Ellerson's Army team, which is transitioning to the option attack and ahead of schedule on its way back to respectability, but Army hasn't beaten anyone yet. If Army can win their last two games against Notre Dame and then Navy, Ellerson's name should be up for every national coaching award (not to mention on a few big college's short list).
4. Notre Dame vs. Army, it all began on a baseball diamond.
While there isn't any dirt left on the diamond thanks to a miraculous transformation, the rivalry between the Irish and the Black Knights began on a baseball field back in 1913. I'll let Jim Lefebvre of Forever Irish take over.
It is ironic, yet fitting, that this great football spectacle was for so long contested in the crown jewel of the nation's baseball parks, Yankee Stadium. That's because it was baseball that first brought the two schools together. In January, 1913, Army agreed to host Notre Dame during ND's spring trip. On May 24 at West Point, Army defeated Notre Dame, 3-0, and a rivalry began.

Also that spring, the leaders of athletics at West Point were scrambling to fill an opening on their football schedule. Army sent numerous letters of inquiry to schools in the East and eventually the Midwest. It initially offered Notre Dame $600 to cover expenses for the trip, and after some haggling, upped the offer to $1,000.

That was barely enough to send 18 players and two coaches via railroad from South Bend to New York. It was said the team brought sandwiches made on the Notre Dame campus, and traveled with just 14 pairs of cleats.

At West Point on the afternoon of Nov. 1, 1913, the 3,000 spectators who had gathered to watch the parade of the Corps of Cadets and then filled the Cullum Field Hall bleachers, were looking forward to a match of power football. Notre Dame had romped through its first three opponent by a combined score of 169-7. Army was also undefeated.

Knute Rockne, the Irish end and captain, is limping late in the first quarter. But on the next play, he streaks downfield, and quarterback Gus Dorais lofts a long pass over the heads of the defenders. Rockne catches it in stride and races to the end zone. Before the afternoon was done, the Irish completed 14 of 17 passes for 243 yards – numbers unheard of at at the time. The final: Notre Dame 35, Army 13.

Witnesses marvel at the display. "I've always believed such playing possible under the new rules," said Bill Roper, the Princeton coach and the game's umpire. "But never have I seen the forward pass used to such perfection."
There's plenty of rich historical tidbits at Lefebvre's website, and it's worth reading more at Forever Irish.
5. The Irish running backs are all battling it out.
The Irish are still looking for their first 100-yard rusher of the season, but Jonas Gray is pushing for a chance to be the first one to get there, breaking out for 44 yards on just three carries after battling back from some injuries. Running backs coach Tim Hinton thinks that Gray will see more of the field this weekend.
"I'm sure he'll get more reps this week," Hinton said earlier this week. "We've wanted to get him in the game all year, but to be honest with you, he just wasn't back up to speed. Until he got back up to speed, we didn't want to put him in. It was nice to see him get an explosive run. He actually had two very good runs. Hopefully, we'll just continue to put him in the lineup and go."
Battling Gray is senior Robert Hughes who could be a gigantic matchup problem for the undersized Army defense as well the Irish's #1 running back, sophomore (or redshirt freshman) Cierre Wood, who head coach Brian Kelly has been pleased with as he continues to mature.
"He's getting so much better. Just his ability to go out there and compete every snap," Kelly said. "It requires a concentration level he's never had to have before. He's been sitting there watching or just taking some reps, now he's in there and got to be locked in, and that matures somebody."
Kelly's aware that the offense hasn't put up a 100 yard rusher yet, and if the Irish offensive line can build off the game they played last week, that could change on Saturday night.
"I'm pleased with our ability to pick and choose when we need to run the football," Kelly said. "We've got to do it on a more consistent basis."
6. With big opponents on the horizon, Notre Dame isn't the only team looking at a trap game.
With tomorrow night's game giving the Irish a chance to be bowl eligible, it's unlikely the Irish will overlook a more-than-able Army squad. But still, it's hard not to think ahead to next weekend's showdown with USC as a true check of how the Irish have developed under Kelly and his coaching staff in year one.
But surprisingly enough, Irish fans aren't the only people worried that their squad may be overlooking this weekend's opponent to begin prepping for their next opponent. Army coach Rich Ellerson was asked whether the Black Knights are potentially looking past the Irish to get prepped for arch-rival Navy.
"No. The guys will be excited to play," Ellerson said about the Irish. "We'll have all kinds of challenges on Saturday and that won't be one of them. I think having that sixth win on the shelf and in place, we're done patting ourselves on the back. That's nice to have, we've turned a corner but we're not looking back at the corner we just turned. We're looking ahead at the next opportunity, the next challenge. Our guys won't have a hard time with that. They're looking forward to it."
I never thought this could be a storyline, but perhaps the Irish will catch Army sleeping on Saturday night.
7. A closer look at bowl game match-ups stresses the importance of winning out.
It's kind of an obvious point, but winning games is awfully important for the Irish as they push toward the postseason. Winning one game is mandatory, but it doesn't necessarily open up all that many opportunities for the Irish.
Double-dipping at both the
Bleacher Report
and his blog
We Never Graduate
, Matt Mattare took a look at the five most intriguing bowl matchups for Notre Dame this postseason, with one option not so red hot for the Irish:
5. Notre Dame vs. Utah in the Maaco Las Vegas Bowl — Dec. 22, Las Vegas, NV
4. Notre Dame vs. MAC Champ in Little Caesar's Bowl — Dec. 26, Detroit, MI
3. Notre Dame vs. Nevada in Kraft Fight Hunger Bowl — Jan 9, San Francisco, CA
2. Notre Dame vs. Boise State/TCU (Kraft/Vegas)
1. Notre Dame vs. ACC No. 2 in Champs Sports Bowl — Dec. 28, Orlando, FL
Matt did a good job of breaking down the likelihood of these match-ups, so if you're one of those football fans that love guessing what bowl game your favorite team might end up in instead of waiting a few weeks, this article will be right up your alley.
8. Robby Toma: From forgotten man to starting wide receiver.
It's quite amazing to consider that a wide receiver largely considered a throw-in to the Manti Te'o scholarship offer is now starting at Z wide receiver, one of the most important positions in Brian Kelly's offense. But Robby Toma is hardly your average wide receiver.
Thanks to some injuries and the transfer of Shaq Evans, Toma finds himself in the starting lineup at Yankee Stadium on Saturday night, with TJ Jones still not 100 percent after getting banged up in practice last week.
"TJ practiced again today, but he's not going with the first unit," Kelly said. "Robby is still going with the first unit and my expectations are that's how it would end up on Saturday, that Robby would continue to start at the Z and TJ would back him up."
I think if you took a poll among diehard Irish fans and asked them who leads Notre Dame in yards per catch, not many would pick the 5-foot-9 (and that's a gift) Hawaiian that weighs 175-pounds. But there's Toma and his 13.6 yard average sitting atop the stat-sheet for the Irish. Prediction: Toma scores his first touchdown for the Irish tomorrow.
9. How the Irish handle the option will determine if whether or not Notre Dame wins the game.
With Army's ability to run the football and Kelly admitting that Notre Dame isn't able to win a football game with their offense, possessions are going to be at a premium and stops by the defense will be extremely important. The only way the Irish can get a stop is to get a grasp on the triple-option, something they couldn't do against Navy.
The coaching staff was incredibly quiet on the strategy they'd take to stop the option, but if you listened carefully, Kelly gave the closest thing to intel away with a quick comment:
"They have to defend the arc and they've got to be able to play QB-to-pitch for most points, unless you move the point and change things up, which obviously we're going to do a lot of," Kelly said of his edge defenders. "When you really break it down, it's their ability to defend. Take on a block, shed it and ether get to dive, QB or pitch."
For those of you reading closely, I think this means we won't see Manti Te'o chasing the quarterback down the line like you saw against Navy. Diaco's gameplan against the Midshipmen seemed intent on protecting the outside linebackers, a strategy that obviously backfired.
I'm on the record for how I think the Irish will play the option, but if Kelly just gave us a hint, expect to hear from guys like Brian Smith, Kerry Neal, Darius Fleming, Prince Shembo and possibly Steve Filer.
10. The Class of 2007… What could've been.
The guys at
One Foot Down
examined the 2007 recruiting class, a group headlined by Jimmy Clausen that was supposed to be one of the best in the country. Instead, the 2007 class is looking at an ugly distinction, going down as one of the losing-est in Irish football history.
Let's take a bullet-point look at the class and see how they ended up.
Armando Allen — Multi-year starter. Injuries hampered his ceiling.
Jimmy Clausen — Left after three years. Would've walked out ND's leading passer.
Taylor Dever — Starting tackle, has another year of eligibility remaining.
Gary Gray — Playing his best football. Sat out season for personal reasons, returning for 5th year.
Robert Hughes — Bruising back not a great fit in Kelly offense.
Duval Kamara — Started strong, before losing time to Floyd and Tate.
Kerry Neal — System changes hurt development. Average season as starting OLB.
Aaron Nagel — Transferred to Northwestern. Now a fullback.
Andrew Nuss — Playing behind Chris Stewart at guard.
Emeka Nwankwo — Forgotten man finding time in a thin DE rotation.
Steve Paskorz — Linebacker turned fullback and back again is injured and likely done at ND.
Mike Ragone — Between injuries and self-inflicted mistakes, Ragone hasn't hit potential.
Matt Romine — Highly touted tackle that didn't live up to hype.
Brian Smith — A roller coaster career could go out on a high.
Harrison Smith — Jerked between OLB and FS, finally developing at proper position.
Golden Tate — Left early after winning Biletnikoff. One of best players in college football.
Brandon Walker — Kicker who battled injuries and couldn't get off bench.
Ian Williams — Played for four season on the interior of the defense.
OFD answers the question "What went wrong with this class?" His take:
1) Terrible depth provided by Ty. 2) Terrible development by CW. 3) No veteran leadership.
All in all, good insight. This class would look much different if Weis used redshirts better and a Golden and Jimmy decided to stay.
11) Notre Dame and Army competed for the same recruit. (Kinda…)
You wouldn't think that Army coach Rich Ellerson and Brian Kelly see each other too often on the recruiting trail. But Ellerson tells the story of a battle between the Black Knights and the Irish were Army came out on top for a player.
"We have a guy in this class, that's a freshman right now, who we think is going to be a really good player, it was us and Notre Dame," Ellerson said earlier this week. "The deal was, could he walk-on at Notre Dame? If he could walk-on at Notre Dame, he was going to Notre Dame, but they didn't have a spot for him in the 105 and we got him, and we think he's going to be wonderful. That's still the pecking order in the recruiting world."
Ellerson has had his fair share of run-ins with the Irish recruiting, and they certainly all didn't end this way.
"Once upon a time when we were at Arizona, we had a great year in the early '90s and we had gone to the Fiesta Bowl and we were a top-five team," Ellerson said. "We said this was a breakthrough for us, now we can recruit with those guys. There were nine guys that year that we were recruiting that Notre Dame was recruiting – all nine of them went to Notre Dame, nothing had changed. That is the gold standard, that's brand name, Notre Dame is brand name."
People will mistakenly interpret this as meaning Notre Dame's walk-ons should be able to beat Army, but that's just not the way college football is anymore. Still, it gives you an idea of the type of player that Ellerson and the other service academy coaches look for when they're out on the recruiting trail.
12. For all those Irish fans that are yearning for a jumbotron, enjoy the evening.
While I'll forever push to remove the natural grass in Notre Dame Stadium and put in field-turf, I'm still anti-Jumbotron. But tomorrow evening at Yankee Stadium, Irish fans will be treated to instant replay, moving images, and the ability to play a semi-home game with a working video board.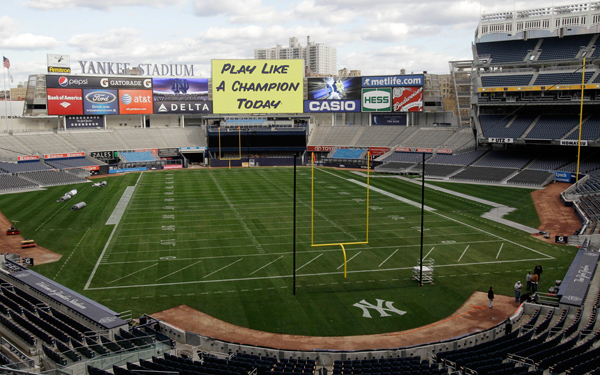 The Jumbotron won't be the only thing that makes this Saturday a little different from the rest. While Notre Dame has plenty of hallowed monuments around campus, Yankee Stadium's Monument Park will be open from 4:00 p.m. until 7:15 p.m. Saturday night, from the opening of the stadium until kickoff for those that want to take in a piece of Yankee history while watching some football.
It's an incredible weekend that gets started with plenty of pageantry in the Big Apple, before the focus turns to football. While the same was true last week, there's no game more important for the Irish than the one in front of them. What Notre Dame team shows up? We'll have to find out Saturday night at 7 p.m.