With spring practice starting in less than two weeks, any lag in Irish football news will soon be eliminated. (Until then, you can keep up with the Fighting Mike Brey's, who are doing their best to wake up their own echoes.)
Until then, let's take a look at a few interesting notes from the past week.
***
Pete Thamel of the New York Times got thirty seconds with Brian Kelly, and to Thamel's credit, he crammed plenty of omfp into that half-minute, including a nice tidbit on the quarterback situation coming into spring with Dayne Crist and Tommy Rees — is it a controversy or competition?
"Competition," Kelly said. "Last year at this time, Dayne Crist was appointed or anointed, whatever word you want to use, the heir apparent to Jimmy Clausen. It's way too much pressure for any kid who had no experience to have on his shoulders. And then he was backed up by no one with any experience. We come into this year with two guys who've won football games and a quarterback who fits the system that we recruited. We don't have Dayne Crist feeling like he has to carry the load of the entire Irish nation on his shoulders. It's a totally different feeling when you come in and have those dynamics working for you, compared to what it was last year."
Thamel also asked Kelly what it meant to have Michael Floyd, his six-star recruit, come back for his senior season.
"Part of building a program is the trust you need from your players and in recruiting. When you see a Michael Floyd, who was not recruited by me or this staff, nor was he a guy who had to come back to college, it does a lot toward giving trust to your program. Its like: "Hey, they're doing the right things here. I'm sticking around." That is why he got the sixth star from me. That meant here's a guy who wants to stick around because he believes in what's going on."
Thamel also got a quote out of BK for his 7-on-7 story, a scary trend that's moving quickly across the college football scene thanks to partners like Nike, Under Armor and ESPNU.
***
Recent Irish pledge Taylor Decker visited Notre Dame on Wednesday, less than a week after making his commitment. Needless to say, he's staying committed.
"That visit definitely reinforced that it was the right decision 100 percent," Decker to IrishSportsDaily.com. "I love it, I loved being there the whole day."
Decker spent the day with his recruiter Tim Hinton and offensive line coach Ed Warinner, in between touring classrooms, the Basilica, and the Gug, where he met with strength coach Paul Longo, who no doubt is ready to get his hands on the 6-foot-8, 270-pound lineman.
***
While Jim Tressel has been stealing most of the headlines in college football this week, an interesting story came out of Stanford in the past week, where it appears that some athletes were getting preferential treatment picking classes.
From CaliforniaWatch.org, a "nonpartisan center for investigative reporting:"
A drama class in "Beginning Improvising" and another in "Social Dances of North America III" were among dozens of classes on a closely guarded quarterly list distributed only to Stanford athletes to help them choose courses.

Stanford officials said the list was designed to accommodate athletes' demanding schedules and disputed that the list was made up of easy classes. Officials discontinued the list last week after student reporters working for California Watch began asking about it.

The list, which has existed at least since 2001, was widely regarded by athletes as an easy class list. More than a quarter of the courses on the list did not fulfill university general education requirements.

"It's definitely not going to be a hard class if it's coming off that list," said Karissa Cook, a sophomore women's volleyball player who consulted the list to pick classes in her first quarter at Stanford.

The classes on the list were "always chock-full of athletes and very easy A's," added Kira Maker, a women's soccer player who used the list her freshman year.

Titled "courses of interest," the list was distributed by the Athletic Academic Resource Center. Advisers in other departments at the university said they were unaware such a list existed.
Stanford claims that any student could get their hands on this report, but it was only made available in hard copy in the office of Athletic Academic Resource Center.
This is hardly the type of news that moves the needle, but it's interesting considering the noise Jim Harbaugh made when he called out his alma mater Michigan for doing similar things.
***
Finally, Irish wide receiver Michael Floyd had some fun with the situation at Ohio State this week on Twitter.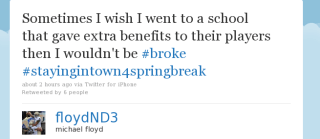 Ohio State was one of Floyd's finalist when he chose Notre Dame out of Cretin-Derham Hall in St. Paul.