After much discussion and debate, Notre Dame and Michigan have unveiled their throwback uniforms for the September 10 meeting between the Irish and Wolverines. Deemed "Under the Lights at the Big House" (Bravo Michigan marketing department), both teams strutted their retro look with official releases yesterday.
The Irish are going psuedo old school, with the most pronounced change to the uniform two Kelly green shamrocks adorning the sides of the helmet, the first time Notre Dame has done that since the early 1960s. The white jersey has two Kelly green stripes on each shoulder to match the large number on both the chest and back.
"We are happy to partner with adidas to help commemorate the first night game at Michigan Stadium with new uniforms," said Notre Dame head football coach Brian Kelly. "It seems fitting that the two schools with the two best winning percentages in college football play in this historic game. I know our players are looking forward to the contest and both teams' new uniforms will only add to the excitement in the Big House on September 10."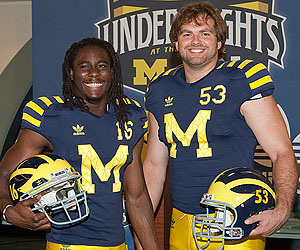 As you can see from the Wolverines' photo, Michigan is rolling with a block 'M' on their chest, some stripes on their shoulders, and numbers on their helmet while wearing their traditional blue home jersey, paying homage to the different generations of Michigan football.
"The compilation of elements from different eras of Michigan football makes this a unique and special uniform," Michigan AD Dave Brandon said. "Our players have seen other schools and professional teams wear throwback uniforms and will now have an opportunity to showcase our tradition in a melding of styles. This will  be a special event for our football program, the University  of Michigan, Ann Arbor and all of our fans."
The response on the web is pretty much what you'd expect from two ultra-conservative programs that are incredibly proud of their respective histories. But for every old grouch claiming their school's sold their soul to adidas, there are more than a few people almost begrudgingly acknowledging that the uniforms look pretty cool. I think the uniforms are a fun change, with the Irish leading in the clubhouse with an almost old school 1970s adidas look.
(It probably helps that ND has the Terminator version of Everett Golson modeling the Irish uniforming as he smolders in spotlights and shadows while the Wolverines chose some quarterback (that may or may not haunt Bob Diaco's dreams) and a guy built like a pizza delivery driver to model theirs.)
We are officially three months out from Under the Lights at the Big House. Official throwback merchandise goes on sale August 1.