This is the final installment of "Counting down the Irish," our annual ranking of the Top 25 players on Notre Dame's roster. Click here for our ratings of players 25-21,  20-16, 15-11, 10-6,  5-1, and analysis. 
With Brian Kelly set to address the media on Friday to officially kick off the season, we are finally through the offseason abyss and ready to actually talk about — well, football.
Gone is the speculation on how the Irish plan to deal with their four-headed quarterback race. Gone are the cryptic messageboard postings by those who have heard this player looks good in summer workouts. For the first time in nearly five years, the Irish walk into camp with legitimate momentum on their side, and a potential spot in the conversation for a dark-horse BCS contender.
To finish off our Counting Down the Irish series, let's take a look at each panelists individual lists (Click the graphic for a better view):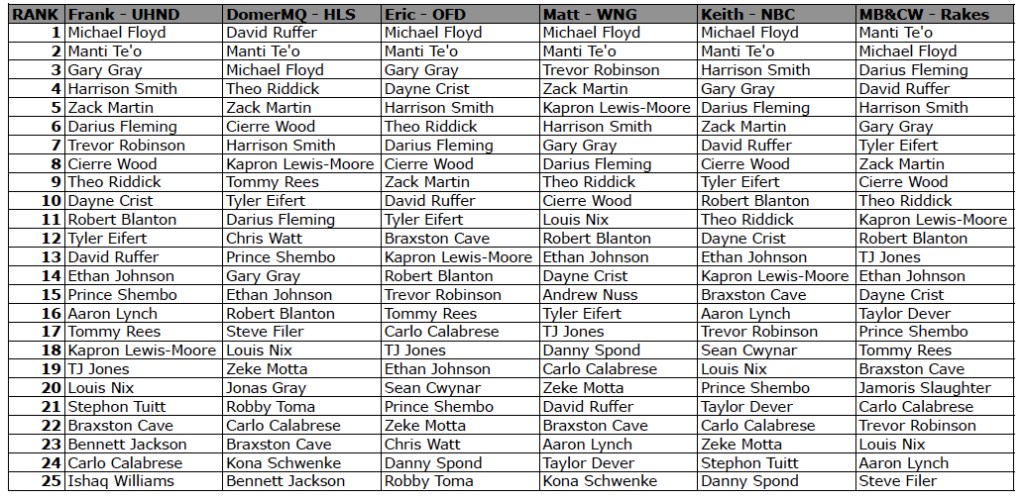 * Both Frank and I see Aaron Lynch having a really nice debut season, but I really like the fact that Frank also fit Stephon Tuitt and Ishaq Williams into his rankings. I fully expect Tuitt to make a difference this season and there's every reason to think that these three freshman are among the 25 most skilled football players on the roster. That said, I still think Williams might need some time to develop, and if he's not ready to see the field as a situational pass rusher it'd be a huge advantage to let him sit and save a year of eligibility. It'll allow Williams to keep learning and also let Steve Filer back up Darius Fleming as a pass rush specialist.
* DomerMQ has taken enough flack for his list, but still — it's certainly not shy of controversial rankings. Keeping Dayne Crist out of his top 25 seemed to get plenty of notice, but putting David Ruffer above Manti Te'o and Michael Floyd still has me scratching my head. Sure, Ruffer was the only returning player to be a finalist for a postseason award. But Brian Fremeau of Football Outsiders points out via twitter that as good as Ruffer was, the best kicker in the country only adds around 15 to 17 points to the scoreboard versus an average kicker. The best player on the Notre Dame roster — whether its Floyd or Te'o — adds more value over replacement than that. Good to see MQ being optimistic on a player, exercising the annual right of autumn that most recent Irish fans have taken a liking to — predicting big things out of Steve Filer, a linebacker with a dazzling skillset but not much to show for it.
* Eric joined me on the Sean Cwynar train. Even though multiple offseason surgeries worry me, I fully expect Cwynar to be a disruptive presence on the inside. Cwynar will likely be to the key to the Irish shifting between three and four man fronts, allowing the Irish to get a guy like Aaron Lynch on the field on passing downs. Eric also had Gary Gray higher than anybody else had, though Gray was in everybody but MQ's top six — with MQ putting Gray behind guys like Chris Watt and Prince Shembo. If you're looking for a guy that think's Dayne Crist is ready to breakout, start pointing at Eric. If Crist plays up to his No. 4 ranking, book your tickets to a BCS bowl now.
* Matt is buying what Brian Kelly is selling when it comes to Danny Spond. Even though the freshman didn't make an impact on the stat sheet last season, there's plenty to like about Spond, who likely will see time with Prince Shembo playing opposite Darius Fleming. Matt's also high on Andrew Nuss, ranking the fifth-year senior at No. 15 when nobody else had him on their list. Matt's also waving the Louis Nix flag, and the mammoth sophomore will see his first real downs of football, and his ability will likely be dictated by the shape Lou reports to camp in. All reports are good, but until Irish fans see a promising recruit actually pan out on the field, they're best not getting their hopes up.
* MB & CW had Manti Te'o ranked higher than Michael Floyd, making them the only judge that had Te'o-Floyd 1-2. (Of course, DMQ had Te'o-Floyd 2-3.) Team Rakes was the one group that also didn't forget about Jamoris Slaughter, a guy many depended on last year to be the best safety in the secondary. Slaughter's season was essentially ruined against Purdue when an ankle injury hobbled him for the rest of the year. In addition to their extraordinary haiku skills, they are also buying Taylor Dever, ranking him second among starting linemen.
***
With football kicking off for real tomorrow, here's a special thanks to our panelists for getting everybody worked up a week early. Check out everybody's websites as the season rolls on.
[Apologies for the formatting mess… WordPress 1, Keith 0.]