If rivalries were measured by the excellence of snarky t-shirts generated by students and fans, the Notre Dame-Boston College match-up would be up there with the best rivalries in all of college football.
When the Eagles come to town, a fanbase with an awful lot of similarities joins them, and the result is the kind of spirited rivalry that adds quite a bit of flavor to a game that doesn't look so good on paper.
But here to try to make something of this weekend's game is the pint-sized provocateur of Her Loyal Sons, Steve Giordano, better known to the internet as Poot. While he's starting a feud that I plan on winning (you'll see in the cheap-shot bonus question), he's also laid out some questions that deserve answering.
Here goes:
Having actually seen the uniforms in the wild on Saturday night, what are your final thoughts regarding them? Does Ronald Darby stating that he liked them change your views on trying out the different uniforms for the "Shamrock Series"?
Wait — are you telling me an 17 or 18-year-old kid actually liked the new uniforms? I'm shocked! Shocked! Between the cool story with the Adidas promotion and beating this story like a dead horse, I'm so over the uniforms right now it's unbelievable. Do I think the Irish will wear helmets that ridiculous again? Probably not. Do I think it's a big deal? Not at all.
I'm all for taking one game a year and trying something fresh. As I've said a couple times, the Irish didn't exactly help themselves by essentially stretching out three different uniform changes throughout the season, but Michigan had their say in one of them, an inability to finish the new helmet color in time for the start of the season is another, and then gaudy taste for the Shamrock Series is a third.
If they rotate uniforms like this next year, then the grumbling can continue. Until then, everybody relax and just enjoy the last two regular season games of the year.
Manti is clearly hobbled right now. Re-watching the game on Sunday, I barely noticed him on the field and I rarely remember Mayock or Hammonds calling his name. I believe Kelly stated in his Sunday teleconference that Manti was did not play most of the 3rd or 4th quarters. If you are BK, do you sit Manti on Saturday?
With an ankle injury like this, it's just the nature of the beast. If you get unlucky and tweak it, you're going to hobble around for a few minutes. If you stay clean, it'll continue to get better. Do I think the Irish need a Manti Te'o on the field to beat Boston College? No. But do I think they should keep him off the field in what could be his last game in Notre Dame Stadium? Much louder no.
If the Irish start fast like they did last week, you won't see a ton of Te'o. But if he's as healthy as the coaching staff and Te'o want you to believe, there's no reason to baby him, and getting him in the flow of the game before going to Palo Alto is probably just as important as protecting him.
We've seen Tommy Rees play deep into blowouts against Navy, Air Force and Maryland with Hendrix only getting a significant number of snaps in the Air Force game. Rees is only a sophomore but it seems most Irish fans take it as a foregone conclusion that Golson or Hendrix will pass Tommy going into the 2012 season. So do you agree with the use, or lack thereof, of Hendrix so far this season? Do you accept the thought that this is Rees' last year as starter?
I do not accept the idea that Rees won't be the starter next season. I do not accept that at all. I've kicked enough hornet nests on here with my "support" of Tommy Rees, but I just don't think people understand how difficult it is to play competent quarterback in college football. (Look at what's going on down in Florida.)
Has Rees played deeper into those wins that I thought he should have? Yes. But I'd have put Dayne Crist on the field in relief before putting in Hendrix, as it's going to be Crist that'll help the Irish beat Stanford, not Hendrix, regardless of how talented people believe he is.
Like it or not, Tommy Rees is the starting quarterback going into the offseason. While it seems like a long shot that Crist will return, I think it's equally unlikely that either Hendrix or Everett Golson will unseat Rees as the starting quarterback, especially with another full offseason in Kelly's system. Would an extra series here or there help Hendrix? Sure, but it's not going to be anything compared to the snaps he'll get this spring and throughout the summer.
Is Tommy a perfect quarterback? No. Can we expect a third-year jump in production like other Irish quarterbacks that have significant starting experience? Honestly, I think so. I'd love to find a way for Rees, Golson and Hendrix to all find a way to help the Irish out next year, but more importantly — I think Rees can put up some really big numbers next year, especially if someone steps up and takes the spot of Michael Floyd. How that happens is up to Brian Kelly and Charley Molnar.
Tommy Rees needs 608 yards for 3000 passing yards on the season. Cierre Wood is 93 yards short while Jonas Gray is 270 yards short of 1000 rushing yards. Michael Floyd is 78 yards shy of 1000 receiving yards for the season. Despite SubwayDomer's insistence that bowl stats count, predict final numbers for all 4 players before the bowl. Do they all hit the milestones?
I'm with Subway Domer — I don't get how bowl game stats count now, but aren't retroactively included for players before the rule was adopted. You realize how ridiculous that is? It's not enough that they added another game on to the regular season. It's not enough that they allow conference championship games now, too. We've got to count the seventy teams that get to play in the watered down bowl system too, potentially adding three games onto the end of a season compared to what people played 20 years ago?
(That's like counting baseball's entire postseason stats in the home run race. Colossally silly. )
But rant over, back to the predictions. Frankly, I think everything you've mentioned is going to happen. Rees will get to 608 yards, and if things go according to plan, it'll happen in the second half in Palo Alto. Cierre will break 1,000 in the third quarter on Saturday, on his way to a bowl-aided 1,200 yard season. And Jonas Gray will get to the magic four-digit number, whether or not that's in a bowl game or not I haven't quite decided. One bonus that young Poot didn't mention: Michael Floyd will end up breaking Golden Tate's single-season record for catches as well.
Notre Dame opens up as a 24.5 favorite for Saturday's game and this is clearly the worst Boston College team in recent memory. That said, BC absolutely loves to play spoiler when it comes to Notre Dame and this game will be the last chance for something good to happen this season. Given those two thoughts, does the margin of victory matter to you on Saturday?
I think the margin of victory absolutely matters, but not because it's Boston College. The Irish need to keep back-dooring their way up the rankings, and they can do that with another impressive victory, and more teams getting exposed by back-loaded conference schedules.
Already tonight, Southern Miss (ranked 20th) just fell to a 2-8 UAB. Baylor is going to lose to Oklahoma. Florida State has to play Virginia. Michigan and Nebraska battle each other, and Kansas State and Texas match-up in an interesting, albeit fraudulent battle between overrated teams. That's a handful of teams that'll likely slide below the Irish, and then it's up to ND to beat Stanford.
Margin of victory won't matter if Notre Dame doesn't beat Stanford. But a beatdown victory will feel good for those Irish fans that still are cleaning the grass-stains off their jeans that came along with the decade long victory drought against the Eagles.
Bonus Question:
On a scale of 1-10, how much does Keith Arnold look like Jay Cutler?
I'm not even going to dignify this with an answer. Do I look like this guy?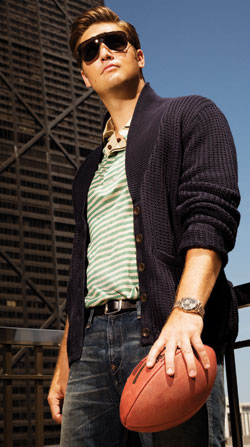 No. No, I don't.
While I'd enjoy the freedom of a five-year, $50 million dollar contract, I wouldn't be caught dead dressing this. When he's not moping on the football field or getting engaged, calling it off, then showing up on TV to support his reality-show girlfriend, Cutler plays for one of my least favorite football teams and is one of my least favorite quarterbacks of the last 10 years.
Thanks Poot. I look forward to the bonus question where I ask people if you look like this guy.