As much as I enjoy reading the 200 odd comments (I'm trying to get figured out the technical bugs) about the arrests of Tommy Rees and Carlo Calabrese, let's do our best to get some football discussed on here. First — Let's put a pin in the Rees discussion (for now), as nothing more — from a material perspective at least — will break until Rees' court appearance, scheduled for mid-May.
Rees' arrest makes things even more interesting going into the summer. With four quarterbacks tasked with taking charge during summer workouts to get a firm grasp on the starting job, having one guy potentially facing school suspensions and serious legal issues seems like it could be a mighty distraction. That said, for all the bluster that's come and gone since late Wednesday night, here are my thoughts on what's most likely going to happen.
Most people continue to compare this to the Michael Floyd DUI situation. As I said before, take the test case of Mike Ragone instead. Ragone's arrest had many people up in arms after he was stopped on the Indiana Toll Road with marijuana, but the school didn't impose the draconian punishment that it did on Kyle McAlarney. Instead, Ragone received an undisclosed punishment (most likely meted out during summer school), and was with the team from day one of fall camp.
Floyd also had in his favor timing. Getting arrested right before spring ball gave Kelly and the coaching staff the ability to discipline him during the 15-practice spring session. Many made a big deal of Floyd being allowed to work out during voluntary workouts over the summer, but in reality, that voluntary nature likely makes it difficult for the coaching staff to regulate who does and doesn't work out with the team. I don't expect Rees to face any limitations during summer workouts, especially after his court date in a few weeks.
From a football perspective, there's no way that this incident can help Rees win the starting job. Any altercation with police shows bad decision-making in action, and after a season where Tommy made too many on the field, a big one off the field doesn't help either. Whether it's an All-American wide receiver or a reserve tight end, Brian Kelly has been consistent with his punishment of players. So while we can all hypothesize about a one or two game suspension for Rees, history has shown we're far more likely to see him in uniform against Navy than not.
***
One of Notre Dame's top linebacking targets has reopened his commitment after pledging to Ohio State. Alex Anzalone, A Wyomissing, Pennsylvania linebacker with offers from just about every powerhouse program in the country, took back the commitment he made to Urban Meyer during the Buckeyes' spring game and reopened his recruitment. The Irish had been on Anzalone's short-list before the commitment and are hoping to get back in on the talented linebacker, a position of need in the 2013 recruiting class.
Anzalone was initially evasive with his reasons for walking away from his commitment, but in an interview with the Reading Eagle, his father, Dr. Sal Anzalone, was more than candid.
"There's a disconnect between what Alex thought was there and what is actually there," Dr. Anzalone told the Eagle. "Something's just not right at Ohio State. It's not for him."
The younger Anzalone, pictured here with Buckeyes head coach Urban Meyer  after making his commitment (getting the Charlie Weis championship ring treatment), fell immediately for the Ohio State experience. But many are speculating that what happened on that recruiting trip also led to his decision to eliminate the Buckeyes nine months before signing day.
Most point the finger at "super-fan" Eric Waugh, who had built up quite a following on Twitter sending motivational tweets and messages to Buckeye players and recruits. That, in and of itself, tiptoes the line of acceptability. Adding an even creepier element to all of this is Waugh's past. The Lantern, the Ohio State school newspaper, first reported that Waugh is a registered sex offender, and the school's compliance department warned student-athletes of Waugh, after multiple photos of Waugh with Buckeye players and recruits had been posted on Waugh's twitter page.
One photo featured Anzalone with Irish commitment Mike Heuerman, and blue-chip defensive end Joey Bosa, taken over the Scarlett and Gray game weekend.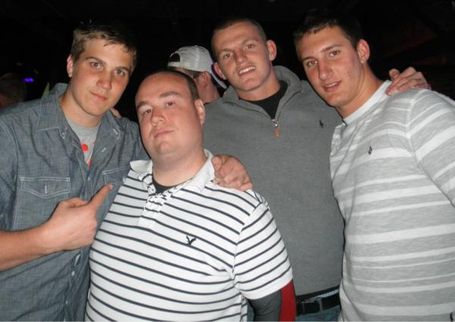 ***
That seemed to be all that the Anzalone family needed to turn the bus around and back out from the Buckeye commitment. Per an ESPN Recruiting Nation story, Anzalone was already on shaky ground with his decision, and that experience solidified it.
That was enough to spook Anzalone, who already had experienced some regret about his early college decision, his father said.

"You would think that these kinds of people would be kept at a distance away from recruits," Sal Anzalone said. "The fact that he got close to recruits was the issue. Keep people like this away from them. I can't be everywhere."

Sal Anzalone urged his son to decommit after word began to spread about Waugh.

"Separate yourself," Sal Anzalone said, "because you don't want the NCAA thinking that you're being influenced by this joke."
Taking the sex-offender angle out of this, communicating with student-athletes and perspective student-athletes via the internet is never a good idea. I've said it multiple times before, but it's an eligibility and NCAA rules-laden minefield, and also a slippery slope that far too often causes more harm than good.
(Irish fans taking shots at Tee Shepard and Aaron Lynch via Twitter and Facebook take note.)
***
Back to the football field, Irish commitment Malik Zaire competed for a spot in the Elite 11, held this year just a few miles from the Inside the Irish HQ in Redondo Beach, California. Zaire was working out in Columbus, where a collection of the Midwest's best quarterbacks competed for a coveted invite to the finals in California.
Multiple reports have Zaire holding his own, among the three most talented players at the camp along with Ohio State commit Jalin Marshall and Michigan commitment Shane Morris. It was Morris that locked down an invitation to the South Bay yesterday, with Zaire among the final choices. He'll compete again today.  (Don't feel bad Irish fans, Morris is at his second camp location, after failing to get an invite earlier in the offseason.)
"I think I came out and I did a pretty good job," Zaire told Irish Illustrated. "I saw a lot of things I need to work on but at the same time I competed well with Shane and the other guys. I have a little bitter taste in my mouth, but I'll definitely be back out tomorrow and try to win that spot."
Without the ability to show-off the running skills that made him one of the best dual-threat prospects in the 2013 recruiting class, Zaire had to earn his keep with his throwing arm and fundamentals, things that he seemed to do just fine.
"I've never met him, didn't even know who he was until today," wide receiver prospect Jack Wangler told ESPN.com about Zaire. "But I liked the way he threw the ball. I didn't even know him and I felt like I could've played with him all day. I think every receiver felt that way."
We'll be tracking down Yogi Roth, who has worked as both a QB coach at the college level and hosts the Elite 11 television coverage for ESPN, to get more on Zaire. But early reports are in that the Irish's QB recruit seems to be every bit the player Notre Dame fans hoped for.
***
To end this story on a far different note, Coldplay was at the Hollywood Bowl last night, and paid tribute to Adam Yauch, better known as MCA of the Beastie Boys. Thought this was a pretty cool rendition of a classic.
[youtube http://www.youtube.com/watch?v=LVr4UP9ntLs&w=560&h=315%5D