It's time for the first installment of this year's Top 25. As we count by five from the top of the list to the bottom, we'll get our first peek at some of the young talent that's going to be tasked with carrying the Irish forward this season.
Of the five players we're covering today, only one seems to be a lock in the Irish's opening day lineup. And his route there is perhaps the most unlikely of any on the roster. From a recruiting profile perspective, none of the five were seen as "elite" recruits, after last year's 25-21 were all blue-chippers with sky-high expectations.
Let's start the festivities by rolling out our 2014 rankings.
2014 IRISH TOP 25 RANKINGS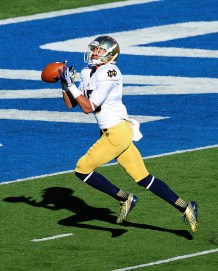 25. Will Fuller (WR, Soph.): After serving as Notre Dame's designated deep threat in 2013, Fuller should see some diversity in his offensive role this season, a big reason why I think he's primed to be one of the team's breakout stars in 2014.
Fuller has perhaps the best top-end speed on the roster, as his 26.7 yards per catch average made evident. But he's also got a great set of hands, is a better than you'd expect route runner, and is capable of playing in the TJ Jones mold, a versatile receiver who can do a lot more than we've seen.
While the depth chart at receiver is deep, Fuller is the type of player that can move inside and out, a situational weapon that Brian Kelly could use to break open the passing game, especially in one-on-one coverage. That's why I predicted a 1,000 season out of Fuller, and rated him higher than any of the other panelists.
Highest Ranking: 14th. Lowest Ranking: Unranked (Six ballots).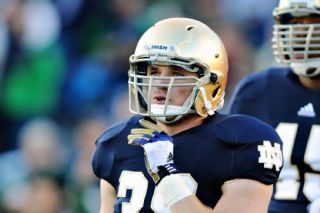 24. Joe Schmidt (LB, Sr.): While truly great players can transcend scheme, senior linebacker Joe Schmidt was perhaps the largest beneficiary of the defensive change from Bob Diaco to Brian VanGorder.
Schmidt, who at a shade above 6-foot and 235 pounds, didn't have the bulk or length to play on the inside of a 3-4 defense. But he's the starting middle linebacker for the Irish in VanGorder's scheme, a tremendous rise after starting his career as a recruited walk-on and part-time special teams performer.
Of course, Schmidt's opportunity came because of an injury to Jarrett Grace and depth chart issues. But after an impressive spring, Schmidt looks poised to be a very productive part of the Irish defense. A good athlete with solid sideline-to-sideline speed, Schmidt's instincts and ability in space were apparent last season against USC, when the unsung linebacker made a huge play to break up a critical pass late in the game to seal a victory against the Trojans.
The walk-on tag will likely hang on Schmidt, an easy narrative for an undersized player who turned down other opportunities to chase a scholarship at Notre Dame. And entering his senior season, he's likely to be one of the Irish's most productive players. It might not be Rudy, but Schmidt's story is mighty good, too.
Highest Ranking: 12th. Lowest Ranking: Unranked (Two ballots).
23. Chris Brown (WR, Jr.): Brown disappeared for most of his sophomore season until playing his best football in the Pinstripe Bowl, a breakthrough for a receiver who shows flashes of big play potential, but struggled to find productivity in his first two seasons.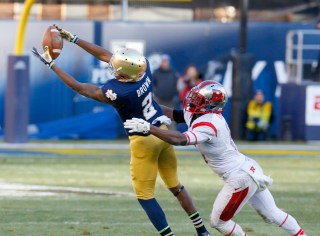 Brown produced one of the biggest plays of 2012, when he connected with Everett Golson for a 50-yard bomb against Oklahoma. But after the deep threat role went to Will Fuller in 2013, Brown's four starts and 13 appearances only produced 15 catches, with five coming in the bowl game, after putting up nine catches in the season's first three games.
But if there was a receiver who consistently earned praise this spring it was Brown, with the junior taking on a leadership role with DaVaris Daniels exiled for the semester after academic deficiencies. Brian Kelly continued that praise for Brown last week after seeing his progress this summer.
At his best, Brown's an explosive athlete who was an elite track star at the high school level and a junior national team member in 2011. He's long at almost 6-foot-2, and has great leaping ability. Past the midpoint of his college career, the time is now for Brown to make his move, especially with talented young players surrounding him.
Highest Ranking: 16th. Lowest Ranking: Unranked (One ballot).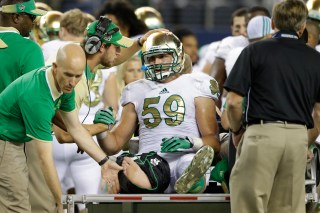 22. Jarrett Grace (LB, Sr.): That Grace finds himself on this list is a product of a few panelists believing that the senior linebacker can put the crippling leg injury he suffered last season behind him. If he can, there's no reason to believe Grace can't be a defensive leader for the Irish. But even with positive updates coming from Brian Kelly as camp opened, Grace is still weeks away from being ready to play football, and he barely participating in any drill work on Monday.
While a long-term prognosis on Grace's recovery sounds better than it's ever been, the reality of the situation is that Grace still isn't a year removed from breaking his fibula in multiple places, an injury so destructive that he stayed behind in Dallas for several days and had multiple surgical procedures, including one this spring, to help the healing.
Grace was once believed to be the heir apparent to Manti Te'o, given the first opportunity to step into Te'o's spot at the Mike linebacker last season. But some rookie moments early in the season quickly tampered those expectations. Yet Grace was rounding into form at the time of his injury, the Irish's leading tackler at the time of his injury.
Getting anything out of Grace in 2014 would be a bonus. But his placement in this list shows you the respect he's earned from those that have watched him during his career in South Bend.
Highest Ranking: 12th. Lowest Ranking: Unranked (Six ballots).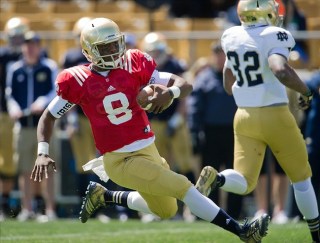 21. Malik Zaire (QB, Soph.): After sitting through a difficult redshirt season, Zaire burst out of the gates during spring practice, making headlines when he said he fully expected to be the starter when Notre Dame played Rice on August 30th. That Zaire still has a chance to make that happen says quite a bit about the abilities (not to mention the confidence) that the exciting sophomore possesses.
After arriving relatively late on the recruiting scene, Zaire made waves at the Elite 11 camp, where he was one of the more impressive quarterbacks in attendance. As an option trigger man for most of his high school career, Zaire's development as a passer has been recent, but he's done a very good job in the limited reps we've seen from him.
Zaire out-played Golson in the spring game (though he faced a more basic defensive attack), and Brian Kelly says he plays his best football when the stage is biggest. That's easy to say when it's a Blue-Gold game, and quite another thing when it's an opponent wearing a different jersey.
At his best, Zaire is a more dynamic running threat than Golson and his sturdier build makes him more capable as an option quarterback who will keep defenses guessing. While the reality of the situation will likely keep Zaire playing behind Golson for two more seasons, expect to see the young quarterback on the field early and often this season, with specialty packages designed to get the next man in a little experience.
Highest Ranking: 16th. Lowest Ranking: Unranked (Three ballots).
***
The selection committee for the 2014 ND Top 25:
Pete Sampson, Irish Illustrated (@NDatRivals)
Tyler James, South Bend Tribune (@TJamesNDI)
Chris Hine, Chicago Tribune (@ChristopherHine)
Team OFD, One Foot Down (@OneFootDown)
Ryan Ritter, Her Loyal Sons (@HLS_NDTex)
JJ Stankevitz, CSN Chicago (@JJStankevitz)
John Walters, Medium Happy (@JDubs88)
John Vannie, ND Nation
Keith Arnold, NBC Sports (@KeithArnold)