After presenting our first five players on the countdown, we move on to another group of players with high expectations. And while four others will certainly draw attention, we come to our annual exercise on evaluating the promise of Ishaq Williams.
Some (including quite a few of you in the comments below) have given up on Williams, the former five-star recruit who has yet to make an impact in the Irish defense. Others believe his senior season finally gives him a true opportunity to own a job and play a position where he's a natural fit. However you come out on it, Williams is ranked lower today than he was in 2012, about what you'd expect after three seasons of data pointing to an underwhelming career (thus far) in South Bend.
Besides Williams, two sophomores make the list here, both coming off promising — though far from statistically dominant — seasons. It's also time for the first running back to come off the board, with the panel all feeling pretty much the same way about the Irish's leading returning rusher.
Counting down the Irish continues.
2014 IRISH TOP 25 RANKINGS
25. Will Fuller (WR, Soph.)
24. Joe Schmidt (LB, Sr.)
23. Chris Brown (WR, Jr.)
22. Jarrett Grace (LB, Sr.)
21. Malik Zaire (QB, Soph.)
20. Ishaq Williams (DE, Sr.): That Williams enters his senior season without making a true impact on Notre Dame's roster is one of the few disappointments of the Brian Kelly era (at least of the players that stuck around). But before we shovel what's left of the dirt onto Williams' coffin, let's finish the book.
No player had a tougher road into the starting lineup. Stuck behind NFL draft picks Darius Fleming and Prince Shembo, Williams saw the field right away as a freshman, forced to learn how to play linebacker after chasing down quarterbacks for much of his prep career in urban New York, not exactly a football haven.
Williams has all the physical tools you'd want and an NFL body. He's also almost the perfect prototype for a strongside defensive end, and at 6-foot-5.5 and 271-pounds, he's a monster. But we're out of excuses, with Williams' final shot at redemption allowing him to play every down in a defense that desperately needs him to perform well.
Count me among the few that hasn't given up on him. Having erased the "five stars" that came next to his recruiting profile the moment he stepped on campus, if Williams has a productive final season in South Bend he'll have a career on Sundays in front of him.
Highest Ranking: 15th. Lowest Ranking: Unranked (three ballots).
19. Cole Luke (CB, Soph.): That Luke is rated so highly speaks to the promise he showed briefly as a freshman, playing in all 13 games of his freshman year and holding up just fine in coverage. But with Bennett Jackson gone to the NFL, Luke will need to prove he's ready for a full-time job as a starting cornerback.
Playing in Brian VanGorder's system will give us a much better idea of Luke's top-end skills, playing a ton of man coverage after playing primarily zone under Bob Diaco. That'll put Luke's feet to the fire, and give us a true understanding as to whether Luke's a solid Cover 2 cornerback or a guy that can lock down a receiver.
It's too early in Luke's career for this to be a make-or-break year. But players on the cusp — with a handful of unproven, but talented defenders on the Irish roster just like Luke — will determine whether the Notre Dame defense can hold up or fall short of expectations.
Highest Ranking: 14th. Lowest Ranking: Unranked: (two ballots).
18. Cam McDaniel (RB, Sr.): The first running back listed in our rankings, McDaniel is the Irish's leading returning rusher. And while the senior has likely be passed in the depth chart by both Tarean Folston and Greg Bryant, McDaniel doesn't seem likely to give up any carries in his final year of eligibility easily.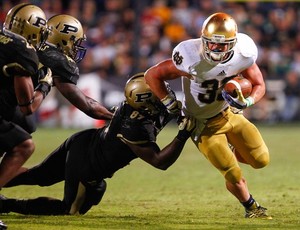 With an up-tempo offense and a quarterback who can run the zone-read, there should be carries for everyone to share. And if we've seen anything from McDaniel over his three seasons in South Bend, it's that you should count him out at your own risk.
Last year, there wasn't much explosiveness displayed when McDaniel carried the football. Now that he's less likely to be carrying the load in short yardage or goal line situations, perhaps we can see some big play potential return to the native Texan.
McDaniel hasn't been the weapon in the passing game that many expected early in his career. But if he's a capable pass protector and can show solid hands, perhaps McDaniel can carve out his niche on third downs.
Highest Ranking: 9th. Lowest Ranking: Unranked (Two ballots).
17. Jarron Jones (DT, Jr.): With about half the 2013 season remaining, Jones was working his way towards the bottom of the Irish roster, not into the Top 25. But a ravaged depth chart gave Jones the opportunity to slide into the nose guard job and resurrect his career. From November on, the Rochester-native went from near-forgotten man to centerpiece of the future, a credit to Jones acknowledging the lightbulb going on.
Jones looks the part of a massive run-stuffer on the interior, a big, strong and sturdy player who held his own while learning on the fly in place of an injured Louis Nix. While he'll be the tip of the spear when the Irish go to three down linemen, Jones will spend most of his time next to Sheldon Day, taking on a single blocker and dominating a single gap.
Looking every bit the 315 pounds he's listed at, Jones will play a key role in the Irish defense, freeing up Jaylon Smith and Joe Schmidt to get to the ball carrier and make plays. He'll also have an opportunity to take advantage of his knack for making a big play, an impressive skill considering his relative lack of experience on the field.
Entering his junior season (though he has a fifth year of eligibility), Jones is the type of first-time starter you want in the trenches.
Highest Ranking: 11th. Lowest Ranking: Unranked (One ballot).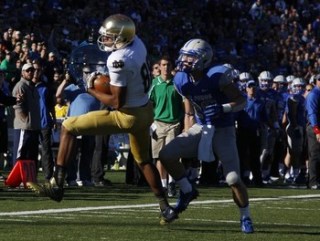 16. Corey Robinson (WR, Soph.): That Robinson ranks ahead of both classmate Will Fuller and junior Chris Brown says quite a bit about the promise the lanky, velcro-handed wide receiver showed in his first season in South Bend. Robinson saw action in all 13 of Notre Dame's games last year, starting three, with his best performance a three catch, 54 yard effort against the Big Ten Champs Michigan State.
A relatively modest season total of nine catches for 157 yards and a touchdown make this ranking more about upside potential than what Robinson's already accomplished. But entering his sophomore season, we've seen plenty of instances — even if they were only in UND.com practice videos — of Robinson making circus catches that make defensive backs look silly, something the 6-foot-5 receiver can do pretty easily.
He'll need to show the ability to beat press coverage and get into his routes quickly. And Robinson also needs to take a step forward as a red zone threat, with a puzzling lack of opportunities presented in 2013 for jump balls. But the sky is the limit for the young receiver, and we've yet to hear a bad word about Robinson on or off the field during his time in South Bend.
The Irish coaching staff plucked Robinson out of relative obscurity when they offered the San Antonio native a scholarship. He'll reward that projection in 2014 with a potentially big season on the horizon.
Highest Ranking: 13th. Lowest Ranking: 22nd.
The selection committee for the 2014 ND Top 25:
Pete Sampson, Irish Illustrated (@NDatRivals)
Tyler James, South Bend Tribune (@TJamesNDI)
Chris Hine, Chicago Tribune (@ChristopherHine)
Team OFD, One Foot Down (@OneFootDown)
Ryan Ritter, Her Loyal Sons (@HLS_NDTex)
JJ Stankevitz, CSN Chicago (@JJStankevitz)
John Walters, Medium Happy (@JDubs88)
John Vannie, ND Nation
Keith Arnold, NBC Sports (@KeithArnold)