One thing that's been very clear since taking part in this annual ranking is that it's a much more difficult exercise than in years past. That much should be obvious when you look at our list.
Starter Joe Schmidt is listed behind Jarrett Grace, who might not contribute much this season as he works his way back from a badly broken fibula. Sophomore Corey Robinson is ranked well ahead of Chris Brown, who appears to be the starter opposite DaVaris Daniels. And for every high ranking one panelist gives a player, someone else has likely left him off their list all together.
But as we get inside the Top 10, we're finally starting to see some consensus. Of the five players rolling out today, only one was left off a single ballot. Four of the five are multi-year starters, and the fifth is a redshirt freshman with the greatest expectations heaped on his shoulders.
We'll save our Top Five for Monday, but in the comments below, feel free to share your rankings, as I suspect you'll have the same difficulties this group did making things work.
2014 IRISH TOP 25 RANKINGS
25. Will Fuller (WR, Soph.)
24. Joe Schmidt (LB, Sr.)
23. Chris Brown (WR, Jr.)
22. Jarrett Grace (LB, Sr.)
21. Malik Zaire (QB, Soph.)
20. Ishaq Williams (DE, Sr.)
19. Cole Luke (CB, Soph.)
18. Cam McDaniel (RB, Sr.)
17. Jarron Jones (DT, Jr.)
16. Corey Robinson (WR, Soph.)
15. Christian Lombard (RG, GS)
14. Cody Riggs (DB, GS)
13. Kyle Brindza (K/P, Sr.)
12. Max Redfield (S, Soph.)
11. Steve Elmer, (OL, Soph.)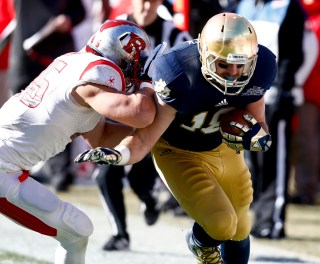 10. Ben Koyack (TE, Sr.): If there was one winner in Troy Niklas' decision to head to the NFL early, it was Koyack. After getting lost in the shuffle for the better part of three seasons, Koyack has found his role in the football program this summer, ready to take charge as one of the unit's leaders.
Koyack has elite pedigree as a recruit. After battling a case of the drops in 2012, he came on strong late in the 2013 season, productive as the No. 2 tight end behind Niklas. With youth everywhere else on the offense, the passing game could come to rely on Koyack, a big body who might not have the nickname Hercules, but presents matchup problems of his own.
It feels like the base level of expectations for Koyack is a Mackey Award semi-finalist season. With the opportunity to get plenty of favorable matchups down the field, Koyack is primed for a big final season in South Bend.
Highest Ranking: 8th. Lowest Ranking: 12th.
9. Greg Bryant (RB, Soph.): In retrospect, maybe the knee injury was the best thing to happen to Greg Bryant. Sure, it robbed him of playing time after seeing the field sparingly to open the season, but sitting out the 2013 season rebooted Bryant, turning him back into a young football player, no longer the five-star recruit with sky high expectations.
Rumors and whispers flew around message boards that Bryant was unhappy in South Bend. But he stayed put, quietly going about his work, rehabilitating his knee and preparing for spring practice, when the redshirt freshman would essentially hit the restart button on his college career and make his presence noticed.
Healthy, powerful and part of a three-headed depth chart at running back, Bryant is expected to be the breakout player of the Irish offense. That he'll need to share carries with Tarean Folston and Cam McDaniel isn't a worry for August.
Highest Ranking: 7th. Lowest Ranking: 12th.
8. Nick Martin (C, Sr.): No longer in his brother's shadow, Nick Martin has emerged as the leader of the offensive line. The returning starter at center, we'll see if Martin is the elite prospect his brother was, now that he's healthy after an MCL repair and minor patella injury.
Judging a center is tricky business, but at his best Martin can anchor the offensive line, both at the point of attack and making the presnap reads for his fellow linemates. At almost 6-foot-5, Martin has similar size to Zack, making him the perfect size for an NFL prospect on the interior of the offensive line.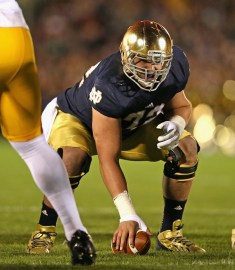 If the Irish ground game takes the leap we expect, Martin will be a big part of that success, and likely will reap the rewards as well. Another below-the-radar recruit from Indianapolis, the Martin brothers look to have the potential to both be multi-year captains, quite a legacy to leave behind at Notre Dame.
Highest Ranking: 4th. Lowest Ranking: 22nd.
7. DaVaris Daniels (WR, Sr.): At his best, Daniels has all the skill and talent needed to play on Sundays. But after three seasons of being coached hard by Brian Kelly, we'll have to wait until August 30 to see if the light has finally come on for Notre Dame's top receiver.
Daniels put up respectable numbers in 2013, all while battling nagging injuries. But Daniels fails the eyeball test too often, a solid player who puts a lot of bad habits on tape. For every dominant game, there's something inexplicable — like losing a one-on-one battle with a Navy DB for an interception or running an incorrect route.
There was talk that Daniels contemplated heading the NFL after being temporarily booted from the university for academic issues. That would've been a huge mistake, especially for a talent that should work his way into a solid draft pick after the season, or decide to play his way up draft boards by returning for a fifth year.
Talent is not the issue. Maturity might be. And while we've heard Daniels say all the right things since returning from academic exile, the proof will be divied up across thirteen Saturdays.
Highest Ranking: 4th. Lowest Ranking: Unranked (One ballot).
6. Ronnie Stanley (OT, Jr.): The fact that Stanley slid seamlessly into Zack Martin's left tackle spot had some taken by surprise. But very quietly, Stanley is turning himself into an elite offensive tackle, and his ranking at No. 6 shows that this panel noticed.
At just shy of 6-foot-6 and 315-pounds, Stanley has the size and length you covet at left tackle. He's also coming off a really impressive debut season (Stanley received a medical redshirt in 2012, even though he briefly saw the field). But still, most expected Steve Elmer to have the first shot at the blind side, forgetting that Stanley was no slouch of a recruit when he chose Notre Dame out of Las Vegas powerhouse Bishop Gorman.
2014 will be a very interesting season for Stanley. A strong season at left tackle and he'll be the type of lineman that's in consideration for postseason awards — the perfect hybrid of pro potential and productivity that earns that type of respect.
After four seasons of Martin at left tackle, the Irish could have three more with Stanley. That's quite a seven-year run.
Highest Ranking: 4th. Lowest Ranking: 13th.
***
The selection committee for the 2014 ND Top 25:
Pete Sampson, Irish Illustrated (@NDatRivals)
Tyler James, South Bend Tribune (@TJamesNDI)
Chris Hine, Chicago Tribune (@ChristopherHine)
Team OFD, One Foot Down (@OneFootDown)
Ryan Ritter, Her Loyal Sons (@HLS_NDTex)
JJ Stankevitz, CSN Chicago (@JJStankevitz)
John Walters, Medium Happy (@JDubs88)
John Vannie, ND Nation
Keith Arnold, NBC Sports (@KeithArnold)