To read the rationale for our final rankings, see 25-21, 20-16, and 15-11. To see our preseason rankings, check out the Top 25. 
As we get into our Top 10, we begin to understand why the future is still rather bullish for Notre Dame. The five players listed below all have at least one season of eligibility remaining. That means that a group that performed more than admirably this season will be expected to do even more for the team in 2015. (The entire Top 10 has at least a year of eligibility remaining.)
How this group got here is an interesting contrast. One defensive back barely cracked the Top 40 in the preseason. One team captain saw his regular season cut short by injury. And one player's struggles encapsulated an entire season.
Let's get on to No. 10-6 in our final grade.
2014 IRISH TOP 25 FINAL GRADES
25. Christian Lombard (RT, GS)
24. Malik Zaire (QB, Soph.)
23. Romeo Okwara (DE, Jr.)
22. Drue Tranquill (S, Fr.)
21. Nyles Morgan (LB, Fr.)
20. Max Redfield (S, Soph.)
19. Steve Elmer (RG, Soph.)
18. Ben Koyack (TE, Sr.)
17. Elijah Shumate (S, Jr.)
16. Greg Bryant (RB, Soph.)
15. C.J. Prosise (WR, Jr.)
14. Isaac Rochell (DL, Soph.)
13. Nick Martin (C/LG, Sr.)
12. Cody Riggs (CB, GS)
11. Jarron Jones (DT, Jr.)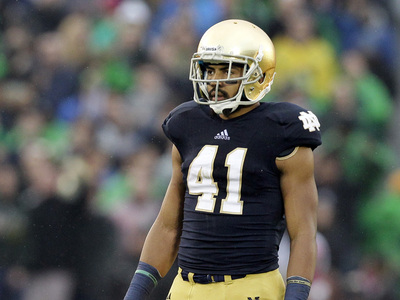 10. Matthias Farley (DB, Sr.) That Matthias Farley checks in with a Top 10 ranking has to be one of the better reclamation stories of the Brian Kelly era. That the senior defensive back could find the field — let alone kick the dirt off of him after being buried this offseason (both on the depth chart and by the fanbase) — is a credit to the team's best defensive playmaker.
Farley's stat line is the team's most complete. He's the team's fifth-leading tackler, even while playing a fraction of the snaps of the team's other starters. He's the co-leader in interceptions with four. His 6.5 TFLs leads the secondary, and is behind just Jaylon Smith, Sheldon Day, Jarron Jones and Isaac Rochell.
In a defensive system that's predicated on big plays, Farley had a knack for creating them. After moving to cornerback during spring — and a nickel back spot few saw him playing with the preseason depth chart looking stacked — Farley was thrust into the starting job after KeiVarae Russell's two-semester suspension hit and Cody Riggs was forced to stay outside.
He's far from a perfect player, and Farley's lack of elite athleticism and gambling tendencies still manage to see him on the wrong side of a big play occasionally. But few did more for the Irish in 2014, and Farley has cemented his role in the 2015 defense.
Preseason: Unranked (38th). Final: 10th.
9. Corey Robinson (WR, Soph.): While the touchdown catch that didn't count was likely the biggest play of the season, Robinson took a large step forward in his sophomore season. He finished second on the team with 40 catches, 539 yards and five touchdowns. He also made some of the biggest plays of the season, a critical fourth-down conversion against Florida State the most heroic.
Robinson was named an Academic All-American, the only true sophomore to do so in the country. He won the team's Rockne Student-Athlete award. He also continued to blossom as a receiver, adding elements to his game that made him a more valuable player thanks to his versatility.
Battling a broken thumb from preseason camp, Robinson's stats were likely muted because of the struggles that injury put on his ability to catch the football. But even with a cast on his hand, he played 12 games — the team's most reliable receiver from start to finish (even with a few uncharacteristic drops).
With two years left in the program, Robinson will pair with Will Fuller to create a duo the Irish haven't seen since Golden Tate and Michael Floyd in 2015.
Preseason: 16th. Final: 9th.
8. Sheldon Day (DT, Jr.): Widely acknowledged as Notre Dame's best defensive lineman, Day put together a season that backs that claim, even if it wasn't the breakout many expected from him. A shift inside in Brian VanGorder's four-down system was a welcome change for the 6'2″, 285-pounder and had many expecting Day's junior season to be one that landed him on the national stage.
But whether it was a lack of established talent around him or opponents focusing on slowing him down, Day didn't break loose. That's not to say his numbers weren't good — his 7.5 TFLs were only less than Jaylon Smith, and done in just 10 games after a knee injury ended his regular season early.
Day seemed to lead the team in almost plays, an unmeasurable stat that'll always end up disappointing in the end. He was productive, making 38 tackles and breaking up three passes, but his lone sack was far from the double-digit number some (read: me) thought possible.
Day received a draft grade from the NFL's advisory board. It likely told him to stay in school, with the junior needing to prove he can stay healthy as well as live up to the praise the coaching staff has for him. That'll have to take place in 2015, where he'll again have sky-high expectations.
Preseason: 3rd. Final: 8th.
7. Everett Golson (QB, Sr.): In many ways, Everett Golson's 2014 season will be defined by 2015. If Golson remedies the turnovers that turned him from elite player to maddening one, it'll be seen as a frustrating step on the learning curve. (Remember, before Jimmy Clausen's sensational junior season, he threw 18 interceptions as a second-year player.) If he doesn't, he'll finish his career on the sidelines, a career that'll need greater inspection for its historical context.
Golson's struggles turning the football over forced Brian Kelly to reboot the quarterback position. For the Music City Bowl, that means playing both Golson and sophomore Malik Zaire. For the future, those ramifications are unknown. The leash he allowed his quarterback this season forces you to believe that Kelly still thinks Golson is his best option. But the head coach also knows a mistake-prone quarterback can't be allowed to ruin a 2015 team that should be the best of his squads since arriving in South Bend.
When things are going well, few are as good as Golson. His arm strength is elite. His athleticism is near that level. He's a capable runner, as his team-leading eight touchdown runs suggest. But Golson's 22 turnovers in the season's last nine games force all those things to the background, making 2015 a make or break year.
Preseason: 4th. Final: 7th.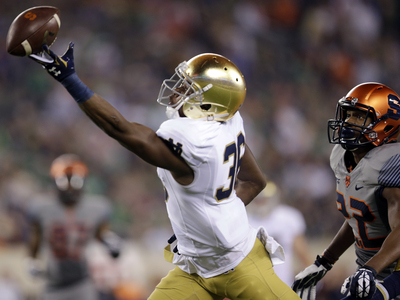 6. Cole Luke (CB, Soph.): Notre Dame's sophomore cornerback emerged in 2014, giving the Irish a cornerback capable of playing the man-to-man coverage that defensive coordinator Brian VanGorder covets. As the team co-leader in interceptions, Luke's season in place of KeiVarae Russell forced a lot on his young shoulders, with the Arizona native standing strong on a defense that crumbled around him.
Luke earned the praise of his head coach multiple times this season. That's likely because Luke played well against a slate of receivers that had to be among the most challenging in college football. Week after week, Luke faced receivers that were among the elite in the college game. And more often than not, Luke acquitted himself well.
It wasn't all pretty. The USC game will serve as sophomore game tape the same way KeiVarae Russell's performance in Ann Arbor did after a disappointing game in 2013. But assuming Russell returns for next season, the Irish cornerback duo will be a strength, giving Notre Dame two cornerbacks that could be called No. 1s in just about any other program.
Preseason: 19th. Final: 6th.