For all the grand plans on the horizon for Notre Dame's most promising football team in a decade, none of them can materialize if Saturday goes haywire. So while the Fighting Irish have a team filled with depth, experience and talented playmakers as Texas is mid-renovation in Charlie Strong's second season, all the magazine covers and preseason All-Americans in the world won't help once the Irish kickoff at 7:42 on Saturday evening.
After a month of of training camp, the Irish are ready to take aim at somebody else. And as Charlie Strong returns to South Bend for the first time since his days as an assistant to Lou Holtz and Bob Davie, Notre Dame will face a young but proud football team with nothing to lose on Saturday evening.
With a hot and humid Saturday on tap, it isn't hard to think back to the last time a former Irish assistant came into Notre Dame Stadium and threw a major wrench in the Irish's plans. So while Kelly's team doesn't look like the one that turned over the football five times (and turned their head coach purple),  the Longhorns also have a lot more talent than Skip Holtz's 2011 South Florida team.
Six years into the program, there's no reason to believe that the Irish won't step onto the field ready. But that's the beauty of college football. Every Saturday, another mystery revealed.
At long last, another year of football. And a season opener held under the lights of Notre Dame Stadium. So open up the cooler, it's time for a pregame six pack, as we prepare for a primetime showdown (7:30 p.m. ET) on NBC.
All eyes will be on Malik Zaire. 
With a tip of the cap to the Solid Verbal's Ty Hildenbrandt, the Malik Zai-era begins. (Clever, right?) And with that comes the eager anticipation to see what Notre Dame's junior quarterback can do now that the team is unquestionably his.
You're curious? Don't worry, so is Brian Kelly.
"As much as we'd like to say Malik's a veteran, he's still not. He played really in one game for us last year and he didn't play the whole game," Kelly conceded after Thursday's practice.
"I told him, 'You don't have to be the reason why we won. You just can't be the reason why we lost.' We've got 10 other guys around you that are really good playmakers. Get the ball to them, get it to the right play. If he does that, he'll do very, very well for us."
That certainly sounds like the role of "game manager" to me, so for those worried that Kelly forgot about the running game this preseason, this is a pretty stark reminder that Notre Dame's head coach understands how to manage a first-time starter at quarterback.
So expect not just a lot of Tarean Folston and C.J. Prosise, but a heavy dose of Zaire running the football, a skill that comes naturally to the powerful quarterback.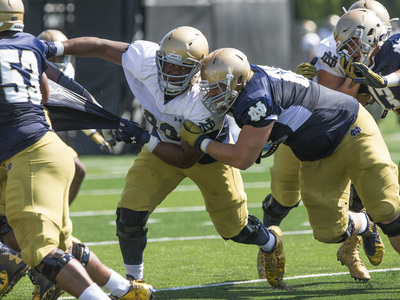 Six freshmen are set to make their debut on Saturday evening. 
Usually, figuring out what freshman will see the field and who'll be held back is a guessing game that takes a few weeks to figure out. But Kelly was kind enough to lay out the five* freshmen that'll be participating on Saturday night, impressive work by young talent able to ascend a depth chart stacked full with returning contributors.
We all knew Justin Yoon would handle kicking duties. But joining Yoon on the field will be running back Josh Adams, cornerback Nick Coleman and wide receivers C.J. Sanders and Equanimeous St. Brown.
Something not quite sitting right? It's probably because Kelly managed to forget about a guy who is nearly six-foot-seven and 305 pounds.
Kelly breezed right by freshman defensive tackle Jerry Tillery, who after spending spring football working exclusively with the first team, does act, play or have the expectations of a first-year player. Sharing duties with sophomore Daniel Cage, Tillery won't be in the starting lineup, but will be in a more-than-regular rotation at both tackle positions.
Where does Notre Dame have its most lopsided advantage? Experience. 
We just got done talking about the half-dozen freshmen who'll contribute for Notre Dame on Saturday. Well Texas is in the middle of a youth movement, with the Longhorn's week one depth chart featuring 24 true or redshirt freshmen, including four true freshmen starters.
That group includes true freshmen at left tackle and right guard, with Connor Williams and Patrick Vahe getting their first look at college football. That bodes well for Brian VanGorder's chaos-based scheme and getting Sheldon Day and Isaac Rochell off to a quick start. Also starting is true freshman wide receiver John Burt and middle linebacker (and former All-Everything recruit) Malik Jefferson.
Compare that to Notre Dame's experience, with 10 returning starters on defense and 10 players having started at least 14 games on the Irish roster. You've got to think that this is a sizable advantage for Notre Dame.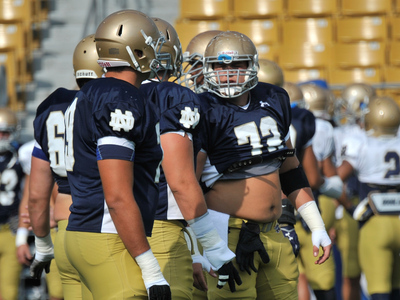 For Harry Hiestand's offensive line, it's time to show that they're capable of starting strong and dominating a talented unit. 
The strength of the Longhorn defense is up front. Defensive tackles Hassan Ridgeway and Poona Ford both have high upsides. Nose guard Desmond Jackson and strong-side defensive end Shiro Davis are rare seniors on a team filled with kids.
We spent nine long months talking up Notre Dame's performance in the Music City Bowl, especially in the running game. But led by Ronnie Stanley and Nick Martin, this offensive line has to prove from game one that they're capable of dictating terms at the line of scrimmage.
That just hasn't been the case in previous seasons. While I'm throwing out the Rice game and Notre Dame's opening win against Temple the season before, when faced with a Power 5 opponent, September has been abysmally slow-rolling.
The Irish's 31-0 shutout victory over Michigan? It masked the mediocrity Notre Dame displayed on the ground, running for just 54 yards on 31 carries. A week later, the Irish only averaged 3.7 yards per carry on 38 attempts against a Purdue team that won just three games and only beat Illinois in Big Ten play.
This wasn't just a 2014 thing, but rather an evergreen problem for the Irish offensive line. In 2013, the Irish's slow start forced Notre Dame to run only 19 times against Michigan in a disappointing loss, but a week later they managed to escape late against Purdue with three fourth-quarter touchdowns, only running for 91 yards on 37 carries.
Stacked box, sold-out defense, whatever. This football team is built to run the football.
And while Zaire's solid performance against LSU will make just about every defensive coordinator in America show some difficult run looks up front, it's time for one of Notre Dame's best front fives in recent memory to dominate anyway.
In a flashy non-conference match-up, Notre Dame and Texas share some history, and are playing for a place in unique place in the record books. 
As you might expect when two of the traditional powers in college football match up, the historians sharpen their pencils and pay attention. And with 15 consensus national championships between the two programs, there's plenty of glitz and glamor taking the field when Notre Dame and Texas sprint out of the tunnel.
Notre Dame holds a sizable edge in the series, leading 8-2, including a four-game winning streak that started with the Irish's 1977 Cotton Bowl victory that clinched a national title. Texas beat the Irish in the 1969 Cotton Bowl and only once before in a 7-6 showdown way back in 1934.
But the 11th matchup between these two programs is also for a place in the record books. Notre Dame sits second in college football history at 882 all-time victories with Texas right behind at 881. So second place is on the line on Saturday night.
No, I didn't forget Notre Dame's edge on Michigan for winningest program in college football (by winning percentage) inched ahead after Jim Harbaugh lost his Wolverine coaching debut to Utah. But Notre Dame needs to hold serve with a victory or let Charlie Strong pull the Longhorns even.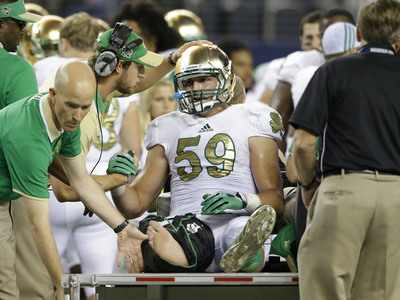 For both Jarrett Grace and KeiVarae Russell, the long road back ends on Saturday. 
Notre Dame linebacker Jarrett Grace will return to the football field Saturday night, the end of a very long and difficult journey that started when Grace shattered his leg into multiple pieces in Notre Dame's 2013 Shamrock Series victory over Arizona State. So when the fifth-year contributor takes the field, he'll do so 700 days after his career was thrown into chaos. You can't blame Kelly for putting the fifth-year leader on the Irish kick coverage team. Grace wouldn't want to be anywhere else but running down the field on the very first play of the 2015 season.
Kelly talked about Grace's return on Thursday, mentioning that he probably spent more time in the Cincinnati native's hospital room than any other player in his 25 years as a coach. And while Grace finds himself in a different scheme and  place in the depth chart from where he was when he was Notre Dame's leading tackler at the time of his injury, Kelly said that Grace is all the way back when it comes to speed and explosion, amazing considering the head coach acknowledged that he wasn't sure if the linebacker would ever play again.
Switching places on the defense, Saturday marks KeiVarae Russell's return to Notre Dame Stadium. Russell's exodus was courtesy of a self-inflicted mistake, but the senior cornerback more than paid his dues, coming back a better person and player after a year home in Washington. And frankly, after watching Everett Golson and Greg Bryant take the first train out of town when things didn't look to be going in their favor, there's a lot of nobility in Russell owning up to the mistake he made.
But now the senior cornerback needs to do much more than that. He needs to dominate on the field like he has on the image-rehabilitation circuit. He needs to show that the box-jumping and weight-lifting he chronicled on social media last year will allow him to jump back into the world of college football and fulfill his destiny of potentially being a first-round NFL draft pick.
Two Notre Dame football players, two very different ways back to the field. Welcome back, boys.