Even with a first-time starter at quarterback, Notre Dame's passing attack was impressive. While Mike Sanford's work with DeShone Kizer and Malik Zaire deserves a significant amount of credit, the personnel in charge of reeling in the catches made things pretty easy on the quarterback.
Will Fuller leaves Notre Dame will the best two-year statistical run of any receiver in school history. Fuller's 29 touchdown catches are the most of any receiver in football over the last two seasons. His ability to stretch a defense—or more appropriately, to get behind it—opened up plenty of other options for his teammates.
While Fuller paced the offense, he had a strong supporting cast. In his final season in South Bend, Chris Brown emerged as a bonafide No. 2 receiver, his 48 catches, 597 yards and four touchdowns all career bests. Amir Carlisle and Torii Hunter picked up the slack in the slot, combining for 60 catches and nearly 700 receiving yards as well.
There's a rebuilding job that needs starting this offseason. Fuller is gone. So are Brown and Carlisle, the latter a sneaky contributor the last two seasons. There's no shortage of talent to move forward with, so let's take a last look at the season that was and do some projecting as we move forward.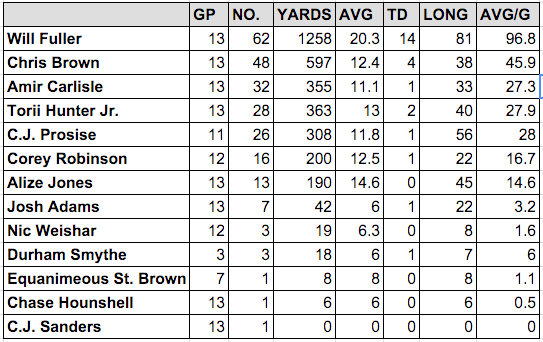 MVP: Will Fuller. We probably won't realize how badly Fuller is missed until he's not out there on the edge of the field, wreaking havoc with the opposing defensive coordinator's game plan. Fuller made the running game look better, he helped his other receivers get open, and he spread a defense to the widest part of the field—things that you hardly give him credit for when he's scoring 14 touchdowns and catching deep balls.
You can hardly blame Fuller for taking his talents to the NFL. He had nothing left to prove at this level, and his biggest knock (size) can't be corrected with another year of torching college defenses. (Maybe his hands could, but I digress.)
As a big play receiver, there's no rival to Fuller in my time watching Notre Dame football. That he was able to top his production from 2014 with A) a larger emphasis on the running game, B) A new two-deep at quarterback and C) Everybody in the country knowing who he was is a credit to just how great Fuller is at beating cornerbacks into submission.
I just wish we got to see how he'd have done against Clemson without a monsoon.
Biggest Disappointment: Corey Robinson's star-crossed season. Robinson took a step back after a nice sophomore season. While he had a nice Fiesta Bowl (or a a nice series in the Fiesta Bowl), his season was defined by the plays he didn't make—not a great thing for a receiver (or anybody).
Robinson battled some under-the-radar injuries for much of the year. A knee that pulled him from the lineup against Georgia Tech lingered. So did confidence issues. Pete Sampson of Irish Illustrated broke some news ($) that Robinson was weighing some options that could take him off the field next season, with opportunities to earn a Fulbright or Rhodes Scholarship maybe more important than football. But Sampson reports that Robinson is "all in" for his senior season.
That's a good thing because there's nobody else left to lead this position group. And while it's a talented group, they'll need Robinson to lead, giving him an opportunity to make his final season in college football a big one.
Biggest Surprise: Chris Brown's dependability. Notre Dame will miss Chris Brown. A career that for too long was defined by a deep ball reception against Oklahoma finished on a long, consistent, high note, with Brown putting together a very solid senior season that could allow him to continue his career on Sundays.
Brown has long been called one of the team's best practice players. He's an elite track athlete with a long frame, good hands and major leaping ability. But after struggling to take practice field domination into Saturdays, Brown put together a great season as a senior. He did it all, making clutch catches, moving the chains and also leading the blocking charge downfield.
Brightest Future: Equanimeous St. Brown. We didn't see much in the single eight-yard completion that served as Brown's only catch of the year. But we did hear plenty of raving about St. Brown's speed, length and ability to go get the football from Brian Kelly, who doesn't usually spend time blowing smoke.
Brown's biggest play of the year was a punt block that the Irish returned for a score. And while he was kept off the field because he had the unlucky job of serving as Will Fuller's backup, a shoulder injury late in the year robbed St. Brown of valuable practice time during bowl prep.
Hopefully he'll be healed for spring ball, where he'll likely slide into Fuller's job on the field-side of the formation. From there, he's positioned to make a big leap from anonymous freshman to prominent performer as a sophomore. He'd be following Fuller's footsteps there, too.