With Jaylon Smith and Sheldon Day playing at All-American levels, Notre Dame's front seven featured two of the most dynamic playmakers in college football. Smith's junior campaign may have ended in heartbreak, but he made 114 tackles, easily pacing the team. Day's senior season finally unlocked the potential we'd heard about for three years, with the veteran leading the team with 15.5 TFLs, making it through all 13 games healthy.
Four pieces of the front seven were essentially every-down players: Smith, Day, Joe Schmidt and Isaac Rochell. Per PFF College, Schmidt led the defense in snaps played at 873. Rochell led the defensive line with 816 snaps, while Smith finished with 801 and Day had 786.
Senior Romeo Okwara led the team in sacks, finishing with 12.5 TFLs about eight official sacks. It was the type of breakout senior that the Irish desperately needed from a pass rusher.
Some of the defense's inconsistencies are also revealed in these statistics. From a productivity standpoint, Schmidt's 78 tackles may be second on the team, but he graded out as Notre Dame's worst regular in PFF's rating system. Some of that may be on Schmidt's physical limitations. Some of it is on the defensive tackles playing in front of him.
Without Jarron Jones, Notre Dame was forced to play Daniel Cage and true freshman Jerry Tillery. While that duo's future looks bright, Tillery made just 12 total tackles while Cage was slightly more productive with 18 stops. Compare that with the 40 tackles and 7.5 TFLs Jones had in his first season starting and you start to see some of the effects of losing a 330-pound run-stuffer who also protects your middle linebacker.
Notre Dame's front seven will be rebuilt this offseason. While Rochell returns, the Irish will need to replace their Smith, Schmidt, Okwara, Day and Jarrett Grace. Before we turn our focus to the future, let's hand out some year-end rankings.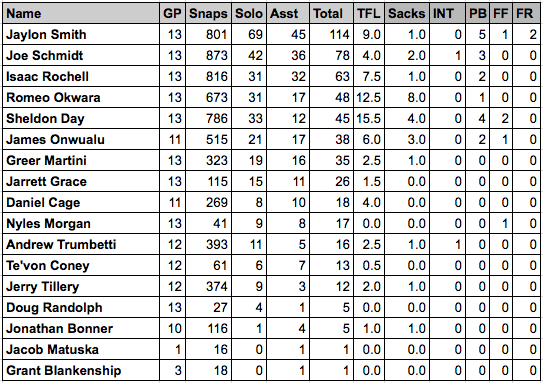 MVP: Jaylon Smith. Smith's elite skill-set makes this feel like a no-brainer, but Sheldon Day's value to this front seven made this a much harder decision than you may have thought. But Notre Dame's latest Butkus winner did so much for this defense, especially in a linebacking corps that so heavily relied on him.
Without Smith, Notre Dame's linebackers would've been beyond ordinary. While most of the focus this offseason will be on his recovery from knee surgery, Smith's ability to drop and cover, read and react and — maybe most importantly — cover for mistakes with speed and athleticism, allowed him to erase plays. That will be missed.
Co-MVP: Sheldon Day. These are my awards, so I get to make one up for the season Day had. For years we've heard Aaron Donald referenced as a comp for Day. Finally in 2015, Day made that reference not seem laughable.
No, he won't likely become one of the NFL's most dominant interior players. But Day's senior season has him popping up in the first round of some mock drafts, a credit to the dominance Day displayed this season—not always evident in the stat line he put up.
How good was Day? Consider PFF College's grading system. Day doubled Smith's overall grade, earning a +59.0 to Smith's +29.4. Day ranked as PFF's No. 1 defensive tackle this season, while Smith finished as the No. 5 OLB.
Paired with two young players with next to no experience, Day still managed to dictate terms in the trenches. While we can only wonder what this group would've done with Jones by his side, it was a special season.
Biggest Disappointment: Nyles Morgan's disappearance. Joe Schmidt's value to this defense was made clear anytime reporters asked Brian Kelly or Brian VanGorder why Morgan couldn't get on the field. But even if Schmidt's acumen and ability to direct the unit will forever go under-appreciated by fans, you can't help but wonder what a sophomore season spent playing special teams did to Morgan's development schedule.
Let's be clear: Morgan's freshman season—or even his ceiling as a linebacker—aren't based on anything we've seen with our eyes. But you still would've liked to find some snaps where Morgan could've contributed situationally. That he didn't doesn't necessarily reflect poorly on player or coach solely. But it puts the onus on the rising junior to have a big spring practice, hopefully stepping into both the middle linebacker job and a leadership role.
Brightest Future: Jerry Tillery. Notre Dame's freshman defensive tackle ended the season on a sour note, suspended for a rules violation in Scottsdale that forced Notre Dame's only healthy defensive tackle to watch the Fiesta Bowl from the sidelines. But Tillery's going to be a key piece of the defensive puzzle in 2016, asked to fill the role of his travel roommate and (try to) replace Day's production.
A starting front-four of Tillery and Jones on the inside surrounded by Rochell and Trumbetti should be able to hold up in the trenches. Now it's time for Tillery to take the sting of missing the bowl game and carry that into spring football, where he'll no longer be an overachieving freshman and will be asked to take the type of leap Stephon Tuitt did in his second season.