Notre Dame's achilles heel looked like an area of strength heading into the season. That the Irish season would falter because the back end of the defense couldn't hold up certainly didn't seem like a possibility when accessing the personnel in first-year assistant Todd Lyght's secondary.
KeiVarae Russell was back. Many assumed the Irish had an All-American-caliber cornerback returning from a year-long academic suspension. He'd join Cole Luke as one of the better (on paper) tandems in the country, with Luke coming off of a great 2014 season against a scheduled filled with NFL receivers.
At safety, the prognosticators were betting on Max Redfield, with Phil Steele naming him a preseason first-team All-American. Senior Elijah Shumate was a perfect battering ram at strong safety.
The depth was also there. Complementary parts like Drue Tranquill and graduate transfer Avery Sebastian looked like perfect pieces for Brian VanGorder's sub-packages. Matthias Farley's versatility was already well known, and now the Irish had freshmen Shaun Crawford and Nick Coleman making preseason noise as potential contributors.
On paper, the stats don't show a disappointing season. The Irish finished 26th in the country giving up 195 yards per game in the air, while quarterbacks completed just 55 percent of their passes.
But as injuries stripped the depth chart, inconsistencies plagued the entire unit. And a group that started the season with high hopes saw their CFB Playoff chances go up in smoke when Stanford's Kevin Hogan shredded the secondary in less than 30 seconds, allowing the Cardinal to kick a game-winning field goal that eliminated the Irish from consideration.
Shumate, Russell and Farley are gone, forcing the secondary will rebuild. So before we turn our focus to those efforts, let's take a look at the final statistics and hand out some awards.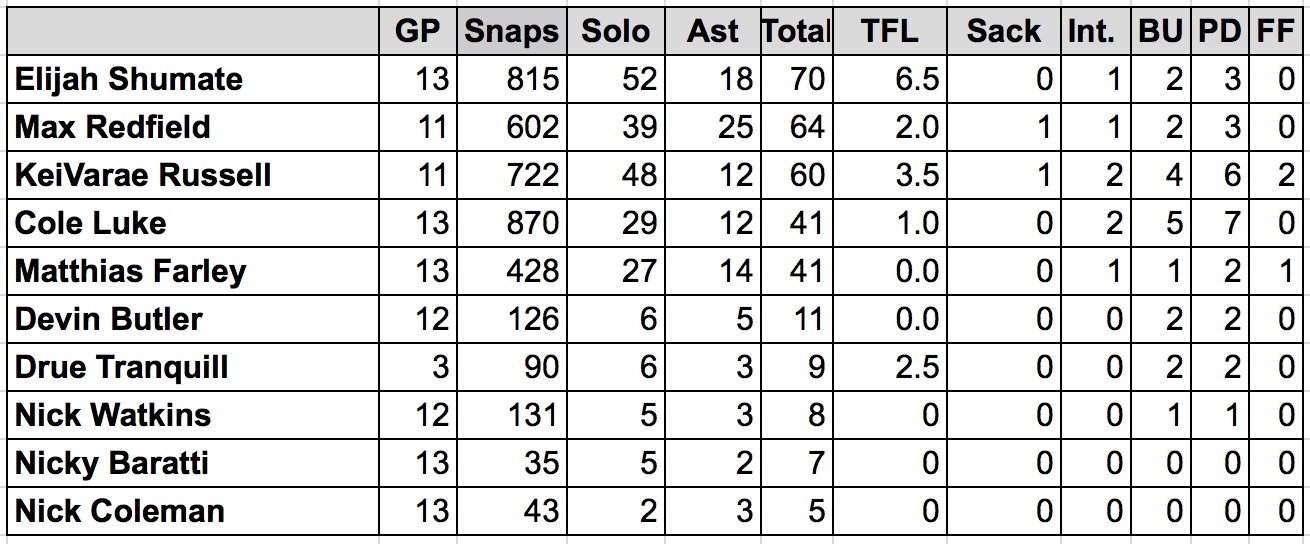 MVP: KeiVarae Russell. Was it a great season? Probably not. Russell's reputation—essentially hand-crafted by the loquacious cornerback—was that of a lock down coverman. That wasn't the type of football he played, with Russell giving up completions at a far less stingy clip than Cole Luke.
But Russell was the rare playmaker in Notre Dame's secondary. His clutch interceptions against USC and Temple were probably the two biggest plays made by the defense on the season. He was also an able tackler, unafraid to stick his nose in, as evidenced by his 60 tackles and two forced fumbles, the second the final play of his season when he suffered a fracture in his leg.
Would Russell have likely improved his draft stock had he stuck around for 2016? Yes. But with an NCAA appeal undetermined and a significant injury needing rehabilitation, Russell was ready to move on, accomplishing his goal of returning to Notre Dame for his degree and playing out his senior season with his classmates.
Biggest Disappointment: Drue Tranquill's tough luck. Brian VanGorder might have a perfect weapon in safety Drue Tranquill. But we'll never know because Tranquill's bad injury luck keeps taking away one of the secondary's best playmakers.
As a two-deep cover safety, Tranquill isn't likely to be a huge asset. But as a third-down weapon and option specialist, Tranquill gives the Irish a versatile piece, capable of covering, blitzing or chasing down the pitch man, whatever his assignment may be.
The loss of Tranquill essentially robbed the Irish of any third-down flexibility, especially with their nickel back plan already foiled with the loss of Shaun Crawford in preseason camp. No Tranquill or Crawford meant keeping Joe Schmidt in the middle of the field on passing downs, a role that Jaylon Smith could've played had Tranquill been available after his freak knee injury.
With a second ACL injury in less than a year, the Indiana native is in the middle of another grueling rehabilitation. But Tranquill attacked the last detour with a conviction Brian Kelly had never seen. So expect to see Tranquill on the field pushing himself this spring again, even if they'll keep him out of the action until fall camp.
Silver Lining: An energized Nick Watkins. Notre Dame's last piece of injury bad luck hit just days before the Irish were set to take on Ohio State. And when junior backup Devin Butler suffered a broken foot that sidelined the Irish's first two options at cornerback, sophomore Nick Watkins was thrown into action.
It was the first start for the once-highly touted cornerback recruit. And it was a matchup against one of the most talented teams in the country. Yet Watkins held his own in the Fiesta Bowl, playing all 86 snaps against the Buckeyes and possibly jump-starting his career at the same time.
Notre Dame needs Watkins to be a significant contributor in 2016. After competing his way into the mix last spring and during fall camp, Watkins suffered an August slide, falling behind Butler and spending his second straight season mostly relegated to special teams duty. Young cornerback Nick Coleman will do his best to challenge Watkins, as will Butler when he's healed. But after holding up against a team filled with NFL talent, Watkins should understand the urgency of a career half finished and step into the spotlight.
Waiting for the Lightbulb: Max Redfield. An up-and-down season ended on a disappointing note for Redfield, with the junior starter sent home from Scottsdale after violating team rules. That type of mistake is understandable from a freshman like Jerry Tillery, but Redfield's ouster left a lot of people inside the program scratching their head.
Physically, there's no doubting Redfield's impressive skill-set. But the Southern California native has never performed like a 5-star prospect, a recruiting designation that forced some considerable expectations on him. A thumb injury early this season might have contributed to some of this season's highs and lows, but mental mistakes earned Redfield a few quick hooks, especially against run-heavy opponents.
With just a year left, Redfield's most recent social media declaration has him intent on returning for his final season in South Bend. In a secondary badly needing a playmaking safety to emerge, its most obvious candidate needs to step forward before it's too late.