Protecting a first-year passer and a backfield of inexperienced runners, Notre Dame fielded what could be the school's most explosive offense ever. While most of that praise has been heaped on Will Fuller, C.J. Promise, DeShone Kizer and Josh Adams, you could just as easily point to the performance of the Irish offensive line as the key driver for that success.
While the highlight reel might only show the big uglies catching up in the end zone to celebrate, Harry Hiestand's group put together their most consistent showing of the Brian Kelly era, doing so with a talented front five that features NFL talent across the board. Exceptional at protecting the passer and creating running lanes, it may not have been an entirely consistent season, but the starting five deserved its reputation as one of the best units in the country.
While the current challenge is finding replacements for Ronnie Stanley and Nick Martin, let's take a final look back at the 2015 offensive line's performance. With PFF College's grading system as our guide, here's the closest thing to a statistical breakdown you'll find of an offensive line, a position group that never has an army of stats tracking their success, but is vital to a team's performance nonetheless.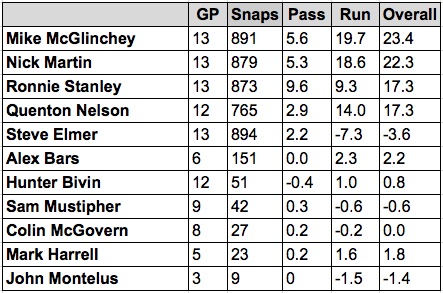 MVP: Ronnie Stanley. No, his season wasn't perfect. But Stanley played 2015 with crosshairs on him and made it through with his first round grade intact. That Stanley wasn't the team's highest-graded offensive line might be a surprise. But a deeper dig into Stanley—not just the draft prospect, but the present-day football player—shouldn't make this revelation so jaw-dropping. What makes teams covet Stanley isn't necessarily his work on the field (yet) but the stunning skill-set that perfectly blends athleticism and size, a football player whose best days are still ahead of him.
So while Stanley's final season wasn't at Zack Martin's level, it was still pretty solid. He struggled at times with penalties, though some of that could be attributed to an inconsistent snap count by rookie QBs and some of the growing pains that come with seeing and experiencing things for the first time.  Stanley struggled in the run game against Clemson (who didn't?) and played subpar against Wake Forest. But other than that he received a positive grade in every start, a standout performer on the blind side en route to All-American honors and the team's offensive player of the year award.
With another left tackle off to an NFL team in the first round, Notre Dame fans should look back on this incredible six-year run of Martin and Stanley and tip a cap. Because that duo has left huge shoes to fill—and Stanley looks poised to be another ND great succeeding at the next level.
Rising Stars: Mike McGlinchey and Quenton Nelson quickly become anchors.  That McGlinchey and Nelson so quickly turned into dominant players is a great sign for the future. Both are mauling offensive linemen, hardly the finesse performers that have sometimes plagued Kelly's (and Hiestand's) lines.
McGlinchey stepped in at right tackle after Christian Lombard played through injury last season. That he led the Irish in overall grade makes you wonder not just if he should've been playing in 2014, but if he's the next NFL prospect that'll have scouts drooling. At 6-foot-8 and a skinny 310 pounds, outside of a tough night in Death Valley, McGlinchey was dominant.
Nelson's toughness was on display when the sophomore gutted his way through a major ankle injury and fought his way back onto the field after Alex Bars went down. Nelson's strength—literally—made his run blocking an immediate forte. While he struggled some in the three-game stretch of Clemson, USC and Temple (he missed a one game in the middle of that stretch as he struggled with an ankle injury), he finished the season strong, playing two nice games against Stanford and Ohio State, building blocks for 2016.
Yes, questions about replacing Nick Martin and Ronnie Stanley will certainly exist this spring. But this ascending duo will cushion that blow.
He'll be missed: Nick Martin creates a huge hole at center. 
What Notre Dame does at center this spring should be revealing. Brian Kelly has praised the work of rising sophomore Tristen Hoge. Sam Mustipher filled in admirably for Martin in 2015, though a few shotgun snaps still felt like an adventure for the converted guard.
That Notre Dame finally recruited a natural center in Hoge is telling. Kelly has converted his centers since inheriting Braxston Cave when he arrived in 2010. Martin's performance the past few seasons has him in line to be a mid-round draft pick, especially after a solid Senior Bowl week showing off his versatility. How the Irish replace him is maybe even a bigger question than how they find their next left tackle.
Needs Improvement: Steve Elmer needs to rally in his senior season. One look at PFF's grades makes it apparent that Elmer had a down season. No starter had a grade even close to the negative number the junior put up. After seeing the field as a true freshman starter and then yo-yo'ing between tackle and guard as a sophomore, most expected consistency from Elmer in 2015. That wasn't the case.
There's still plenty to like about Elmer's future and every reason to think he can not just rebound in 2016 but find a way to play on Sundays. He's got exceptional size for an interior player. He's a good enough athlete. But Elmer needs to correct his "big miss," and we've seen it all too often in the run game as he's badly whiffed on a block when his technique and body get out of position.
Last week rumors swirled after Irish Sports Daily's Power Hour mentioned that Elmer might be considering an academics-only senior year, leaving behind his final season of eligibility. (I haven't heard that rumor.) That move would force the Irish staff to replace a 30-game starter. Elmer's far too talented to take off the field, but his backups also are too good to concede a starting job to someone underperforming. So Elmer will need to rebound in 2016 for the line—and Elmer—to reach their potential.
Biggest Question: Can Alex Bars step in at left tackle? After his sophomore season was cut short by an ankle injury, Bars will likely transition back to offensive tackle, the odds-on-favorite to get first crack at replacing Ronnie Stanley. While Bars served as a platoon-mate (or more accurately, understudy) to classmate Quenton Nelson at left guard, he's a natural tackle.
It's worth pointing out that it was Hunter Bivin who served as Ronnie Stanley's backup in 2015. Bivin has bounced around the offensive line, trying everything from center to tackle in a quest to find a position. But this staff thinks the world of Bars, and Kelly has praised the young player from jump street. If Bars' ankle is good to go come spring practice, we'll see if he's given the first shot to run with the first team or if Kelly and Hiestand stick with Bivin, a senior at a position where the staff certainly appreciates veterans.