Notre Dame hosted its annual NFL Pro Day with former Irish athletes performing in front of 31 NFL teams. With a who's who of NFL general managers and coaches in South Bend (not to mention a flock of media), 17 former Irish players put their best foot forward in front of future employers.
Chris Brown 
Amir Carlisle
Sheldon Day 
Matthias Farley 
Will Fuller 
Everett Golson 
Jarrett Grace 
Eilar Hardy 
Matt Hegarty 
Nick Martin 
Romeo Okwara 
C.J. Prosise 
KeiVarae Russell 
Elijah Shumate 
Jaylon Smith 
Ronnie Stanley 
Ishaq Williams
With plenty of footage posted on social media under the #NDProDay hashtag, it didn't take a press credential to get a good look at the workout in Loftus. But those on hand saw big days from a few prospects who certainly lifted their draft stock.
Scouting combine invitees Chris Brown and KeiVarae Russell worked out for the first time and didn't disappoint. Neither did Amir Carlisle or Matthias Farley, two fringe prospects who certainly helped boosted their chances of finding a job at the next level.
Everett Golson came back to Notre Dame to throw the football—a skill that he certainly showcased. Fellow graduate transfers Matt Hegarty and Eilar Hardy were on hand as well, along with Ishaq Williams.
Jaylon Smith gave NFL teams another look at his recovery in person and also managed to hit 24 reps on the bench press. Will Fuller ran crisp routes and showed no struggle with his hands.
For the first time in recent memory, there's an argument that every former player working out in front of scouts had a chance to make an NFL team. If that's not a signal that the arrow is pointed up when it comes to talent evaluation and player development, I'm not sure what else is.
Here are the results of the Pro Day, along with some Tweets that'll get you up to speed on Thursday's event.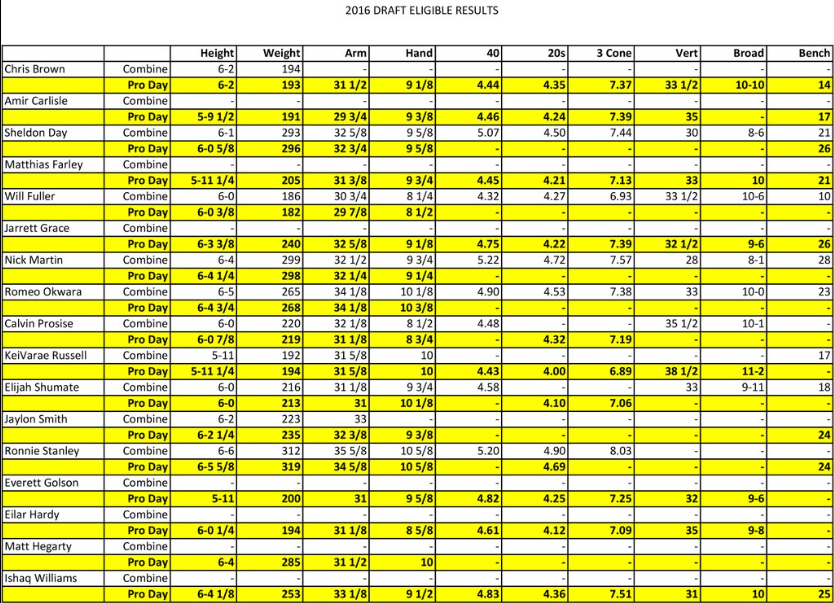 On to the Tweets: