Maximizing the roster has been a key part of building Brian Kelly's program. And as we reveal the first five names on our annual Top 25, we see two significant pieces to that puzzle that nobody saw coming last year—specialists Justin Yoon and Tyler Newsome.
Heading into last season, Notre Dame's special teams were a huge question mark. Replacing record-setter Kyle Brinda, the Irish went with two rookies, redshirt Newsome and true freshman Yoon, neither having set foot on a college football field. Both rookies flourished in 2015, the special teams operation improving after a shaky 2014 season. It's a big reason why both Irish specialist made our list, the first time that's ever happened.
Other hunches begin to reveal themselves as Equanimeous St. Brown slides into the Top 25. While the sophomore had a quiet spring as newcomer Kevin Stepherson turned heads, it's St. Brown that looks poised to fill a role as Notre Dame's staff needs to replace not just last season's starting three, but recently retired student body president Corey Robinson.
Durham Smythe and Daniel Cage both earn mention here as well, picks to step forward at crowded and unsettled positions during 2016. Smythe's 2015 season went up in smoke against Virginia, two major injuries suffered by last year's starter. But he'll have a shot at returning to the lineup with Alizé Jones shifting outside.  Cage could also be poised for a breakthrough this season, the Irish's fifth-highest graded contributor by PFF, especially impressive considering it came in just 267 defensive snaps.
Let's dig deeper into the list.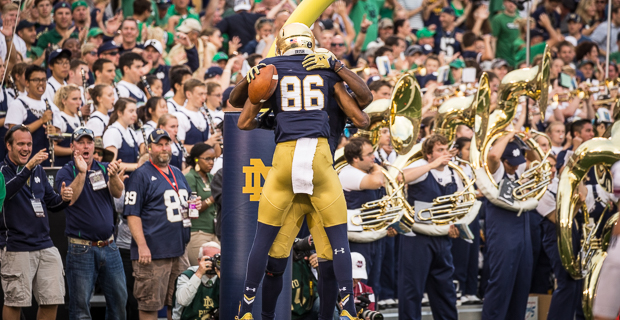 25. Equanimeous St. Brown (WR, Sophomore): His impact was limited as a freshman stuck behind All-American Will Fuller, but St. Brown made a gigantic play on a punt block returned for a touchdown and earned rave reviews from the Irish coaching staff after turning heads in camp.
His spring was disrupted as he recovered from an injury, so St. Brown could be flying under the radar heading into 2016. But at 6-foot-4 and with great speed—and opportunities aplenty in this receiving corps—don't expect that to last.
Highest Ranking: 17th. Lowest Ranking: Unranked (six ballots)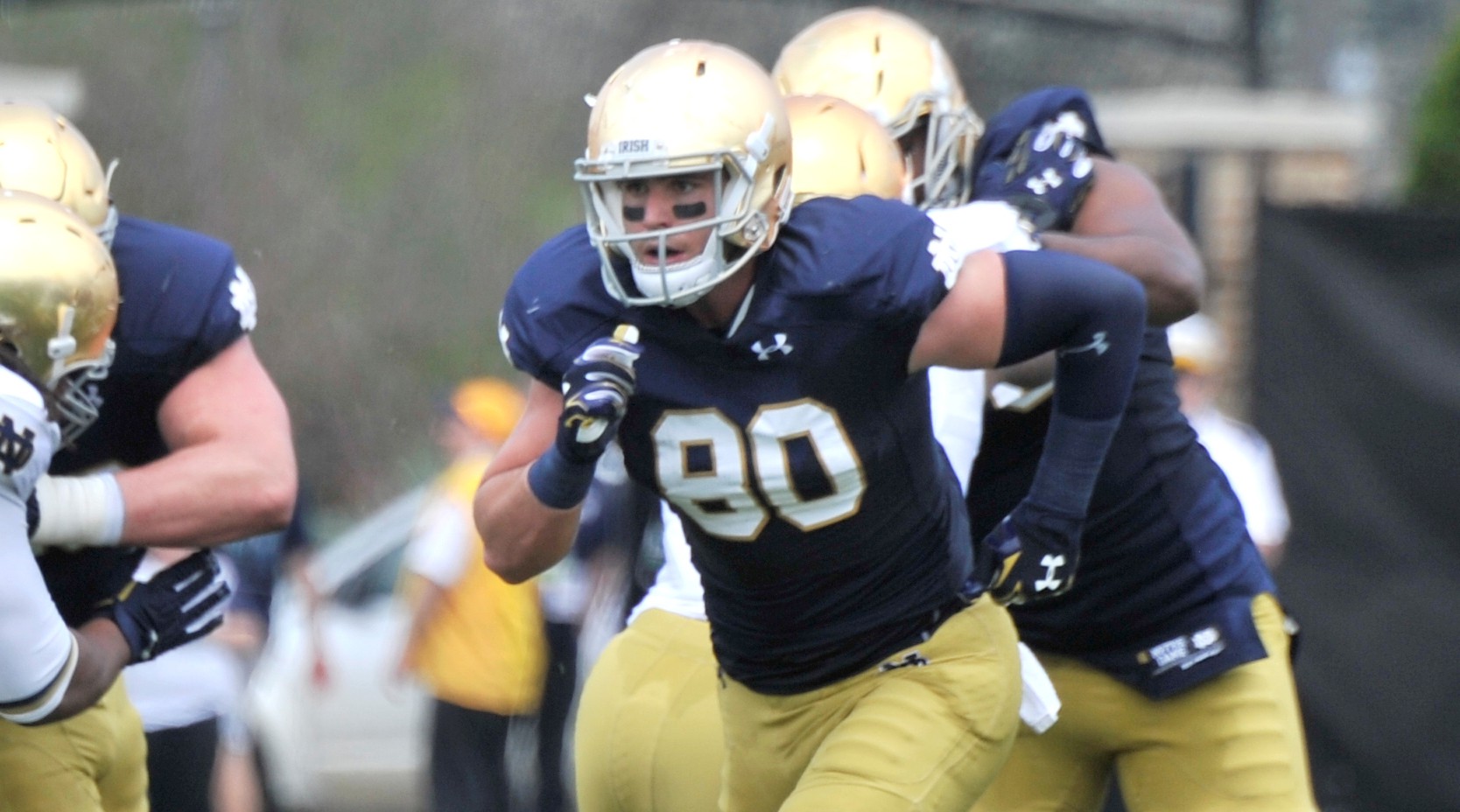 24. Durham Smythe (TE, Senior): Sophomore Alizé Jones spent most of spring supplementing the receiving corps, a possible replacement for Corey Robinson. That should allow Smythe, Notre Dame's most well-rounded tight end, to slide back into the starting lineup after battling injuries for the majority of last season.
Asking Smythe to be the next great Notre Dame tight end might be a little much. But he's a veteran, has good size, has shown himself to be competent in every facet of the game and is trusted by the coaching staff. The opportunity to have a nice season is right there for him if he can stay on the field.
Highest Ranking: 11th. Lowest Ranking: Unranked (five ballots)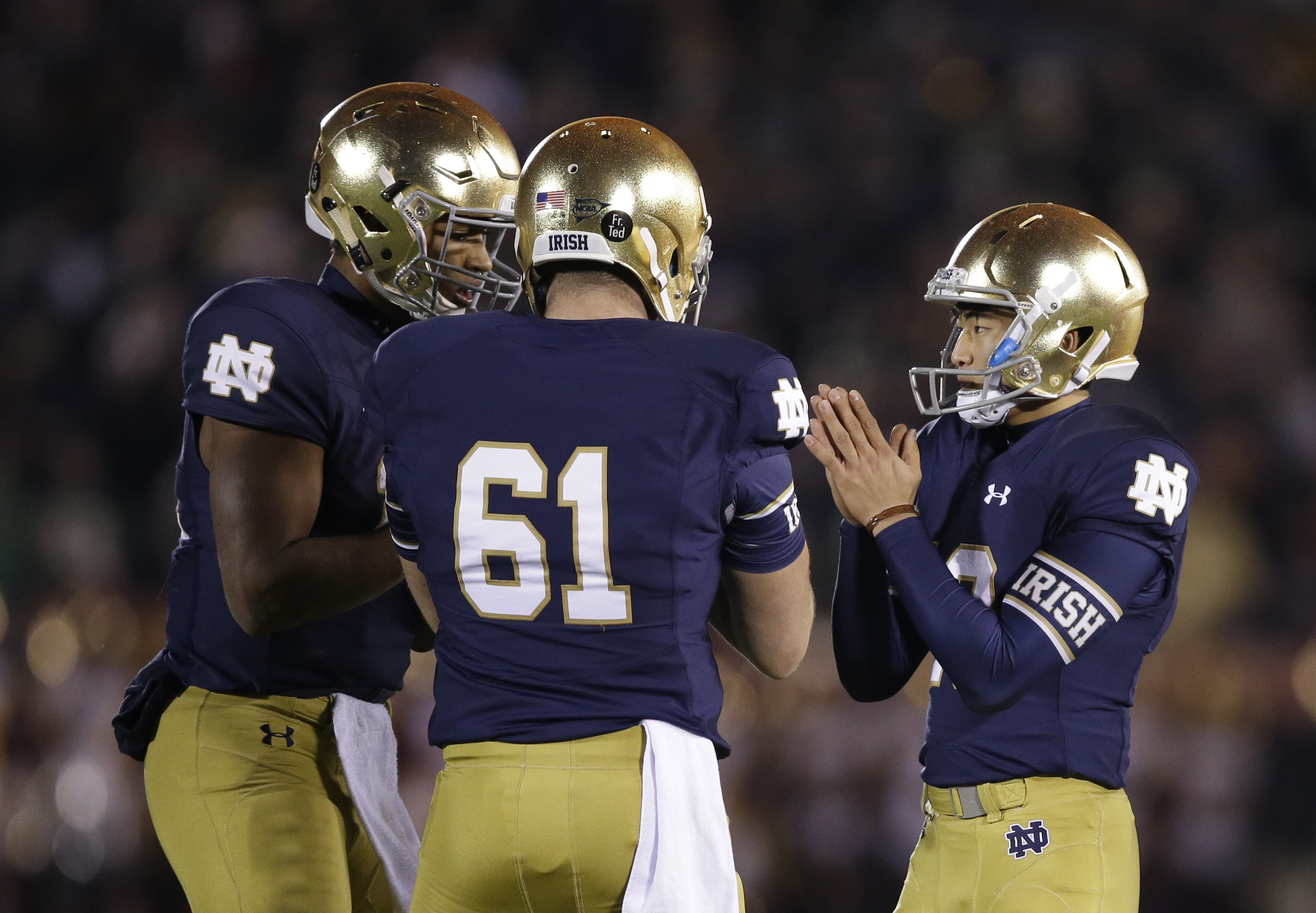 23. Justin Yoon (K, Sophomore): After receiving Freshman All-American honors for his impressive rookie season, Yoon's expected to do more of the same in 2015. Yoon showed remarkable consistency as a true freshman, making 15 of 17 field goal attempts and 46 of 48 extra points.
Probably more impressive was his ability to work through some mechanical issues early in the season, still making his kicks as he clearly battled to find his kicking stroke. Brian Kelly managed Yoon well, attempting just a fraction of the field goals that Brindza did in any of his three seasons as the placekicker. But expect that to change in 2016, with the staff's confidence in Yoon allowing him to stretch his range—already impressive as we saw with a 52-yarder against Navy that was just a yard shy of the school record.
Highest Ranking: 12th. Lowest Ranking: Unranked (two ballots)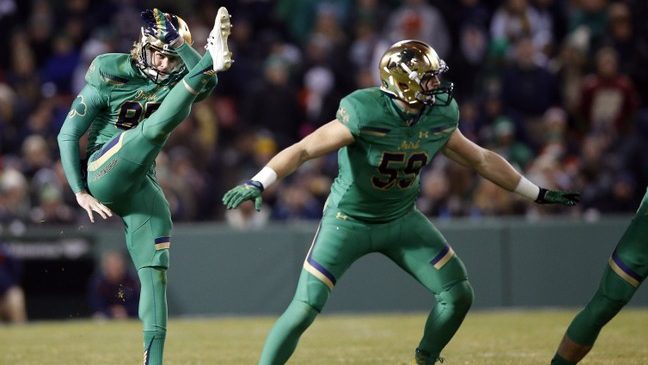 22. Tyler Newsome (P, Junior): Newsome had just as big of an impact on the Irish as Yoon did, stepping into the starting punter job and adding over three yards a kick to what Brindza did as a senior. Add on top of that kickoff duties and Newsome's big leg helped get the Irish out of trouble in the rare occasion that the offense struggled.
Newsome is still learning the trade, talking this spring about the benefits of hang time and not out-kicking his coverage. He'll also be looking to improve his situational work, with special teams analyst Marty Biagi helping Newsome perfect his craft.
Highest Ranking: 9th. Lowest Ranking: Unranked (four ballots)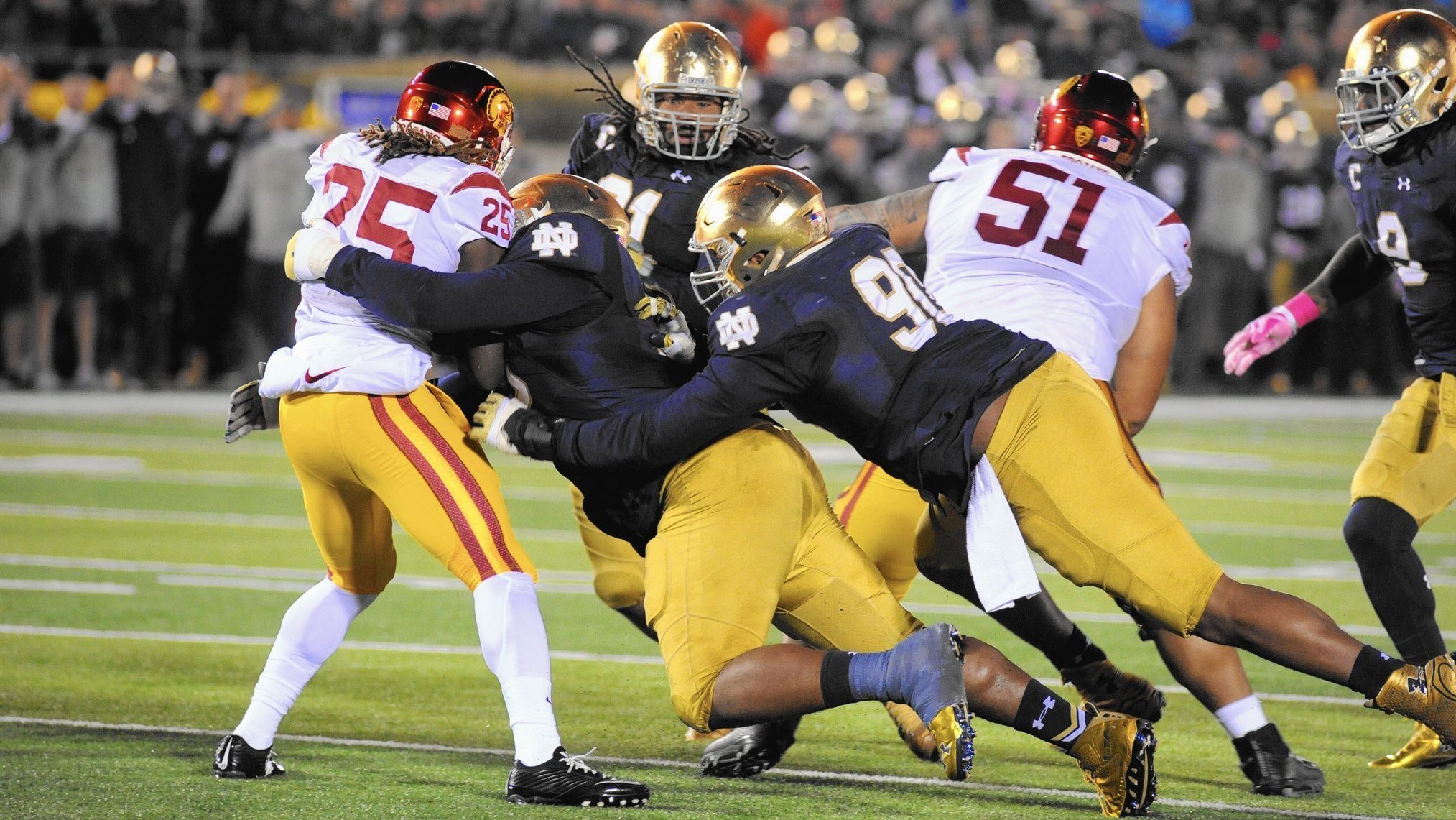 21. Daniel Cage (DL, Junior): While Jerry Tillery stole most of the headlines, it was Cage who provided most of the production. The sophomore started seven games along the defensive line, his 18 tackles and four TFLs the fourth-best total on the Irish defensive line.
Cage was sidelined for a few weeks with a concussion and a nagging ankle injury. But in a specific role he found a way to be very productive, a strong run-defender who played very well against Georgia Tech, USC and Temple before late-season injuries ruined the last quarter of his season. Paired with Jarron Jones at nose guard, the Irish should get great production out of a duo who'll be very tough to run against.
Highest Ranking: 13th. Lowest Ranking: Unranked (four ballots)
***
Our 2016 Irish Top 25 panel:
Keith Arnold, Inside the Irish
Bryan Driskell, Blue & Gold
Matt Freeman, Irish Sports Daily
Nick Ironside, Irish 247
Tyler James, South Bend Tribune
Eric Murtaugh, 18 Stripes
Pete Sampson, Irish Illustrated
Jude Seymour, Her Loyal Sons
JJ Stankevitz, CSN Chicago
John Vannie, NDNation
Joshua Vowles, One Foot Down
John Walters, Newsweek