As we continue our ascent to the top of Notre Dame's roster, our next five members of the Top 25 play unique roles—all indicative of the talent on Brian Kelly's seventh team.
Two young players capable of emerging as stars. Two once-heralded recruits stepping into critical roles. And a likely team captain fully transformed after an early-career position switch.
As has been the case with the list so far, there's little from an on-field performance perspective to validate what we anticipate. But the talent in this group is undeniable, making these projections less about speculation than finally earning an opportunity.
2016 Irish Top 25 Rankings: 
25. Equanimeous St. Brown (WR, Soph.)
24. Durham Smythe (TE, Sr.
23. Justin Yoon, (K, Soph.)
22. Tyler Newsome (P, Jr.)
21. Daniel Cage (DT, Jr.)
20. Sam Mustipher (C, Jr.)
19. Jerry Tillery (DT, Soph.)
18. Max Redfield (S, Sr.)
17. CJ Sanders (WR, Soph.)
16. Drue Tranquill (S, Jr.)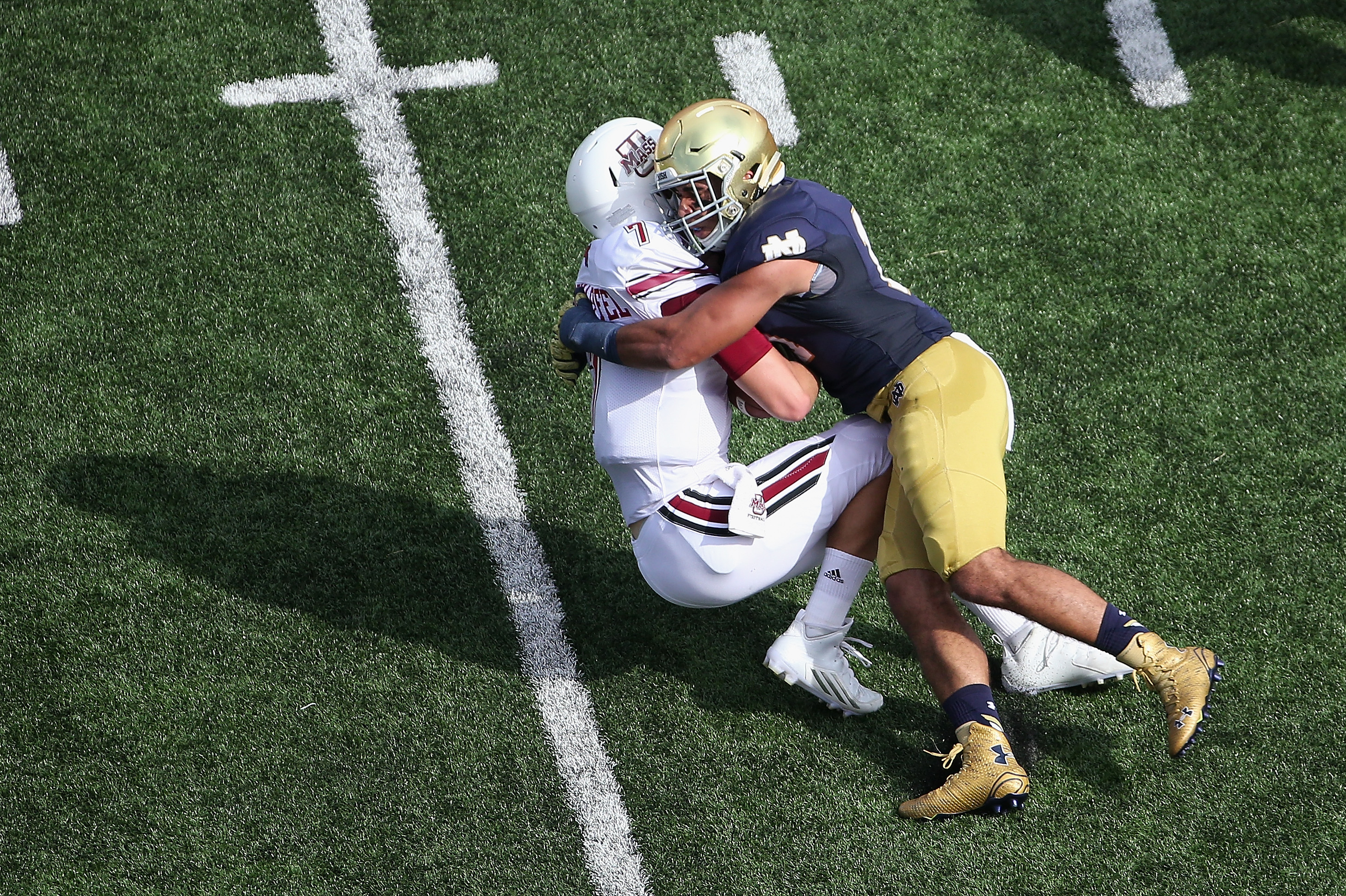 15. James Onwualu (OLB, Senior): After spending last season playing the majority of snaps in a platoon with Greer Martini, our panel believes that Onwualu's final season in South Bend will be his best. The former wide receiver has fully transformed his body into that of a linebacker, but still retains the athleticism that should allow him to be excellent in space and in coverage.
Onwualu was Notre Dame's fourth-best defensive player according to PFF College, grading out at +7.4. With Martini capable of spending time at Will linebacker, Onwualu's production could go up along with his snap total.
Highest Rank: 12th. Lowest Rank: Unranked (two ballots).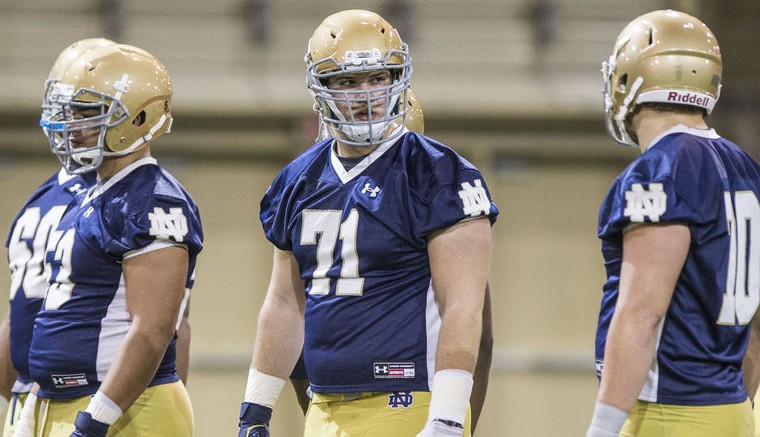 14. Alex Bars (RT, Junior): There's a lot of belief in Bars, who'll fill left tackle Mike McGlinchey's shoes on the right side. It's a move that took more of spring to finalize than some expected, mostly because Bars was still recovering from a broken ankle he suffered against USC.
Brian Kelly has raved about Bars in the past. He certainly looks the part of a high-level offensive tackle, a former elite recruit entering his third season in the program. But this is clearly a projection. He's played roughly 150 snaps in his college career—all at right guard.
Notre Dame's depth chart requires Bars to play on the edge. Our panel thinks he's ready. We'll see soon enough.
Highest Rank: 9th. Lowest Rank: Unranked (one ballot).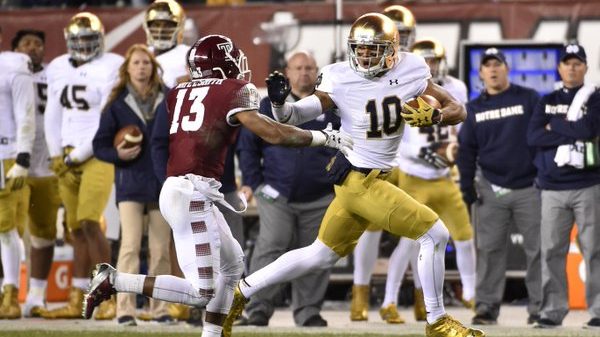 13. Alizé Jones (TE, Sophomore): Jones led all Irish pass catchers not named Will Fuller in yards per catch, a very nice datapoint for those expecting the former blue-chip recruit to take a giant leap forward in 2016. Add to that his cross-training at receiver as a replacement on the boundary side of the formation, and Jones is poised for a huge breakout.
Jones isn't the physical mismatch that Tyler Eifert was. But he very well could be used like Eifert was in 2012, strategically moved around and mostly detached to get a mismatch down the field. If that's the case, expect Jones' numbers to more than multiply, with some red zone targets also a certainty with Corey Robinson gone as well.
Highest Rank: 4th. Lowest Rank: Unranked (one ballot).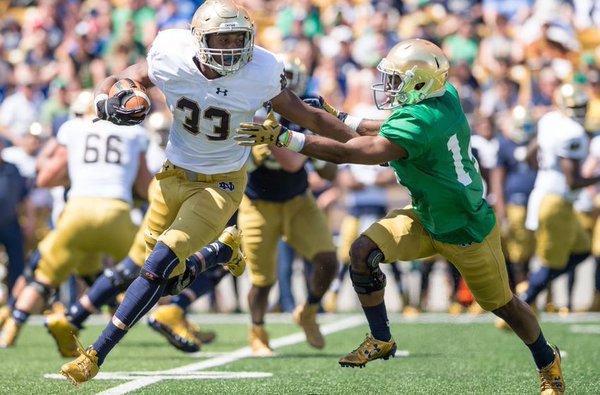 12. Shaun Crawford (DB, Sophomore): After an ACL injury ended his freshman season in training camp, Crawford returned this spring dead set on making up for lost time. He looked like the same player who was penciled into the starting nickel job, and might be too good to take off the field, possibly lining up opposite Cole Luke.
Even with a non-contact jersey on in the Blue-Gold game, Crawford was making plays everywhere. He's undersized, but plays with a physicality that makes you ignore his height. With speed and athleticism to cover slot receivers and the confidence to play on the outside, that our panel pegs him as one of the back-seven's best playmakers certainly says something.
Highest Rank: 7th. Lowest Rank: Unranked (one ballot).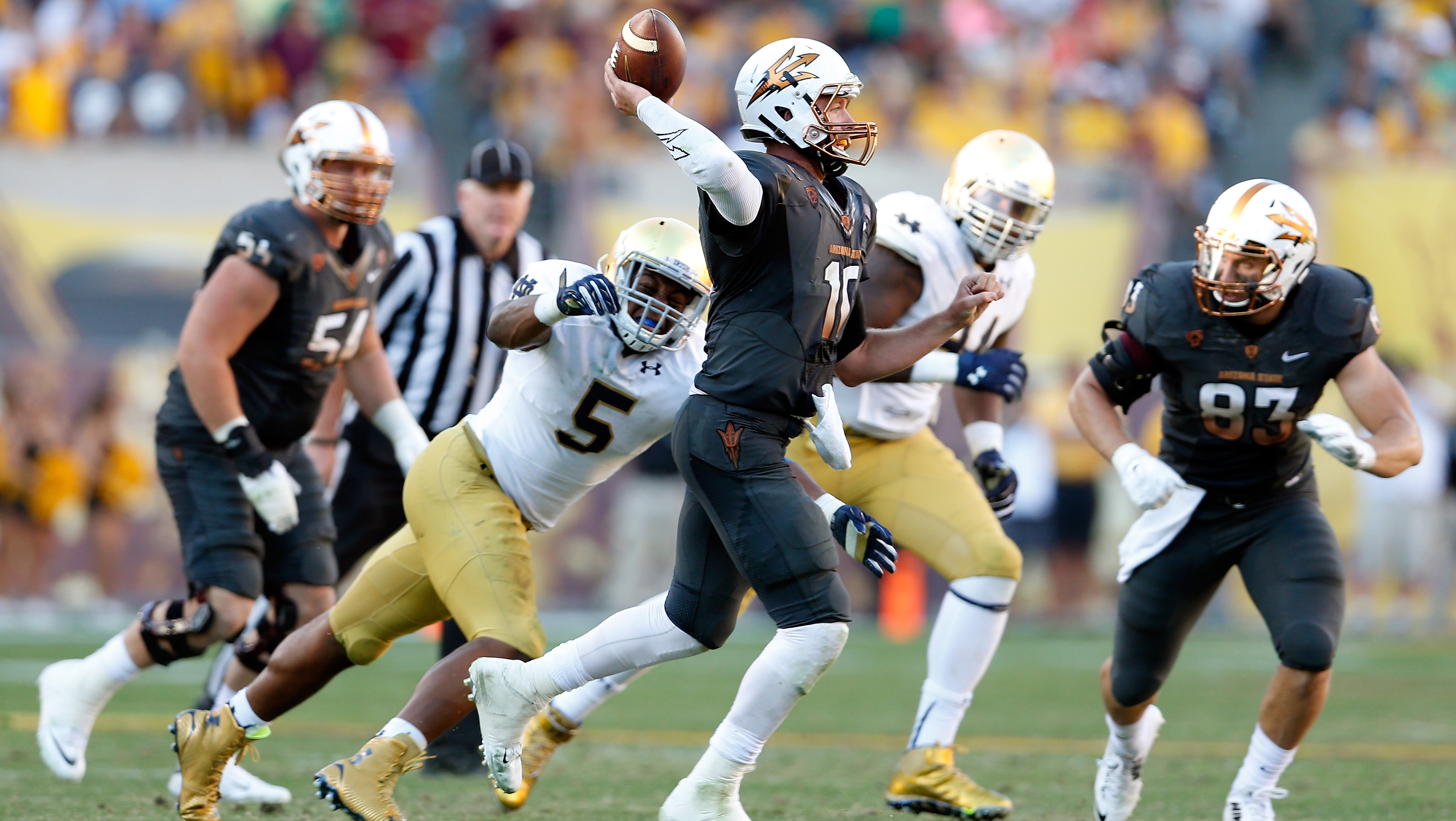 11. Nyles Morgan (MLB, Junior): For a linebacker who couldn't get on the field last year, this panel was certainly bullish when evaluating Nyles Morgan. The Chicagoland product steps into Joe Schmidt's middle linebacker job ranked no lower than 17th on any ballot, with the expectation being Morgan won't miss a beat in 2016.
From a productivity standpoint, it feels like a lock that Morgan will be one of the team's leaders. But after watching Morgan understandably struggle with the mental demands of the position as a true freshman, we'll find out if last season's watch-and-learn approach pays dividends.
Highest Rank: 8th. Lowest Rank: 17th.
***
Our 2016 Irish Top 25 panel:
Keith Arnold, Inside the Irish
Bryan Driskell, Blue & Gold
Matt Freeman, Irish Sports Daily
Nick Ironside, Irish 247
Tyler James, South Bend Tribune
Eric Murtaugh, 18 Stripes
Pete Sampson, Irish Illustrated
Jude Seymour, Her Loyal Sons
JJ Stankevitz, CSN Chicago
John Vannie, NDNation
Joshua Vowles, One Foot Down
John Walters, Newsweek