We enter the top ten in the middle of an eventful 24 hours that saw Notre Dame lose tight end Alizé Jones for the season, gain another 2018 recruit, and announce a social media partnership with Bleacher Report that'll give Irish fans another inside look at the program. And Brian Kelly still hasn't had his introductory fall press conference.
But as we get to the top of this list, the strength of this team continues to emerge. Four talented skill players and a gigantic defensive tackle who could all be among the best in the country.
What this panel still isn't sure of is how to balance the considerable talent Brian Kelly has stockpiled. Last year's opening day starters at running back and quarterback are now listed below their injury replacements. Their awards candidates at cornerback and nose guard return with lower expectations than we had for them last year.
Let's get into our Top 10.
2016 Irish Top 25 Rankings: 
25. Equanimeous St. Brown (WR, Soph.)
24. Durham Smythe (TE, Sr.
23. Justin Yoon, (K, Soph.)
22. Tyler Newsome (P, Jr.)
21. Daniel Cage (DT, Jr.)
20. Sam Mustipher (C, Jr.)
19. Jerry Tillery (DT, Soph.)
18. Max Redfield (S, Sr.)
17. CJ Sanders (WR, Soph.)
16. Drue Tranquill (S, Jr.)
15. James Onwualu (OLB, Sr.)
14. Alex Bars (RT, Jr.)
13. Alizé Jones (TE, Soph.)
12. Shaun Crawford (DB, Soph.)
11. Nyles Morgan (LB, Jr.)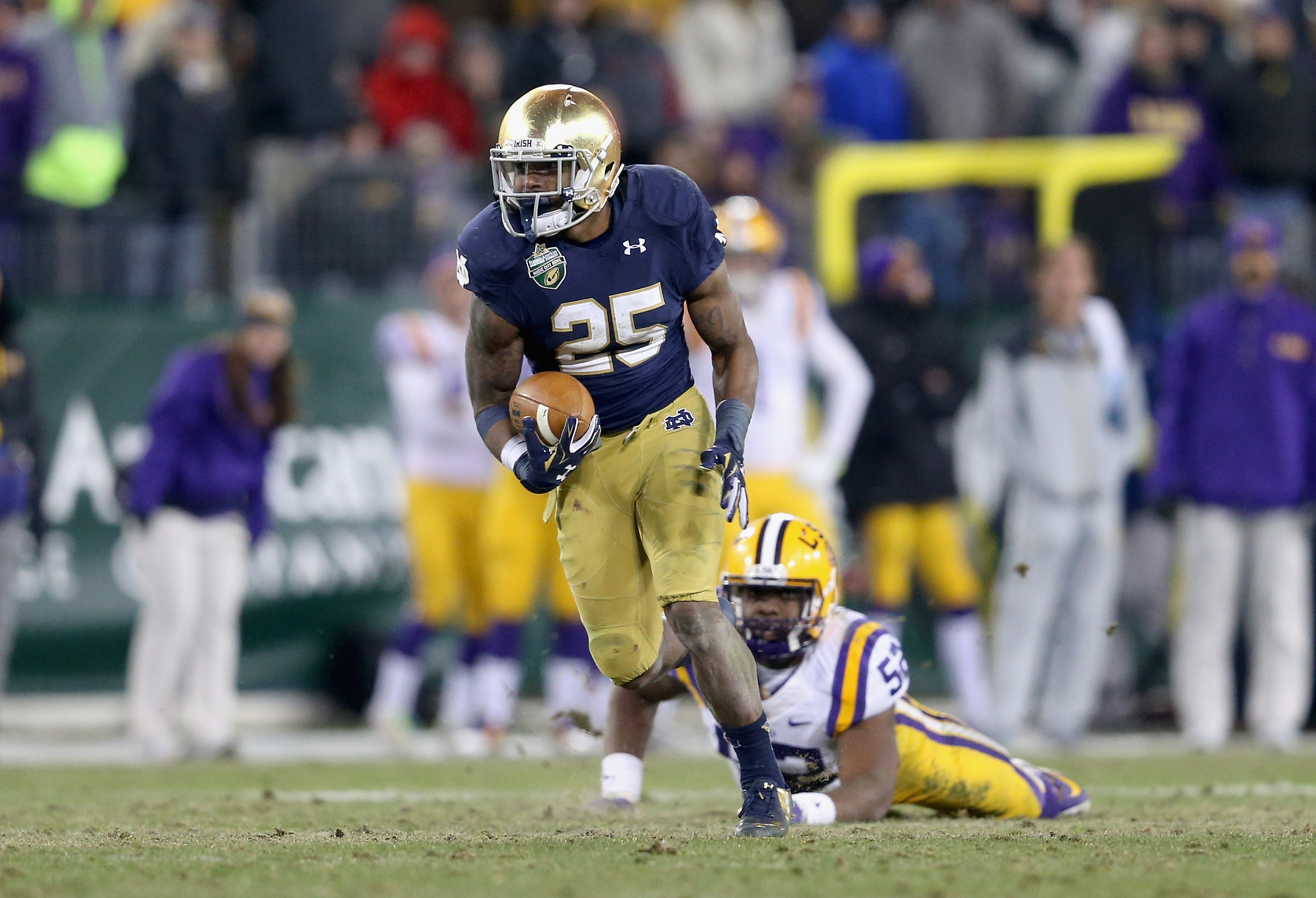 10. Tarean Folston (RB, Senior): Folston might not even be in South Bend had 2015 gone according to plan. With C.J. Prosise exploding onto the scene and going in the third round and Josh Adams establishing a school record for a freshman running back, you've got to wonder what Folston would've done had he not gone down with a season-ending knee injury on just his third carry.
Notre Dame's most talented and well-rounded back, we've yet to see if Folston is back at 100 percent. We'll also see if he's still the team's preferred ball carrier, with Adams a bigger home run threat with breakaway speed that Folston just doesn't have.
Still, Folston is a pure talent. He's excellent in space, reading blocks and catching passes. There's no reason not to believe he won't step right back into the action, capable of a huge season if healthy and given the opportunity. This ranking might be too low.
Highest Ranking: 6th. Lowest Ranking: 16th.
9. Jarron Jones (DT, Grad Student): Jones' senior season was derailed before it ever started, another returner to the roster who likely would've been in the NFL had he not gone down with an August knee injury. That's given the Irish one of college football's most dominant interior players—when Jones is motivated and healthy.
The Syracuse native was already battling a lisfranc injury that made it tough to return to full speed even before his MCL injury last August. And after being cautious with the injury this spring, Jones will be asked to go full out, even if he's on a pitch count. Brian Kelly hopes a 35- to 40-play limit will keep Jones fresh.
Tasked with wreaking havoc in the trenches and keeping offensive linemen off of Nyles Morgan, Jones has All-American ability if he can harness it.
Highest Ranking: 2nd. Lowest Ranking: 16th.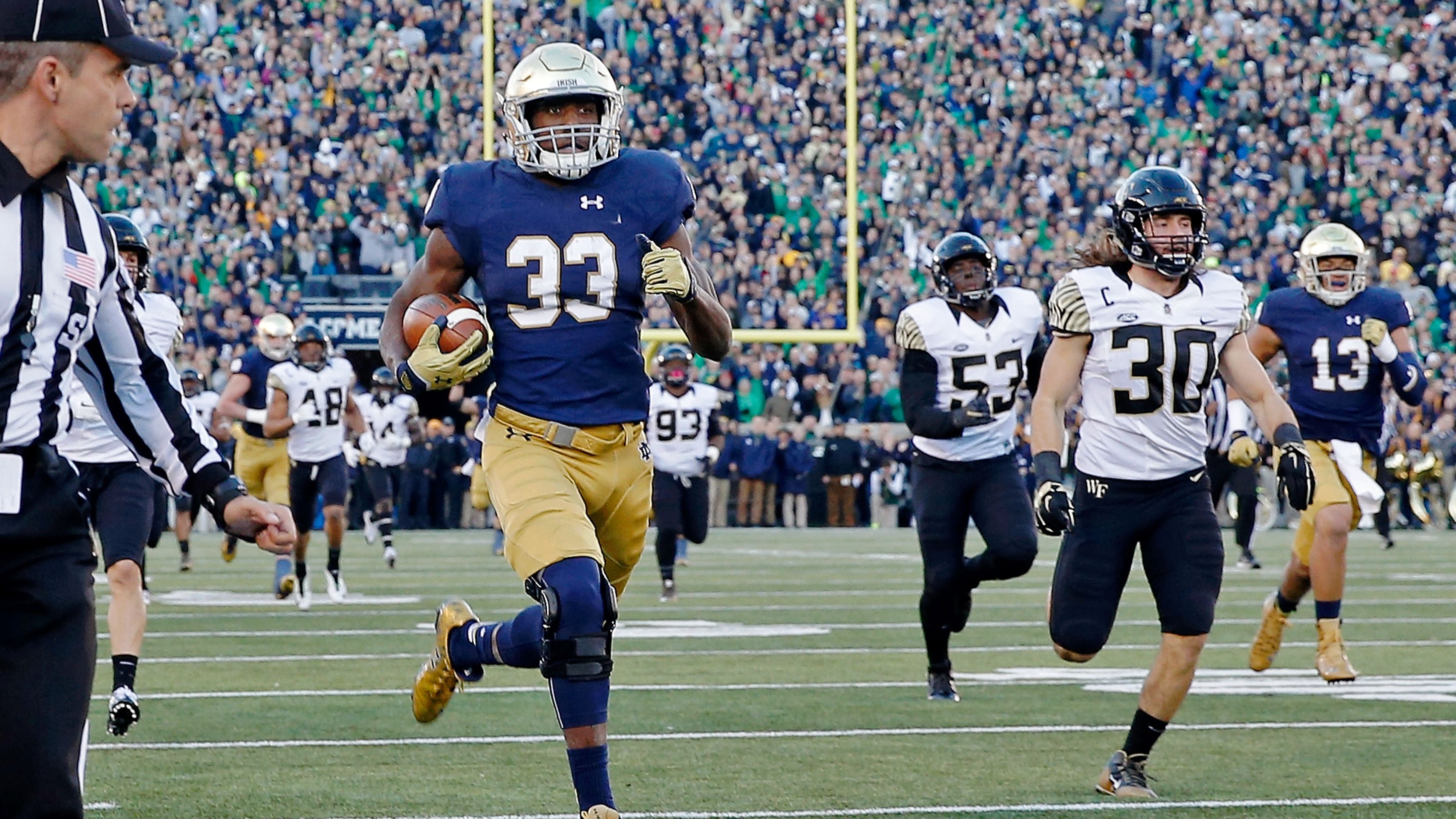 8. Josh Adams (RB, Sophomore): Expected to do little more than redshirt last season, Josh Adams' record-breaking campaign leaves many wondering just how impressive the encore can be. With power and size—not to mention incredible long speed—Adams is the perfect Brian Kelly recruit, a three-star prospect that the staff stayed on even through a major knee injury.
He's already surpassed Tarean Folston in the eyes of this panel. While seniority might rule when it comes to the starting lineup, expect both backs to get plenty of carries, with each having the chance to put together a very big season.
Highest Ranking: 4th. Lowest Ranking: 10th.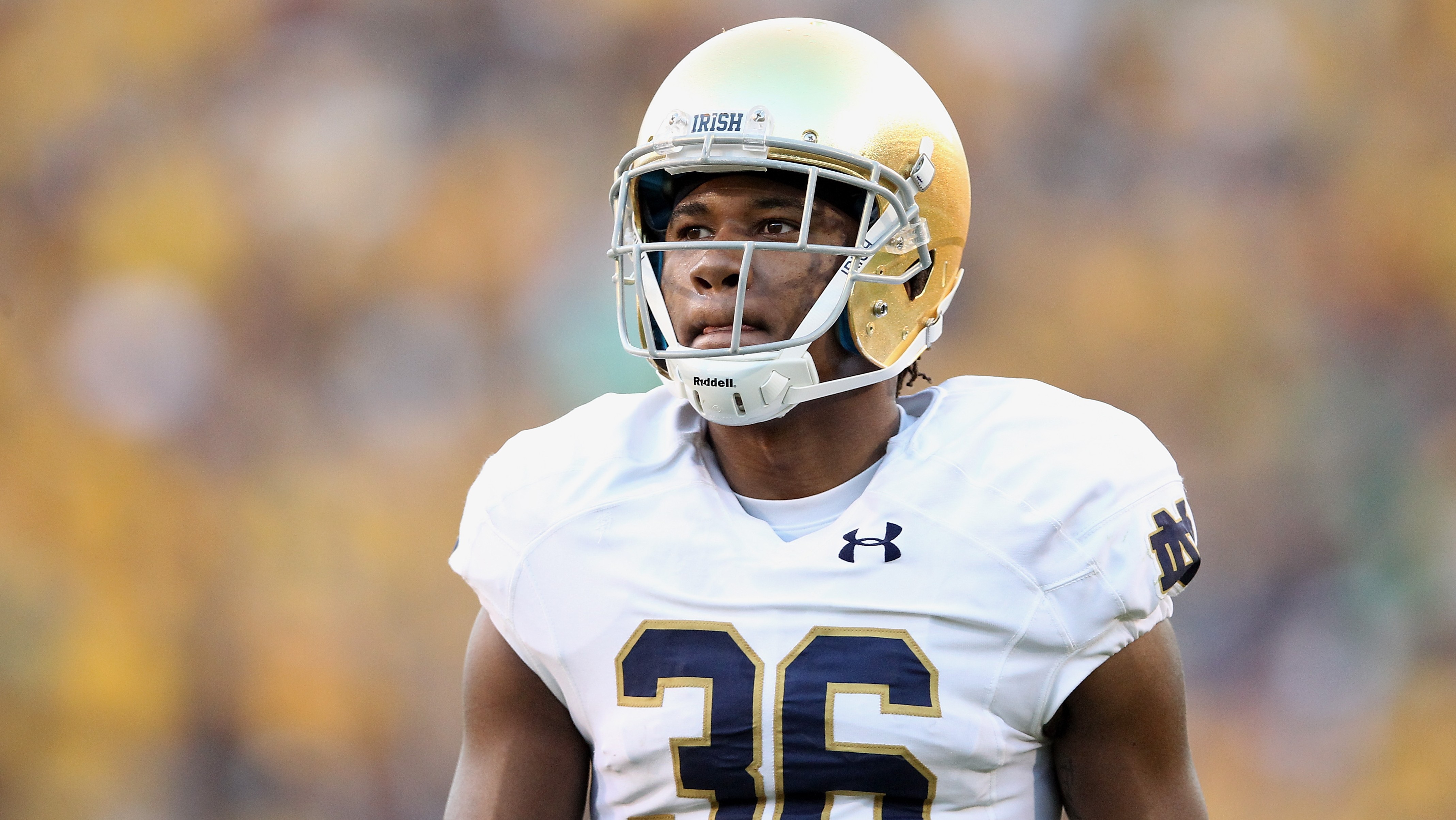 7. Cole Luke (CB, Senior): After a mostly anonymous junior season, Luke enters 2016 possibly underrated at the national level. Luke's exceptional sophomore campaign saw him lock up some of the nation's best receivers. With KeiVarae Russell gone and no experience at the other cornerback spot, it'll be up to Luke to repeat that performance, not the so-so junior year.
A talented cover cornerback with good ball skills, Luke will likely handle the job of covering an opponents No. 1 receiver. If he can find a way to impact the game and make more big plays, the Irish defense has a chance to improve, even after saying goodbye to some elite talent.
Highest Ranking: 3rd. Lowest Ranking: 19th.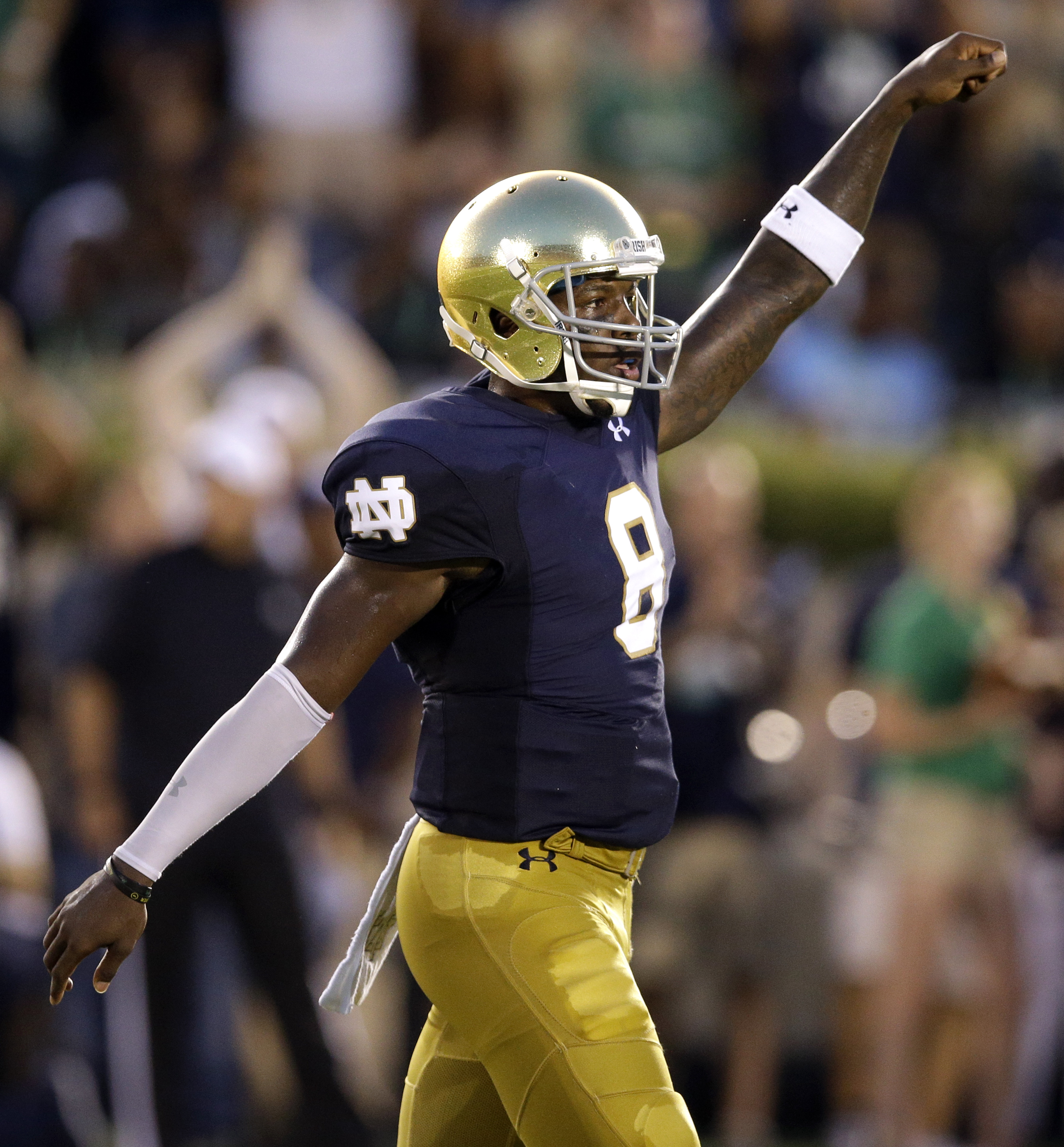 6. Malik Zaire (QB, Senior): Our panel clearly respects Zaire and views him as one of the team's top players. But he's No. 2 behind DeShone Kizer, who ranks inside the team's Top Five. Start Kizer? Start Zaire? Play them both? Let's just say they don't pay us enough to make that decision.
Zaire's entering his fourth season in South Bend and has only made an impact in four games over that period. Still, he's done just that in every chance he's been given, a standout against USC after taking over for Everett Golson, an emotional win over LSU in the bowl game, near perfection against Texas and then a nice performance before ending his season with an ankle injury against Virginia.
Entering a training camp battle that not many expect him to win, Zaire's a key part of this Irish football team, with a still to be determined role.
Highest Ranking: 3rd. Lowest Ranking 11th.