We've reached the top of the roster on Brian Kelly's seventh team. And while it is no match for last season's star-studded top five, this group has a chance to put together a tremendous season—and all but one of them have a season (or more) of eligibility remaining.
That's the rub with this football team. As Brian Kelly explained in his introductory remarks heading into training camp, there's no shortage of talent on this roster, but they'll need to grow up quickly and prove that they can do the ordinary things right.
While the top of the heap had some consensus, there were still some wildly different evaluations out there. And you can validate any opinion at this point, just because the top three players on this list all have just one year of starting experience.
Young teams can certainly win football games. But they'll need to come together quickly. As we move beyond prognosticating, it'll be interesting to see if this roster—and the panel's selections— plays to our expectation or if they can exceed it.
2016 Irish Top 25 Rankings: 
25. Equanimeous St. Brown (WR, Soph.)
24. Durham Smythe (TE, Sr.
23. Justin Yoon, (K, Soph.)
22. Tyler Newsome (P, Jr.)
21. Daniel Cage (DT, Jr.)
20. Sam Mustipher (C, Jr.)
19. Jerry Tillery (DT, Soph.)
18. Max Redfield (S, Sr.)
17. CJ Sanders (WR, Soph.)
16. Drue Tranquill (S, Jr.)
15. James Onwualu (OLB, Sr.)
14. Alex Bars (RT, Jr.)
13. Alizé Jones (TE, Soph.)
12. Shaun Crawford (DB, Soph.)
11. Nyles Morgan (LB, Jr.)
10. Tarean Folston (RB, Sr.)
9. Jarron Jones (DT, GS)
8. Josh Adams (RB, Soph.)
7. Cole Luke (CB, Sr.)
6. Malik Zaire (QB, Sr.)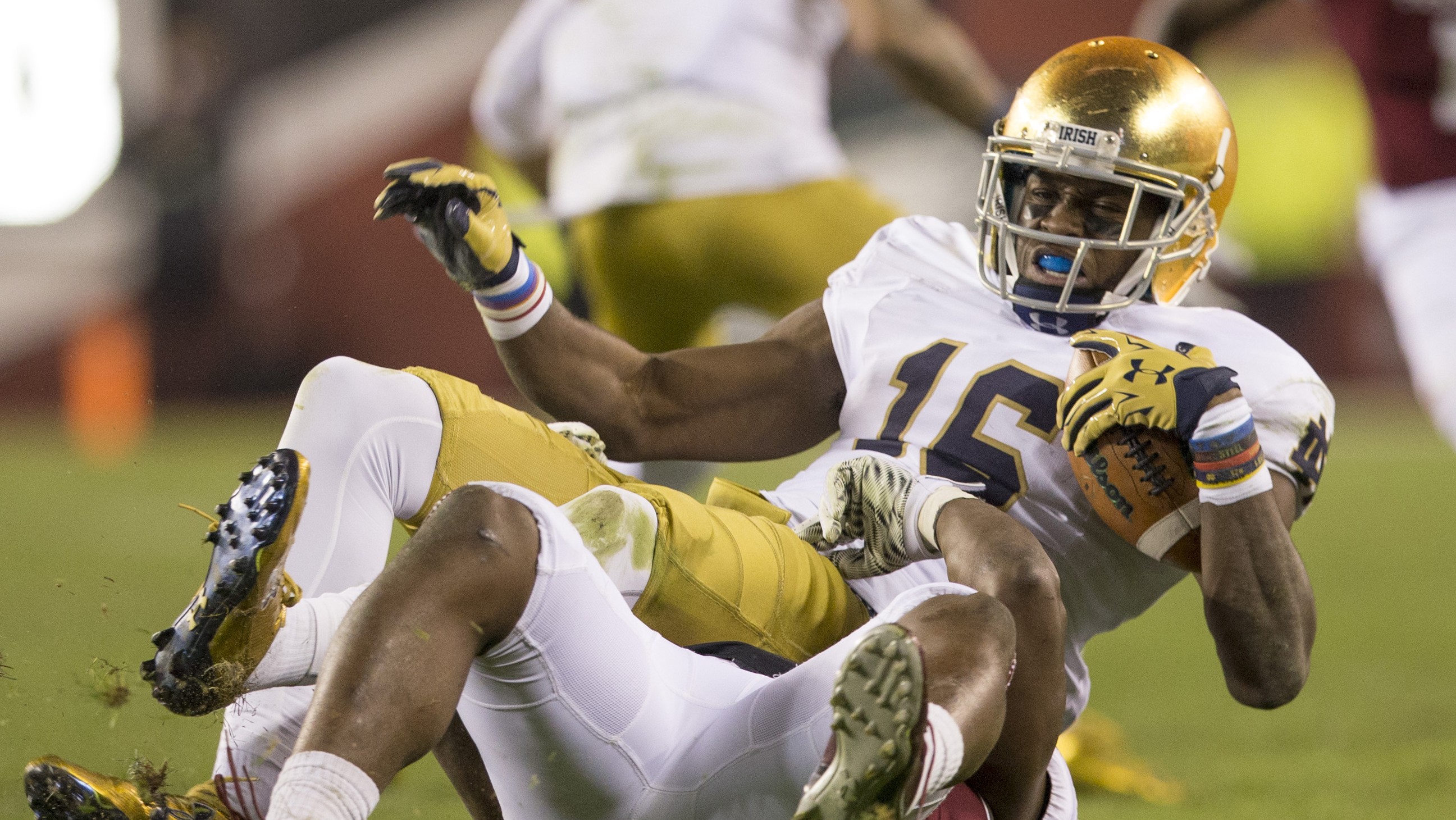 5. Torii Hunter Jr. (WR, Senior): The only regular returning to the receiving corps, Hunter will be the primary target for Notre Dame's still-to-be-determined starting quarterback. A smooth athlete with better than advertised speed, Hunter has taken his time developing in the program, with injuries setting him back in two different seasons.
With his baseball career on hold for the time being, Hunter is all about football. And he'll have every chance to be force-fed the ball this season, with the receiving corps as top heavy as we've seen it, especially when it comes to experience.
Hunter isn't Michael Floyd, Will Fuller or Golden Tate. But he could be senior-season TJ Jones, a versatile playmaker who can bounce around the field and do a little bit of everything. That seems to be the bar we've set with Hunter in the top five, mostly based on reputation and a strong spring.
Highest Rank: 3rd. Lowest Rank: 10th.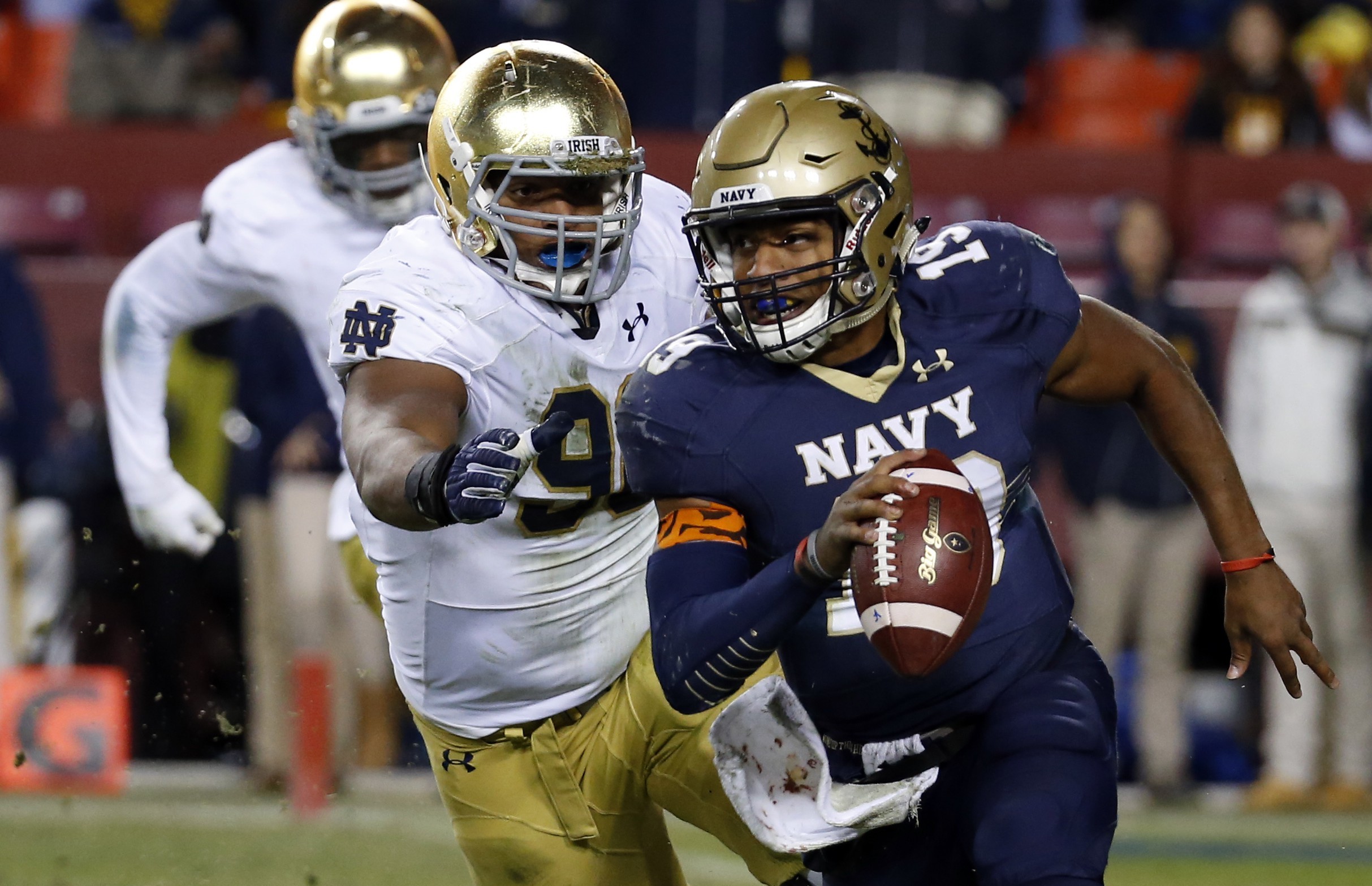 4. Isaac Rochell (DE, Senior): One of the ironmen of the roster, Rochell led the defensive line in snaps and put together a rock-solid junior season at strong side defensive end. Entering his final year of eligibility, Rochell is healthy and capable of playing just about anywhere, a candidate to move both inside and out.
Rochell has ascended into Sheldon Day's leadership role, a likely captain as the 2016 squad evolves. If he's able to turn in Day's performance wreaking havoc behind the line of scrimmage, the Irish have an intriguing NFL prospect who could have a long football career ahead of him.
A stout run defender who will be difficult to move off the point of attack, Rochell needs to improve as a pass rusher, finding a way to impact the game by getting to the quarterback. If he can add that element to his repertoire, he could have a special season.
Highest Rank: 2nd. Lowest Rank: 11th.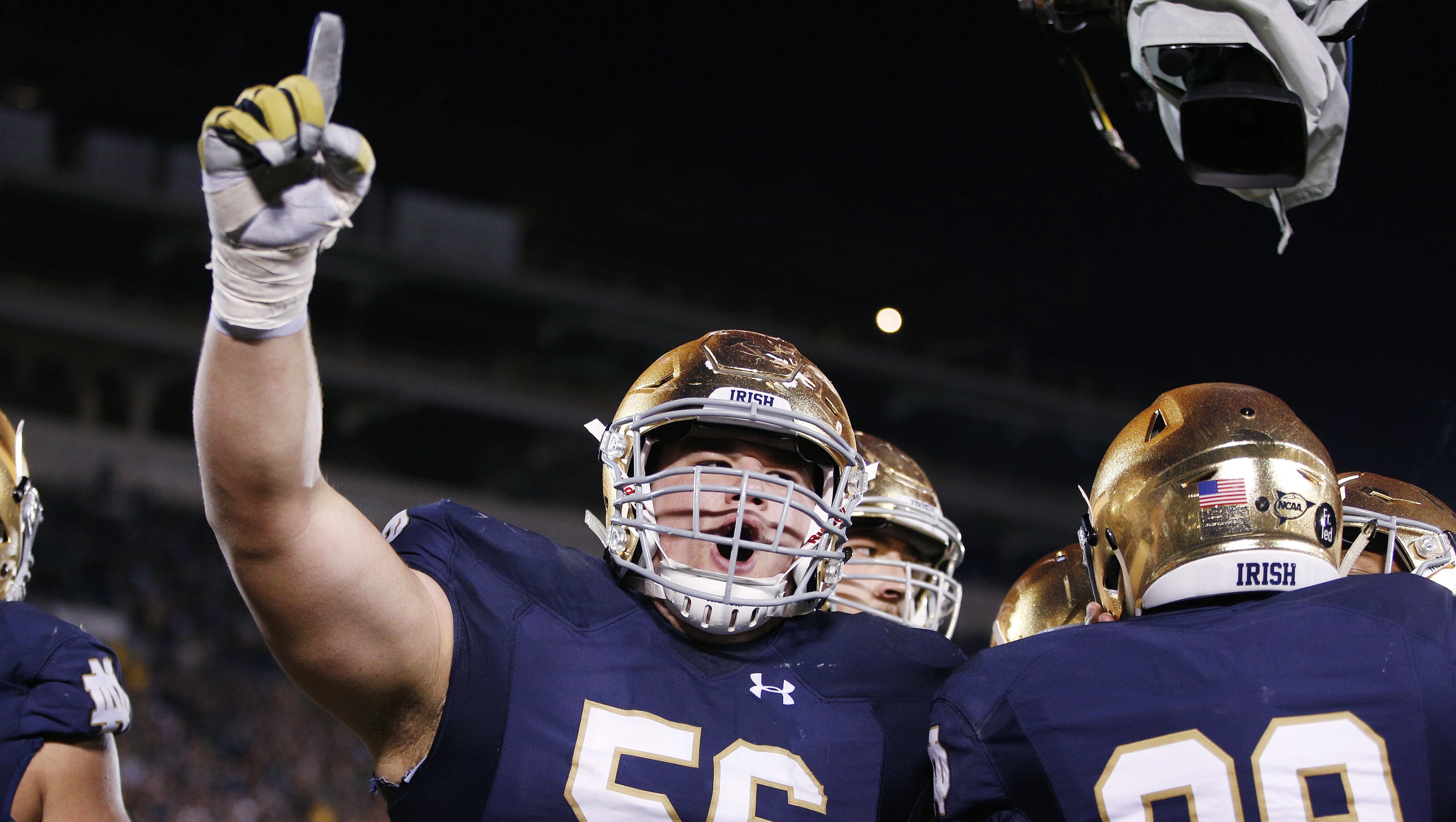 3. Quenton Nelson (LG, Junior): In just 11 starters, Quenton Nelson has established himself as one of college football's top guards. A big, strong and long player, Nelson's got the physical gifts of a tackle and the nasty demeanor of a lineman built for the inside of the trenches.
One of the most powerful run blockers in the country, Nelson will only improve in all facets of the game as he enters his second season in the starting lineup. Lined up next to Mike McGlinchey, the duo might be one of the most physically imposing in all of college football—650 pounds of granite that should protect quarterbacks and power the ground game.
Highest Rank: 2nd. Lowest Rank: 7th.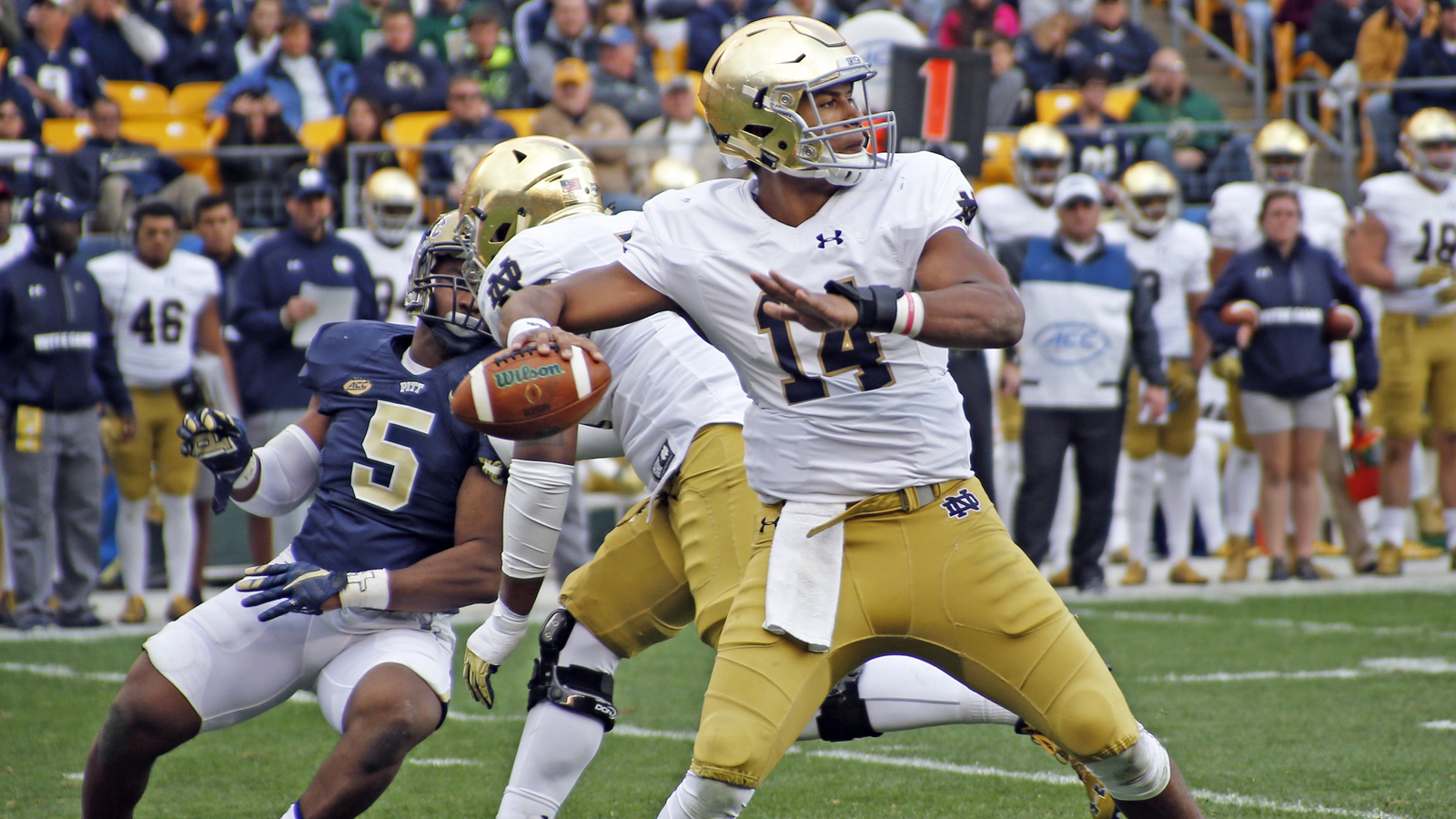 2. DeShone Kizer (QB, Junior): It's staggering to think that at this time last season, not a single vote was cast for DeShone Kizer. (A sampling of those that received votes: Incoming transfer Avery Sebastian, Nick Watkins, true freshman Justin Yoon and redshirt Jay Hayes.)
What a difference a year makes. Kizer very nearly topped our list, the smallest variance of any player in the eyes of the panel.
Kizer does everything a quarterback should do in a Brian Kelly offense—and has a few other traits that feel like the cherry on top. With the size of a prototype NFL player and the skills of a zone-read runner, Kizer's offseason was likely spent preparing for a camp competition with Malik Zaire that both players think they'll win.
At his best, Kizer has the upside of an NFL starter. And with another season under his belt, there's only room for improvement after seeing and doing things for the very first time in 2015. Two of Notre Dame's best players are quarterbacks. It's a tough problem to have, but one every coach would kill for.
Highest Rank: 1st. Lowest Rank: 4th.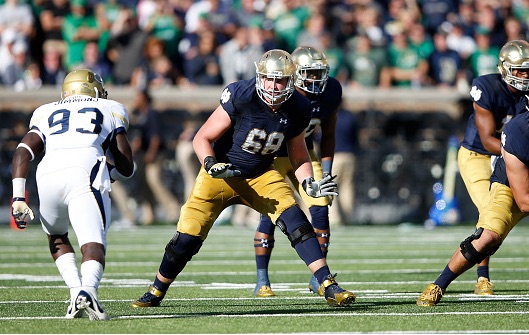 1. Mike McGlinchey (LT, Senior): After producing two-straight first round left tackles, the Irish have a third in McGlinchey. While he's only a second-year starter, McGlinchey came into the preseason viewed as one of college football's premier talents, understandable when you dig deeper into his performance last season—not to mention just look at him.
McGlinchey was born to be an offensive tackle, and physically he might be the most gifted we've seen in recent years. While he'll be seeing and doing things for the first time, he's talented enough to use his extraordinary physical gifts to dominate— long arms, quick feet, and great strength, all in a body that could dominate on the basketball court.
Passed the leadership baton from Martin to Martin, McGlinchey is a near lock to be a team captain. And he has a fifth year of eligibility remaining.
Highest Rank: 1st. Lowest Rank: 13th.
***
Our 2016 Irish Top 25 panel:
Keith Arnold, Inside the Irish
Bryan Driskell, Blue & Gold
Matt Freeman, Irish Sports Daily
Nick Ironside, Irish 247
Tyler James, South Bend Tribune
Eric Murtaugh, 18 Stripes
Pete Sampson, Irish Illustrated
Jude Seymour, Her Loyal Sons
JJ Stankevitz, CSN Chicago
John Vannie, NDNation
Joshua Vowles, One Foot Down
John Walters, Newsweek