Notre Dame finished among the "Others Receiving Votes" in the preseason USA Today Coaches' Poll. Counting shows coaches think the Irish are either the No. 29 or the No. 30 team in the country heading into the season, tied with Boise State.
It could not matter less. Literally. The poll does not matter. In the age of the College Football Playoff and a selection committee, these polls have no bearing whatsoever.
Naturally, the world will still either keep spinning or come to a screeching halt depending on where Notre Dame rates in this and the Associated Press's version each week.
To anyone who says the polls provide a barometer of how the Irish should fare against their opponent each week, any reader of this space knows this scribe is more likely to look to where that sun's rays are felt most-unobstructed, the desert. There, Notre Dame remains a 13.5-point favorite in the season-opener. When facing Georgia (the coaches' No. 15, one spot behind Stanford and three spots ahead of Miami) a week later, the Irish have been pegged as 3- or 4-point favorites, to date, indicating that matchup would be a pick'em on a neutral field. (For thoroughness' sake, USC landed No. 4 in the coaches' poll.)
Equally inconsequential but perhaps more interesting, 23 players landed in the "Others Receiving Votes" category of this year's Counting Down the Irish series. To recap the concept: A dozen Notre Dame media members submitted ballots rating this year's top-25 players on the basis of most-impactful contributions in 2017. Gauging the rankings solely on production would be an obvious mistake: It takes great subjectivity to rate senior left guard Quenton Nelson's output compared to junior running back Josh Adams', but it would be more than reasonable to place Nelson above Adams in the rankings.
The release of the top 25 is slated for next week, five per day. A teaser for today: Five different players received No. 1 votes, one of which received six of the 12 top nods.
The panelists:
Michael Bryan, 18 Stripes
Bryan Driskell, Blue & Gold Illustrated
Matt Freeman, Irish Sports Daily
Tyler James, South Bend Tribune
Mike Monaco, Notre Dame Broadcaster/Reporter
Ben Padanilam, The Observer
LaMond Pope, Chicago Tribune
Ryan Ritter, Her Loyal Sons
Pete Sampson, Irish Illustrated
Evan Sharpley, Irish 247
John Vannie, ND Nation
Joshua Vowles, One Foot Down
Why defer to those 12 instead of crafting a personal list? The wisdom of the crowd should, theoretically, present a balanced assessment of certain possibilities. Some may rate the two freshmen tight ends higher than the rest. Others may drop sophomore receiver Kevin Stepherson further than appropriate. The hope is to even those fluctuations to a reasonable level.
The others receiving votes:
Sophomore right tackle Tommy Kraemer (28 points); Junior safety Nick Coleman (26); Fifth-year senior receiver Cameron Smith (25); Sophomore safety Jalen Elliott (20); Sophomore running back Tony Jones (19); Sophomore safety Alohi Gilman (18); Sophomore right tackle Liam Eichenberg (15); Senior punter Tyler Newsome (15); Senior defensive end Andrew Trumbetti (11); Sophomore safety Devin Studstill (10); Junior receiver Miles Boykin (9); Freshman tight end Cole Kmet (9); Sophomore cornerback Troy Pride (9); Junior receiver Chris Finke (7); Freshman running back C.J. Holmes (7); Sophomore defensive end Khalid Kareem (5); Sophomore defensive end Julian Okwara (4); Senior defensive tackle Jonathan Bonner (3); Freshman defensive tackle Darnell Ewell (3); Freshman tight end Brock Wright (3); Junior rover Asmar Bilal (1); Sophomore quarterback Ian Book (1); Freshman safety Isaiah Robertson (1).
A few notes in simply looking at that list:
— No freshmen finished in the top-25, making the entries of Kmet, Holmes, Ewell, Wright and Robertson notable. Of those five, only Kmet received multiple votes, a No. 20 and a No. 23.
— Many of these are determined as much by the competition on the depth chart as they are by their own talent. Take right tackle, for example. If either Kraemer or Eichenberg had a firm grip on the position, the odds are he would have finished in the top 25 with the other four starting offensive linemen. That uncertainty, combined with the distinct possibility of some trial-and-error, limits the rating's ceiling. (Eichenberg's 15 points came from one, No. 11 vote.)
Similarly, Pride may be far better than the 25th most-talented player on the team, but there are four other cornerbacks for him to try and beat on the field. Spoiler: Each of those four is in the top-25.
— Gilman landed on four ballots, a low of No. 25 and a high of No. 14. If known to be eligible, he probably would have landed on more.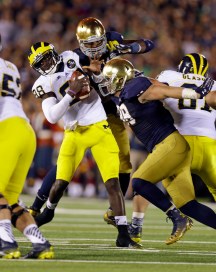 — Trumbetti received only two votes, a No. 16 and a No. 25, but both made it a point to highlight his new physique, the same one Irish coach Brian Kelly made sure to rave about Monday. Driskell went so far as to predict Trumbetti will "be more impactful than Jay Hayes from a numbers standpoint."
— Only one of these "others" landed in last year's top-25, Newsome. That may be a good sign for Notre Dame, as he may have been as much a placeholder in ballots as anything else, a name known to play consistently while others fell into the Kraemer/Eichenberg quandary.
A thank you to the panelists for contributing during an increasingly busy time of year: In exactly four weeks, the Irish will be a mere 23.5 hours from kicking off against the Owls.
Until then, enjoy a weekend without a scheduled time to be in front of the television. I hear there is a small concert in Chicago, for example.
---
One correction from earlier in the week …
Agreed, and this space will follow that guideline moving forward.
[protected-iframe id="4322d87b3e2eb4d11caa19723fa3b36c-15933026-22035394" info="//platform.twitter.com/widgets.js" class="twitter-follow-button"]