The next set of five Notre Dame players a media panel predicted as 2017's most impactful contributors does not yet include a unanimous vote-getter. Oddly enough, the lowest-ranked of Nos. 16-20 actually received the most votes of the grouping, but is apparently not seen to have as high of a ceiling.
The highest ceiling is seen at No. 19, but that comes along with the fewest votes of this range, foreshadowing a much-speculated low floor, as well. Yes, that would belong to junior receiver Kevin Stepherson.
As always, a thank you to the 12 panelists (listed at the end) …
25: Donte Vaughn, sophomore cornerback, 30 points
24: Justin Yoon, junior kicker, 34
23: Te'von Coney, junior linebacker, 50
22: Durham Smythe, fifth-year senior tight end, 50
21: C.J. Sanders, junior receiver and returner, 52
20: Jay Hayes, senior defensive end, 58 points.
High ranking: No. 15
Low ranking: No. 25
Eleven votes total.
With senior defensive end Andrew Trumbetti seeing some time on the opposite side of the line, ranking Hayes high enough to be one of three defensive linemen in the top-25 makes sense. (It should not take much thought to predict the higher duo.) The Irish will certainly need the 6-foot-3½, 290-pounder to play up to that size, lacking many other options along the defensive line.
It may have been that size which prompted some of those higher rankings, if not Hayes' overall inclusion. Some ballots came in before preseason practice commenced and some came in after, but all were submitted at a point where Hayes moving to defensive tackle, leaving Trumbetti on the strongside edge, seemed logical, if not likely. The odds of that may have diminished in the subsequent week, but given the youth and inexperience filling the Notre Dame depth chart at tackle, Hayes moving inward remains a viable possibility.
In that instance, Hayes' impact would certainly be of note, possibly meriting even a bump up these rankings come season's end.
19: Kevin Stepherson, sophomore receiver, 78.
High ranking: No. 8
Low ranking: No. 19
Seven votes total.
One thing seems to be clear: Stepherson is not doing everything right as far as the Irish coaching staff is concerned.
Another thing can be quickly deduced: If Stepherson can right his personal ship, his talent was obvious enough last season to create expectations this year despite his intangible difficulties to date.
That dichotomy explains Stepherson finishing here in this polling despite receiving an average ranking closer to No. 15. Not much more thought needs to be put into it: If the speedster is not on the field, his impact will certainly be minimal.
(Editor's Note: One panelist noticed a mistake in his submitted ballot, moving Stepherson from his No. 7 to his No. 19, altering the points total from when this was first published, though, as it happens, not changing where Stepherson lands in the pecking order.)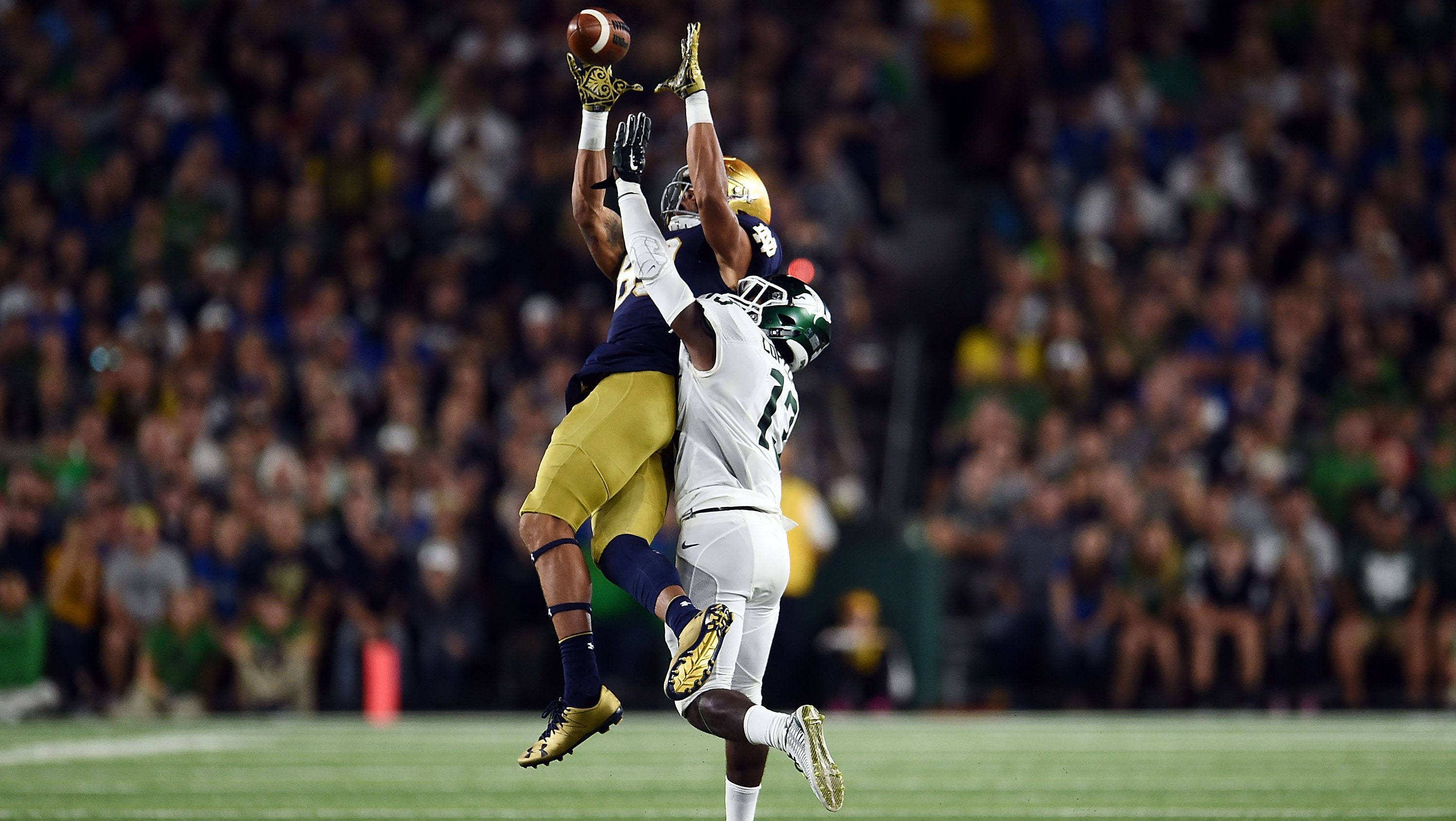 18: Chase Claypool, sophomore receiver, 91.
High ranking: No. 9
Low ranking: No. 24
Nine votes total.
Contrary to Stepherson, Claypool's chances at consistent playing time have remained steady since he appeared in the slot, or the Z, during spring's practices. As long as he projects as a starting receiver, Claypool should be one of junior quarterback Brandon Wimbush's preferred targets.
There could be some surprise here, though, in Claypool finishing as high as No. 18 while junior receiver Miles Boykin — the likely headliner at the boundary receiver position — finished the equivalent of No. 36. Claypool may have broken out more drastically a year ago, but he is also the current starter at a position which could be minimized by offensive coordinator Chip Long's preference for two tight ends. If and when both fifth-year senior Durham Smythe and junior Alizé Mack are on the field, the slot receiver will often not be.
It seems Claypool may do more with his chances than Boykin will while also getting more chances than Stepherson.
RELATED READING: Others Receiving Votes
Of course, this is all an interpretation of the wisdom of a dozen within the crowd. Sept. 2 will be more revealing.
17: Alex Bars, senior right guard, 92.
High ranking: No. 8
Low ranking: No. 20
Eight votes total.
If Bars were lined up at right tackle again this season, he may finish higher. If he was lined up next to a future early first-round NFL Draft pick, that could also rise the magnitude and bluntness of his impact. But no, Bars is intended for the right guard this season alongside a first-time starting sophomore.
With those disclaimers diminishing some of Bars' hype, it is impressive Notre Dame's fourth offensive lineman finishes not far from the top-15. The offensive line will be a strength for the Irish this season — and that is not based solely on these rankings. This polling only confirms that expectation.
16: Nick Watkins, senior cornerback, 106.
High ranking: No. 8
Low ranking: No. 24
Ten votes total.
If healthy, Watkins has shown an ability to handle man coverage, something Notre Dame needed last season. His 2017 ceiling, in fact, matches the upper-level of possibilities of the two cornerbacks yet to come in this countdown.
The 2017 Counting Down the Irish panelists
Michael Bryan, 18 Stripes
Bryan Driskell, Blue & Gold Illustrated
Matt Freeman, Irish Sports Daily
Tyler James, South Bend Tribune
Mike Monaco, Notre Dame Broadcaster/Reporter
Ben Padanilam, The Observer
LaMond Pope, Chicago Tribune
Ryan Ritter, Her Loyal Sons
Pete Sampson, Irish Illustrated
Evan Sharpley, Irish 247
John Vannie, ND Nation
Joshua Vowles, One Foot Down
[protected-iframe id="4322d87b3e2eb4d11caa19723fa3b36c-15933026-22035394" info="//platform.twitter.com/widgets.js" class="twitter-follow-button"]