One way of reading the results of this annual poll is with an eye toward the future. If a player is expected to be one of Notre Dame's primary contributors in 2017 and he has eligibility remaining, it seems logical to think he should be an even more crucial piece of the team in 2018. Of the five players constituting the lower-third of the top 15, all but one could be back next season, and it would take something of a surprise for any of those four not to be.
That is not to simply look past this fall. These votes were still cast with Sept. 2 in mind (24 days away, if counting). It is simply an acknowledgement of the nature of college football. Now then, entering the top 15 of counting down the Irish …
25: Donte Vaughn, sophomore cornerback, 30 points
24: Justin Yoon, junior kicker, 34
23: Te'von Coney, junior linebacker, 50
22: Durham Smythe, fifth-year senior tight end, 50
21: C.J. Sanders, junior receiver and returner, 52
20: Jay Hayes, senior defensive end, 58
19: Kevin Stepherson, sophomore receiver, 78
18: Chase Claypool, sophomore receiver, 91
17: Alex Bars, senior right guard, 92
16: Nick Watkins, senior cornerback, 106
15: Dexter Williams, junior running back, 109 points.
High ranking: No. 7
Low ranking: No. 21
Ten votes total.
From the outset with sophomore Donte Vaughn at No. 25, emphasis has been drawn to any backups appearing in this listing. Only a few, at most, will. When they do, it points to a wealth of potential at a particular position. That may not be truer of any offensive position than it is at running back. Not only does Williams join junior Josh Adams in the top-15, but sophomore Tony Jones finished fifth among the others receiving votes, essentially making it three backs in Notre Dame's top-30 impact players. (Sorry, spoiler alert: Adams made the top 10. You're not surprised? Good, you shouldn't be.)
If Williams does not finish the season in this high of esteem, it will likely be because Jones climbs the ladder, limiting the junior's chances.
Until then, though, Williams' speed should complement Adams' durability. Running behind an experienced offensive line, using the two backs to ease an inexperienced quarterback's workload early in the year makes plenty of sense. Speaking of that offensive line …
14: Sam Mustipher, senior center, 116.
High ranking: No. 11, by three separate voters
Low ranking: No. 19
Ten votes total.
A year ago, Mustipher finished No. 20 in this polling. While it may have been a publicly-trying 2016 for the center, his play overall was solid and an encouraging sign for the two seasons to come. Such a dichotomy is the peril of a center. He will be noticed most often for his mishaps.
This year Mustipher will need to bridge the gap between an All-American caliber duo on the left side of the line and an inexperienced and yet-to-be-determined combination on the right side. If Mustipher can supplement the left side, suddenly it becomes that much more difficult for defense's to overload on obvious running downs. Not only would the middle of the line be an option, but senior left guard Quenton Nelson or fifth-year senior left tackle Mike McGlinchey can pull to create a blocking force to the right of the line, trusting Mustipher to seal the impromptu edge.
It is these aspects which make the exact definition of this polling so hard to nail down, and what makes it so intriguing. Mustipher will be a pivotal cog of Notre Dame's offense in 2017, but he may not be noticed much, nonetheless.
13: Greer Martini, senior linebacker, 129.
High ranking: No. 5
Low ranking: No. 23
Eleven votes total.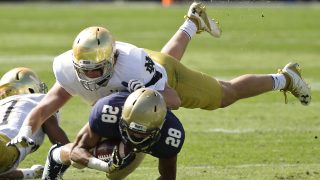 It may sometimes be hard to remember, but Martini finished third among the Irish defenders last year in tackles for loss with seven. The two ahead of him — linebacker James Onwualu with 11.5 and defensive tackle Jarron Jones with 11 — are now trying their trade at the next level. Martini racked up those stops despite splitting time with now-junior Te'von Coney.
Coney will still see time this year, but Martini is about to see a distinct increase in both opportunities and responsibilities in defensive coordinator Mike Elko's system. His nose for the ball could lead to a number along the lines of Onwualu's. That would certainly qualify as an impactful contribution, and it does not even consider the intangible value of Martini as a senior captain looking to finish his collegiate career on a high note.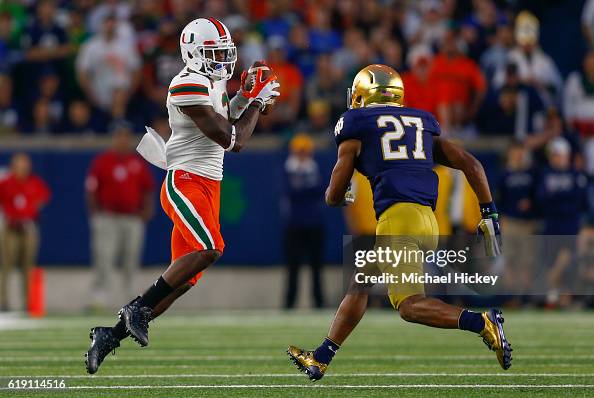 12: Julian Love, sophomore cornerback, 159.
High ranking: No. 8, by three separate voters
Low ranking: No. 22
Twelve votes total; unanimous.
The first unanimous vote-getter (yes, each of the top-12 managed that feat), Love is surprisingly not the top cornerback on this listing. Then again, he may not stay at cornerback for much longer.
If Elko and Irish coach Brian Kelly do decide to take advantage of the depth at cornerback by moving Love to safety, where he may be desperately needed, this No. 12 ranking will probably seem far too low at the end of the year.
In some respects, that qualification is a good sign for Notre Dame. Of the remaining 11 players, it is hard to see Love playing better than at least eight of them, no matter how well he fares at any position in 2017.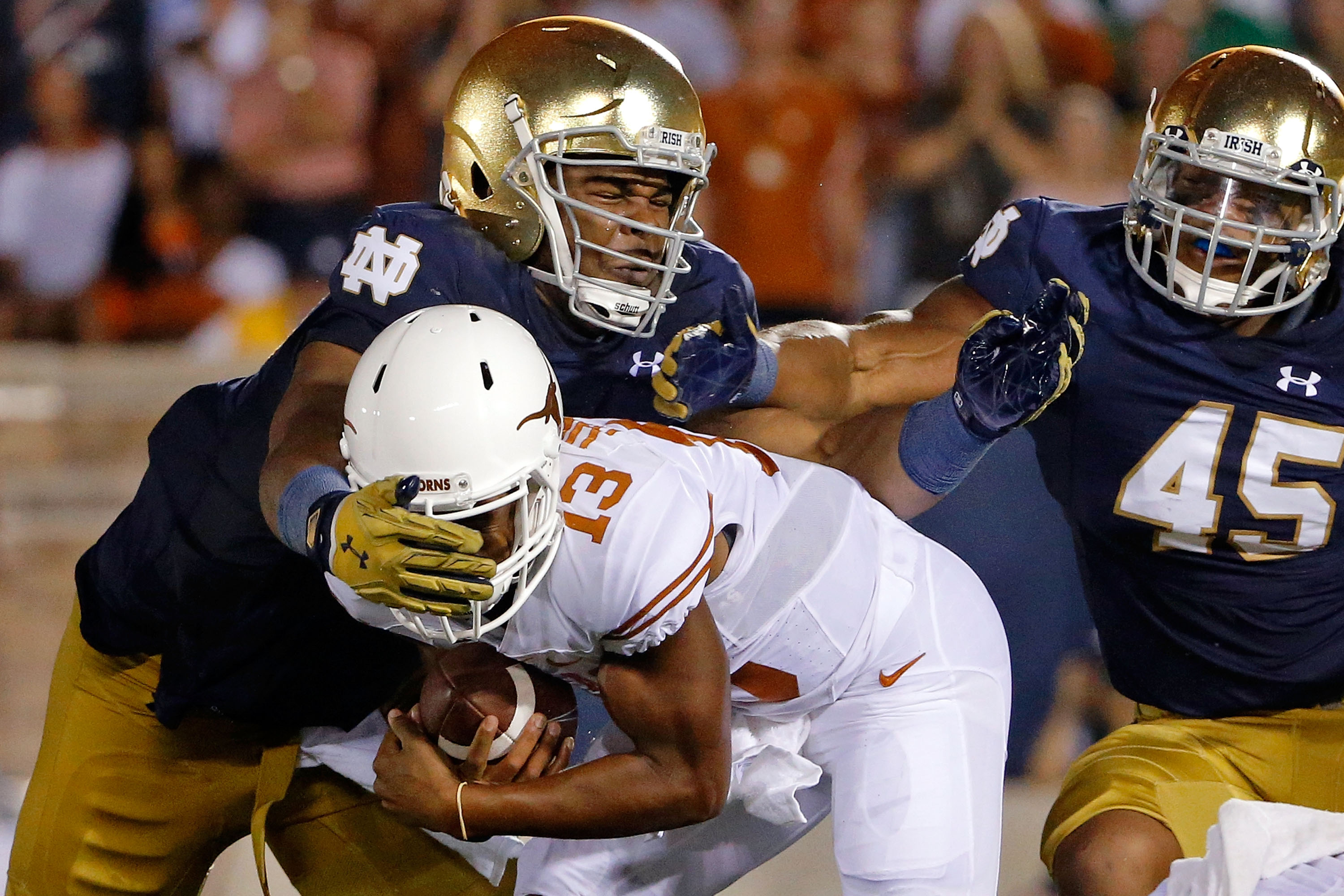 11: Jerry Tillery, junior defensive tackle, 162.
High ranking: No. 3
Low ranking: No. 22
Twelve votes total; unanimous.
Tillery is one of the few Love could conceivably move ahead of. The junior defensive tackle is entering a boom-or-bust season, and given the state of the Irish defensive tackle position, Tillery will be given plenty of chance to boom. Undoubtedly, that played into voters' minds in placing him this high on the list.
A 37-tackle, zero-sacks 2016 would not otherwise have moved Tillery up eight spots in this polling. The fact of the matter is he will need to improve upon those numbers drastically for players like Love not to be stranded in coverage and for Martini not to be overwhelmed by unoccupied offensive linemen.
Is Tillery capable of such? Physically the answer has always appeared to be yes.
A continued thank you to the panelists.
The 2017 Counting Down the Irish panelists
Michael Bryan, 18 Stripes
Bryan Driskell, Blue & Gold Illustrated
Matt Freeman, Irish Sports Daily
Tyler James, South Bend Tribune
Mike Monaco, Notre Dame Broadcaster/Reporter
Ben Padanilam, The Observer
LaMond Pope, Chicago Tribune
Ryan Ritter, Her Loyal Sons
Pete Sampson, Irish Illustrated
Evan Sharpley, Irish 247
John Vannie, ND Nation
Joshua Vowles, One Foot Down
[protected-iframe id="4322d87b3e2eb4d11caa19723fa3b36c-15933026-22035394" info="//platform.twitter.com/widgets.js" class="twitter-follow-button"]