Perhaps No. 10 will come as a surprise in this ranking projecting Notre Dame's 10 most-impactful players this season. His lack of contribution a year ago, though, fits him right in with most of these five.
The combined statistical impact of the below Nos. 10, 9, 8 and 6 from a year ago equals one interception and 17 tackles. That's it. For two of those players, it was a season spent wondering just how much they could have helped the Irish avoid the 4-8 disaster, but injury and suspension stopped them from finding out. For the other two, youth and positional depth prevented them from altering the downward trajectory.
The possible leap awaiting those four somewhat summarizes the entire 2017 Notre Dame roster. Talent is abundantly present, but most of it has yet to produce on the field. With that in mind, it should be noted all of Nos. 6-10 are eligible to return for at least one more season following 2017.
25: Donte Vaughn, sophomore cornerback, 30 points
24: Justin Yoon, junior kicker, 34
23: Te'von Coney, junior linebacker, 50
22: Durham Smythe, fifth-year senior tight end, 50
21: C.J. Sanders, junior receiver and returner, 52
20: Jay Hayes, senior defensive end, 58
19: Kevin Stepherson, sophomore receiver, 78
18: Chase Claypool, sophomore receiver, 91
17: Alex Bars, senior right guard, 92
16: Nick Watkins, senior cornerback, 106
15: Dexter Williams, junior running back, 109
14: Sam Mustipher, senior center, 116
13: Greer Martini, senior linebacker, 129
12: Julian Love, sophomore cornerback, 159
11: Jerry Tillery, junior defensive tackle, 162
10: Shaun Crawford, junior cornerback, 165 points
High ranking: No. 8
Low ranking: No. 19
Twelve votes total; unanimous.
Naming Crawford as a starter depends on your definition of the term. He will not likely appear listed as one on any Irish depth chart. With a performance in a game equal to his performances in practice, sophomore Donte Vaughn could move ahead of Crawford as the primary backup on both sides of the field. Yet Crawford will handle any nickel back duties presented the defense, and it should not be ignored he is the highest-rated recruit among the deep cornerback positional group.
In only the nickel back role, Crawford could prove a dynamic enough playmaker to warrant this rating. That is essentially what defensive coordinator Mike Elko was referencing when he vaguely mentioned Crawford as a possibility at rover in the spring. The 5-foot-9, 176-pound Crawford is nowhere near the physical presence of senior rover Drue Tranquill (6-foot-2, 231), but when the Irish face a pass-happy team, perhaps North Carolina State, USC or Miami (FL), coverage of a slot receiver could be needed on such a high percentage of plays, Crawford may become those games' pseudo-rover.
In less than two games last season, Crawford managed an interception and six tackles. Extrapolate that kind of production across a season, and this ranking would be surprising only in that it is not higher. Until that hypothetical then, Crawford will fall short of a bump in points received by each player, indicating a more-precise second tier on the top-end of Notre Dame's roster. Sets of five are an arbitrary, finger-driven device, anyway.
9: Daelin Hayes, sophomore defensive end, 191
High ranking: No. 5
Low ranking: No. 14
Twelve votes total; unanimous.
Hayes' shining performance in the Blue-Gold Game — seven tackles including four for loss with three sacks — undoubtedly increased the expectations for his 2017 effect. After all, this is by far the highest a defender with only 11 career tackles has finished in this annual poll.
The Irish need Hayes to continue that kind of production this season (if not in actual quantity, then in the adjusted quality after factoring in the spring was a practice). The move of senior Andrew Trumbetti to back up Hayes may indicate Notre Dame has another option at the position, but no one else on the Irish roster, including Trumbetti, can threaten a passer like Hayes should be able to.
Last year Notre Dame managed a total of 14 sacks. Elko's Wake Forest squad tallied 41. Hayes will not be able to make up that difference entirely on his own, but he is where it will start.
8: Alizé Mack, junior tight end, 194
High ranking: No. 6
Low ranking: No. 20
Twelve votes total; unanimous.
What was said about Hayes and his 11 tackles creating a surprising top-10 roster player can also be mentioned regarding Mack and his 13 career receptions. Such is an effect of missing a season due to academic mishaps.
One might wonder if the mistakes that led to an absent 2016 may have tempered panelists' projections of Mack. Considering the seven names ahead of him on this list, that would be unfair speculation.
If anything will lower his production this season, it will be the excess of talent at tight end. None of those other options — including fifth-year senior Durham Smythe, No. 22 in this polling — offers the big-play threat of Mack. It very well could be his statistical impact pales in comparison to his actual contribution. If defenses have to account for, if not even alter their game plans for, the 6-foot-4 ¾, 251-pounder, that could open up the field a bit more for other weapons such as junior receiver Equanimeous St. Brown and whoever separates himself as the second primary receiver.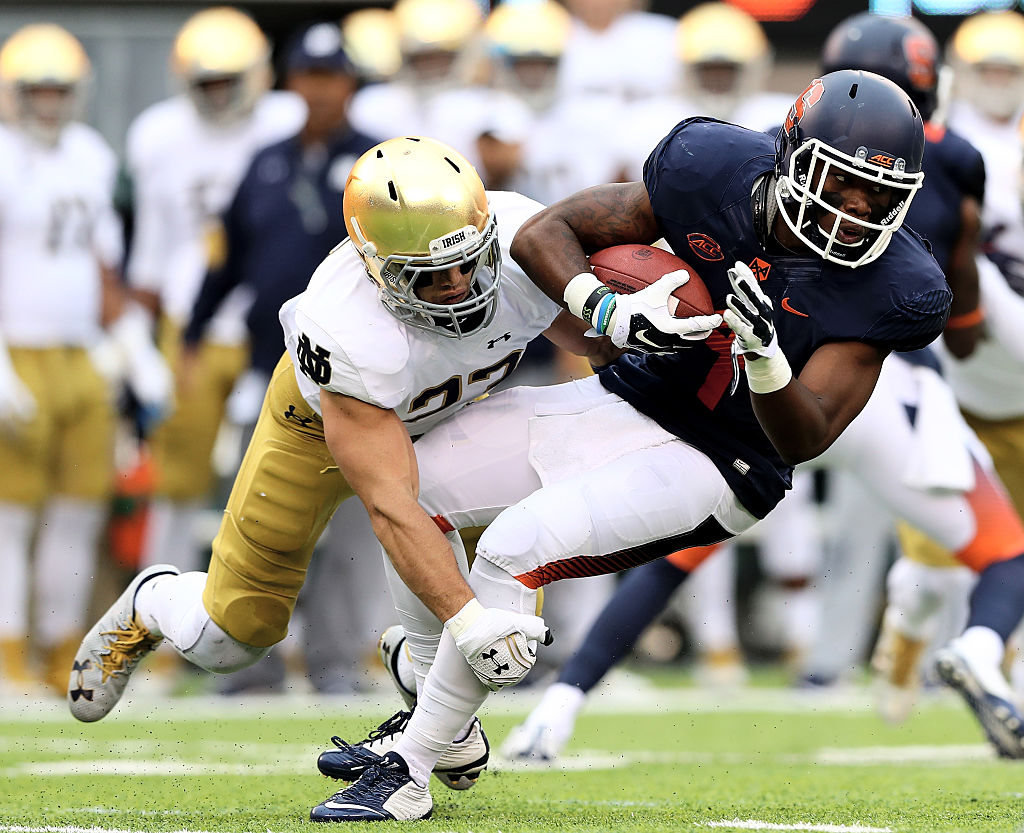 (Getty Images)
7: Drue Tranquill, senior rover, 200
High ranking: No. 5, by two separate voters
Low ranking: No. 17
Twelve votes total; unanimous.
Elko had never coached Tranquill when he developed his preferred defensive wrinkle of a rover. He may not have ever heard of the former safety at that point. Nonetheless, Elko may as well have designed the position with Tranquill in mind.
If Tranquill were still at safety, he probably would have landed closer to his 2016 ranking of No. 16. (For thoroughness' sake: Crawford was No. 12 a year ago while Mack finished No. 13 before his semester apart was announced.) Instead, Tranquill will now find himself in the middle of the defense. Already a vocal leader as a captain, this will give him a chance to also lead in action.
6: Brandon Wimbush, junior quarterback, 231
High ranking: No. 1
Low ranking: No. 9
Twelve votes total; unanimous.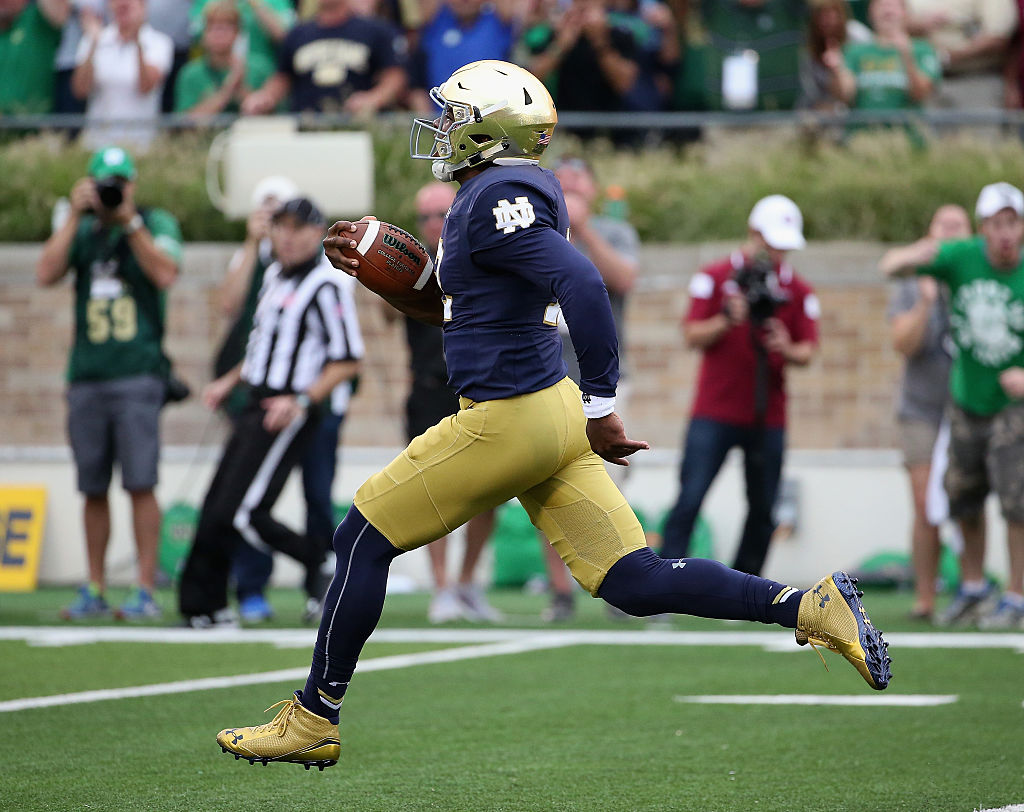 The range of votes is not an attempt to diminish his talent. Rather, the five voters who placed him No. 6 or No. 7 were more likely factoring in what could be a mild role in the offense, at least to open the season. Three of the players ahead of Wimbush in this ranking are pivotal running game pieces. (If you spent anytime pondering it, they would have been easy to figure, anyway. So that reveal hardly qualifies as a spoiler.)
Whether the Irish focus on the run or not, Wimbush will clearly be a major piece of the offense. For an unproven team, rating the inexperienced quarterback the projected No. 6 most impactful player does seem appropriate.
The 2017 Counting Down the Irish panelists
Michael Bryan, 18 Stripes
Bryan Driskell, Blue & Gold Illustrated
Matt Freeman, Irish Sports Daily
Tyler James, South Bend Tribune
Mike Monaco, Notre Dame Broadcaster/Reporter
Ben Padanilam, The Observer
LaMond Pope, Chicago Tribune
Ryan Ritter, Her Loyal Sons
Pete Sampson, Irish Illustrated
Evan Sharpley, Irish 247
John Vannie, ND Nation
Joshua Vowles, One Foot Down
[protected-iframe id="4322d87b3e2eb4d11caa19723fa3b36c-15933026-22035394" info="//platform.twitter.com/widgets.js" class="twitter-follow-button"]