Irish coach Brian Kelly met with the media Saturday after Notre Dame's 11th preseason practice. He discussed pertinent topics tying both to the on-field progress of the team three weeks before the season-opener against Temple and to some off-field items. A summary of the latter will come later today, but in an attempt to keep these notebooks quick and organized, this includes only Kelly's thoughts relative to football-specific items.
On conditioning, specifically among the linemen
Technically speaking, the weight room should probably fall among the off-field bits, but its effects are most-noticeable on the field. Kelly is seeing the most improvement in fitness along the offensive and defensive lines.
One might think senior right guard Alex Bars would be juggling quite a bit this preseason, adjusting to the move inside from right tackle. To hear Kelly tell it, that would be quite an inaccurate presumption.
"Alex Bars arguably has had as good a camp as anybody that we have," Kelly said. "… In terms of transforming his body in the offseason, losing 10-12 pounds and gaining explosiveness, he has really put himself in position to be an elite player. He moves well. He's smart. He has multi-position ability."
To that thought of multiple positions, Kelly mentioned not only the obvious of guard and tackle, but also center, indicating it remains possible, if not likely, Bars would be the first choice for a long-term replacement of senior center Sam Mustipher should one be necessary. Junior Trevor Ruhland has been backing up Mustipher in practices.
"If you ask [offensive line coach] Harry Hiestand, Ruhland has graded out really well which was important for us for a backup center," Kelly said.
Both Bars and Ruhland are only contingency plans at center, though. Mustipher is not only an established starter, but an improved one. The Irish spent much of Saturday's practice scrimmaging, running upward of 70 plays, per Kelly. He did not necessarily expect the team to keep up full effort through all 70-plus plays, considering some players may not yet have converted overall fitness into game-shape.
"I told the team, 'We're not ready to play today, we've got three weeks left,'" Kelly said. "'But if we're looking at some things we did really well today, we played 76 plays and we did not have one guy that I felt was not physically-conditioned to keep going today. There was not a drop-off from play No. 1 to play No. 76 with the conditioning element.'
"And Sam was one of those guys at times, you worried a little bit about him in terms of conditioning. There's no worry about him with that at all."
An improved conditioning and weight-training program has helped directly across the ball from Mustipher, too. While Kelly recognized he sounded a bit like a scratched record with his constant and specifically-focused praises, he still doubled down on them when making note of senior defensive tackle Jonathan Bonner, though some of Bonner's improvements also come from the additional time spent at tackle after playing defensive end earlier in his career.
"He's just so much more agile, moves so much better," Kelly said. "[Bonner was] a bit mechanical last year in a sense that he wasn't as comfortable with the position. He's so much more comfortable with the position that he's playing.
"Again, I keep reverting back to this, but correctiveness in his weight training has allowed him to be much [more] athletic in his movements."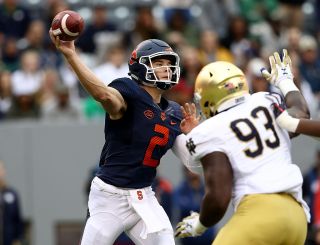 Kelly's strongest accolades for offseason improvements under the direction of strength coordinator Matt Balis were reserved for senior defensive end Jay Hayes. Improved physical and mental conditioning may have Hayes ready to contribute, essentially for the first time in his career. To refresh any memories, Hayes burned a year of eligibility late in his freshman season to provide Notre Dame with some defensive line depth amid injuries, making two tackles in three games, before then sitting out his entire sophomore year. Last season, Hayes made 10 tackles in 10 games.
"When you look at it, he's had to wait for this opportunity," Kelly said. "He's had some ups and downs along the way. You just have to be gritty. [Hayes] came in, heralded as a recruit and some things didn't go his way. He's had to fight through it.
"He's a great testament to some of our younger players about hanging in there. He's in a great place right now."
On finding a No. 2 receiver
Earlier in the week, Kelly acknowledged how far ahead of the pack junior receiver Equanimeous St. Brown is. Behind him, receivers 2-11 seemed to be only a day away from jumping to the top or falling to the bottom. From that mix, fifth-year senior and Arizona State graduate transfer Cam Smith has established himself as the next option after St. Brown. Smith's institutional knowledge of offensive coordinator Chip Long's playbook certainly helped his cause, having been coached by Long for three seasons with the Sun Devils.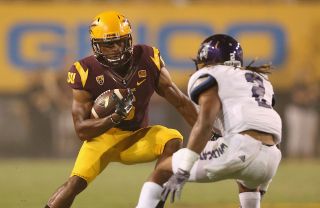 "If [St. Brown] has a ticket on the train, [Smith] is getting close to punching his [ticket]," Kelly said, referring to the metaphor he employed previously. "We're looking for that now. We're looking for the consistency. He's been consistent. That's really what has started to separate him from the other receivers. Every day you're getting the same from him."
When healthy, Smith was known as a deep threat at Arizona State, relying on his natural speed to take the top off a secondary. That was the role Kelly admitted he initially envisioned for the transfer. Smith has offered more than that.
"He's a little different than what I thought. … He's got strong hands. Physically, as you have seen his physique, he's very strong," Kelly said, adding the GPS tracking of Smith during practice shows he maintains his top-end speed at the end of a day, even after logging some of the highest mileage on the team.
His rise to No. 2 receiver positions Smith for the field position, though both he and St. Brown will likely see action at both the field and the boundary in order to expedite any up-tempo aspirations.
Kelly said the rest of the receiving corps continues to move around on the field, looking to find the best fits among a talented yet developing group.
On three kickers
The Irish will likely rely on three different specialists in the kicking game this season, as foreshadowed as far back as National Signing Day. Freshman Jonathan Doerer will take over kickoff duties from junior Justin Yoon, allowing Yoon to focus on placekicking while senior punter Tyler Newsome sticks to, well, punting.
"We don't want to put any dual responsibility on anybody at this point," Kelly said. "We want them to take the specialty of that particular position and … be consistent at that one.
"If there's anyone that kicks at another position, it will be because they mastered one and somebody hasn't mastered their own."
[protected-iframe id="4322d87b3e2eb4d11caa19723fa3b36c-15933026-22035394" info="//platform.twitter.com/widgets.js" class="twitter-follow-button"]