When opponents are described as "trap games," that typically indicates the foe is only an average team, but Notre Dame will play down to its level for whatever scheduling or otherwise reason. Make no mistake about it: When the Irish host North Carolina State on Oct. 28, they will not be entering a trap game. The Wolfpack will be anything but average this season.
Come year's end, NC State's record may be only 8-4 or perhaps 9-3. More than a reflection of the team's overall talent, that will be an effect of playing in the ACC's Atlantic Division.
2016 REVIEW
That division ground down the Wolfpack last year. If a particular field goal had found its mark, though, current projections would likely be far more optimistic. Such are the perils of college football and its small sample size.
NC State finished 2016 with a 7-6 overall record, 3-5 in the ACC. If deferring to advanced metrics, it could be quickly argued the Wolfpack performed such they should have won eight or nine games, losing four separate contests by one possession or less while winning only two such games.
The first of those losses came in the season's second week, 33-30 at East Carolina. From there, NC State rattled off three wins, culminating with the 10-3 victory over Notre Dame in a literal hurricane.
A week later, the aforementioned fateful field goal missed its mark, allowing eventual national champion Clemson to sneak into overtime when hosting the Wolfpack, later prevailing 24-17. That started a four-game losing streak for NC State, including a 54-13 shellacking at Louisville (44-0 at halftime) before stumbling 21-14 vs. Boston College.
Looking to end that disappointing stretch, NC State led Florida State late in the fourth quarter before giving up a touchdown, falling 24-20.
The Wolfpack ended the season with a 41-17 victory over Vanderbilt in the Independence Bowl.
WHAT NC STATE LOST
This section will be quick today, as the Wolfpack lost only three players of distinct note. Running back Matthew Dayes heard his name called in the NFL Draft's seventh round after leading NC State with 1,166 rushing yards, a 4.7 yards per carry average and 10 touchdowns.
Defensive backs Josh Jones and Jack Tocho also enjoyed the NFL Draft, going in the second and seventh rounds, respectively. Jones led the Wolfpack with 109 tackles last season, adding eight pass breakups and three interceptions, matching Tocho's nine pass breakups and two interceptions.
WHAT NC STATE GAINED
The Wolfpack signed 20 commits in the class of 2017, the No. 53 class in the country per rivals.com, including two four-star recruits. Defensive tackle Grant Gibson will not see much action this year, but receiver Antoine Thompson could find himself in the mix.
UPDATE: the dismissal of two freshmen and the suspension of three
Early Tuesday afternoon NC State announced more following an investigation into sexual assault allegations from an incident occurring during the summer. Thompson was one of the two dismissed from the team.
HEAD COACH
Dave Doeren enters his fifth year at NC State with a middling 25-26 record. Even if removing his 3-9 debut, the resulting 22-17 record includes only ho-hum seasons of 8-5, 7-6 and 7-6. Nonetheless, he has a contract through 2019.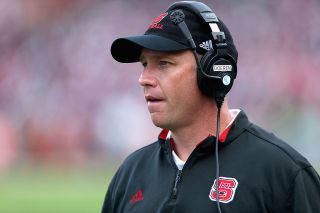 This year's Wolfpack presents Doeren his best chance yet to break into the Clemson and Florida State controlled upper-ranks of the division, let alone of the conference. Louisville also remains just below those two powers, however above NC State in recent years.
OFFENSIVE SUMMARY
For a team known for its defense, the Wolfpack still presents a dynamic offense. In theory, it should only improve on last year's 27.0 points per game, now entering offensive coordinator Eliah Drinkwitz's second season. Drinkwitz came from Boise State, where he held the same role, and now-junior quarterback Ryan Finley followed him in the move. Finley completed 60.4 percent of his passes last season, throwing 18 touchdowns and eight interceptions.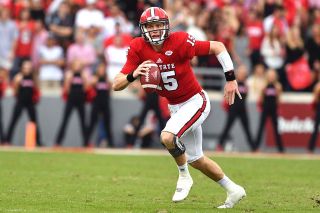 Though Finley loses his most-productive offensive weapon in Dayes, he does return his top-four pass-catchers, with two of them also filling in for Dayes in the backfield. Junior Jaylen Samuels led NC State with 55 receptions last year, taking them for 565 yards and seven touchdowns while also adding 189 rushing yards and six touchdowns on a 5.7 average per carry.
At 5-foot-11, 223 pounds, Samuel will be a bruising back defenses have to fear in all aspects of the game. While keeping an eye on him, they may struggle not to lose senior running back Nyheim Hines, all 5-foot-9, 197 pounds of him. Hines caught 43 passes for 525 yards last season, and will be as much a preferred target of Finley's as he will be a ballcarrier, if not more so.
Senior receiver Stephen Louis used his deep-threat abilities (19.4 yards per catch) to lead the Wolfpack in receiving yards, totaling 678, while sophomore Kelvin Harmon will line up opposite Louis, fresh off a debut campaign complete with 27 catches for 462 yards and five touchdowns.
With all of these weapons, Finley will have one more luxury: time. The NC State offensive line allowed only 17 sacks last year and returns four starters to continue that trend.
DEFENSIVE SUMMARY
It is the Wolfpack defensive line that remains the entire team's greatest strength. Four seniors start, led by defensive end Bradley Chubb. In 2016, Chubb managed 10.5 sacks and 11.5 more tackles for loss. If trying to run away from him, opposing offenses find Kentavious Street, who totaled 30 tackles, 5.5 sacks and 3.5 tackles for loss last year. Street may be a preferable choice, but he is not exactly an ideal one.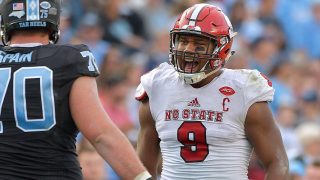 On the interior, tackle Justin Jones recorded 43 tackles, three sacks and 3.5 tackles for loss while 6-foot-4, 315-pound BJ Hill fills the middle.
Hill absorbs blockers, freeing the linebackers, primarily senior inside linebacker Jerod Fernandez. He was second on the team in tackles in 2016 with 88. Classmate Airius Moore finished third with 86, not to mention 2.5 sacks and 11 tackles for loss, yet Moore may not even start this year with the return of senior Germaine Pratt from a shoulder injury. Pratt offers more of a coverage set of skills than Moore's physical game. In some respects, that physicality becomes an expendable luxury thanks to the dominant defensive line.
Some coverage help may be needed thanks to losing both Jones and Tocha. If the secondary does hold up, the Wolfpack could lower an already-impressive average of 22.8 points allowed per game from a year ago. During Doren's tenure in Raleigh, along with defensive coordinator Dave Huxtable, that average has fallen every season. Their first year saw a mark of 30.2 before improving to 27.0 in 2014 and 25.8 in 2015.
SEASON OUTLOOK
Being competitive will not be enough for NC State this year. Defensive front sevens like this group are rare commodities not to be wasted on psychological breakthroughs. The Wolfpack needs to win in 2017, even if the over/under win total is only at 7.5.
That number is low because of the division. NC State's schedule includes a trip to Florida State and visits from both Louisville and Clemson, as well as North Carolina at the end of the season. If adding in the trip to Notre Dame to that listing of games, the Wolfpack may realistically think of winning three of the five, and a 10-2 record could be enough to land in a top-tier bowl game. Managing only two losses in conference play might also position NC State to be the beneficiary of the division cannibalizing itself.
Monday, the 14th: Temple
Tuesday, the 15th: Georgia
Wednesday, the 16th: Boston College
Thursday, the 17th: Michigan State
Friday, the 18th: Miami (OH)
Saturday, the 19th: North Carolina
Monday: USC
Tomorrow: Wake Forest
Thursday: Miami (FL)
Friday: Navy
Saturday: Stanford (The same day as Stanford's opener vs. Rice in Australia.)
[protected-iframe id="4322d87b3e2eb4d11caa19723fa3b36c-15933026-22035394" info="//platform.twitter.com/widgets.js" class="twitter-follow-button"]