Have you heard? Notre Dame hired Wake Forest's defensive coordinator Mike Elko during the offseason. Let's mention that up top here on the nearly-impossible chance you read this space but missed that news.
Without Elko, it will be curious to see how, or if, the Demon Deacons defense continues to improve. Though without the orchestrator of the defense, Wake Forest is also without someone exposing the defense's tendencies to opponents before the games. That certainly cannot hurt its performance.
2016 REVIEW
Years from now, only the "WakeyLeaks" controversy of the Demon Deacons' 2016 season will be remembered. The 4-0 start, 7-6 finish including a 3-5 mark in conference play, and the first touchdown scored in a conference victory under head coach Dave Clawson will all be forgotten. Still less than a year removed from the season, let's not forget them here.
Indeed, in the two previous ACC wins under Clawson in his first two seasons, Wake Forest had managed only field goals. The Deacons topped Duke 24-14 to record a more-legitimate feeling in a conference victory in the season's second weekend.
Aside from the 34-26 win over Temple in the Military Bowl, the two other 2016 results warranting mention are the 17-6 loss at Florida State, simply because Elko's defense held the Seminoles to a mere 17 points, and the 44-12 defeat at Louisville. In the latter loss, Wake Forest led 12-10 with only 11 minutes left before the Cardinals ran away with it.
That defeat prompted the first allegations that the Deacons' radio analyst was slipping intel to opponents. Indeed, he was. Obviously, that led to his departure from the gig. In 2017, it should hold no pertinent effect aside from remaining an intriguing, noteworthy and hard-to-believe story.
A more pertinent note: Wake Forest went 4-2 in one-possession games last season.
WHAT WAKE FOREST LOST
In addition to Elko and his right-hand man, new Irish linebackers coach Clark Lea, the Deacons lost significant players from their defense. No. 1 tackler and inside linebacker Marquel Lee heard his name called in the NFL Draft's fifth round, a deserved honor after totaling 105 tackles, 7.5 sacks and 12.5 more tackles for loss last season.
Their No. 3 tackler and linebacker Thomas Brown (65 tackles, four sacks, 4.5 tackles for loss) and No. 4 tackler and cornerback Brad Watson (63, six pass breakups, two interceptions) also graduated from the program.
Offensively, Wake Forest returns much more intact, losing only its center and left guard.
WHAT WAKE FOREST GAINED
In the No. 74 recruiting class in the country per rivals.com, the Deacons signed only one four-star prospect, defensive lineman Mike Allen. Listed at 6-foot-5, 245 pounds, it may take some time into the season for Allen to become a prominent contributor.
HEAD COACH
Clawsen enters his fourth season with the Deacons, having come from Bowling Green. His 13-24 Wake Forest record may be dismal, but 2016 could have marked a turning point for the program. Not only did the Deacons win their first bowl game since 2008, but Clawsen notched his first winning record in Winston-Salem, following two consecutive 3-9 seasons.
To mention this odd factoid again: Clawsen's first two ACC victories came entirely thanks to field goals, a 6-3 victory vs. Virginia Tech in double overtime in 2014 and a 3-0 win at Boston College in 2015.
OFFENSIVE SUMMARY
Wake Forest literally returns all its contributing skill players from last year's offense. That unit may not have been dynamic, averaging only 20.4 points per game, but the offense has improved each year under Clawsen, and returning so much of the roster implies it should again. In 2014, the Deacons averaged 14.8 points per game, raising that to 17.4 in 2015.
Even the running game, though still hampered by limited yards per carry averages, has improved every season under Clawsen, rising from 40 rushing yards per game in 2014 (yes, you read that correctly) to 105 a year later and 146 a year ago. That may be very gradual improvement, but it is improvement, nonetheless.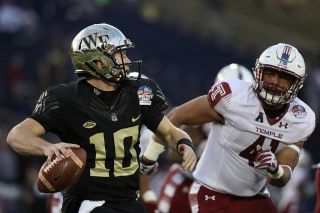 What may hamper the Wake Forest offense would be a quarterback controversy. Senior John Wolford has started 33 games in the last three years, including 11 last year. His statistics were lacking, though, finishing with only nine touchdowns against 10 interceptions and a 55.5 percent completion rate. Undoubtedly somewhat due to those struggles, Clawsen named junior Kendall Hinton the starter before preseason practice.
Last year, Hinton suffered a knee injury, thus pushing Wolford into the starting position. More of a dual-threat, Hinton presents an arguably-higher ceiling. Wolford, meanwhile, has performed so well in preseason practice, Clawsen may have to reevaluate his decision and perhaps give both quarterbacks chances this season. He has said he expects to need both, and thus has given both first-team repetitions in practice, but that may simply be a precaution given Hinton's injury history.
DEFENSIVE SUMMARY
Similar to the gradual offensive progression, Elko's defense improved consistently during his Deacon tenure. In 2014, they allowed 26.4 points per game, dropping that to 24.6 in 2015 and 22.2 last year. Mirroring that trend, the Wake Forest defense gave up 183 rushing yards per game in 2014 before lowering that to 161 in 2015 and 142 last season.
Now, former Minnesota defensive coordinator Jay Sawvel takes over the unit. As it will likely come up in November conversations, let's note now: Sawvel was a Notre Dame graduate assistant from 1996 to 1999.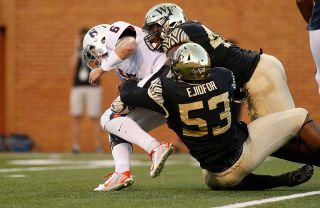 He inherits a roster led by senior defensive end Duke Ejiofor, who filled the stat line in 2016, recording 10.5 sacks, 6.5 tackles for loss, four pass breakups and one interception.
Sophomore safety Jessie Bates broke onto the scene as a freshman, finishing second on the team in tackles with an even 100, while adding five interceptions and four pass breakups. Sawvel coached defensive backs at Minnesota before being promoted to defensive coordinator in 2016, so he should see the block of marble that is Bates and marvel at what he could become.
SEASON OUTLOOK
The over/under win total for Wake Forest is set at 5.5, and this scribe has already made it clear he expects the Deacons to fail to meet that mark. That is in no small part due to the schedule. Wake Forest travels to Clemson, Georgia Tech and Notre Dame while hosting Florida State, Louisville and North Carolina State.
If the Deacons fail to win any of those games, they would need to run the table to reach bowl eligibility and exceed that win total. Even a theoretical "gimme" game will not be such for Wake Forest, which travels to Appalachian State within the first month of the season. Unlike the Deacons, the Mountaineers received votes in the preseason polls du jour.
Monday, the 14th: Temple
Tuesday, the 15th: Georgia
Wednesday, the 16th: Boston College
Thursday, the 17th: Michigan State
Friday, the 18th: Miami (OH)
Saturday, the 19th: North Carolina
Monday: USC
Yesterday: North Carolina State
Tomorrow: Miami (FL)
Friday: Navy
Saturday: Stanford (The same day as Stanford's opener vs. Rice in Australia.)
[protected-iframe id="4322d87b3e2eb4d11caa19723fa3b36c-15933026-22035394" info="//platform.twitter.com/widgets.js" class="twitter-follow-button"]