Even if a college football team returns nearly every starter aside from its quarterback, the question mark behind the center can make it difficult to gauge that team before it takes to the field in a real game. Miami does not return every starter, but it returns enough it merits consideration as a top-tier team in 2017 … if its quarterback competes as well as ably.
When the Hurricanes host Notre Dame on Nov. 11, that question mark will presumably be answered one way or another. The first true test will come in the season's third week in a trip to Florida State.
2016 REVIEW
In a season of three streaks, the Irish fortuitously caught Miami in the middle section, a four-game losing stretch sandwiched between four-game and five-game winning streaks, resulting in a 9-4 season with a 5-3 standing in the ACC, good enough to finish in a three-way tie one game behind Virginia Tech in the Coastal Division.
The initial set of wins brought the Hurricanes to No. 10 in both the AP and coaches polls, heading into a matchup with Florida State. Then, a blocked extra point attempt with fewer than two minutes remaining stopped Miami from tying the Seminoles, instead falling 20-19.
That deflating result started the midseason swoon, but it was not the only factor. In the four losses, Miami managed a dismal 65.3 rushing yards per game and went 0-3 in one-possession contests, including the 30-27 defeat at Notre Dame.
By the time the ship was righted, any 2016 glory had passed, but the Hurricanes still managed a 31-14 win over West Virginia in the Russell Athletic Bowl.
WHAT MIAMI LOST
Nine former Hurricanes heard their names called in the NFL Draft, with quarterback Brad Kaaya going in the sixth round most notable for these purposes. Kaaya's early departure may have been somewhat perplexing, but litigating that now will not shed any light on Miami's upcoming slate. He finished last season with a 62.0 percent completion rate, throwing 27 touchdowns and only seven interceptions.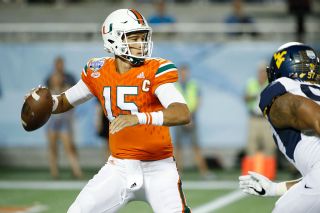 Kaaya's two most-reliable targets also went to the NFL. Receiver Stacy Coley caught 63 passes for 754 yards and nine touchdowns, the receptions and scores both leading Miami. Tight end David Njoku went in the first round after catching 43 passes for 698 yards and eight touchdowns last season.
Less vitally, the offense lost two reliable back-up running backs. Joseph Yearby and Gus Edwards combined for 161 carries for 898 yards and eight scores, even though Edwards was injured much of the year. He has since transferred, realizing he would be unlikely to regain the starting gig.
If Edwards had stayed, he would have needed to adjust to a different offensive line, now without last year's right tackle, right guard and center.
Defensively, the Hurricanes secondary took the biggest hits, led by safety Rayshawn Jenkins and cornerback Corn Elder, who tied for third-most tackles a season ago, each with 76, while combining for 19 pass breakups and three interceptions. Safety Jamal Carter led Miami in tackles with 85, making for a third primary contributor on the defense's backline no longer around.
WHAT MIAMI GAINED
To help fill the holes on the offensive line, the Hurricanes will welcome the return of senior center Nick Linder, who missed the end of 2016 due to injury. He may be joined by LSU transfer George Brown, who after spending last season sitting out the year necessitated by his transfer could now step in at right tackle.
If Brown does earn a starting role, he will be beating out, among others, four-star recruit Navaughn Donaldson, perhaps the jewel of a 24-prospect class earning Miami the No. 11 grouping in the country, per rivals.com. Including Donaldson, 10 of the 24 were considered four-star recruits.
Receivers Jeff Thomas and Mike Harley could find playing time this season thanks to the aforementioned departures of Coley and Njoku. It is conceivable 2017 could feature a freshman-to-freshman connection, with quarterback N'Kosi Perry still in the mix for some sub-packages.
HEAD COACH
Entering his second season at Miami, Mark Richt may be the most-experienced coach on Notre Dame's schedule this season when also considering his 15 seasons at Georgia.
Last year's up-and-down nature may have put a ceiling on Richt's debut season at his alma mater, but anything of a more consistent performance could reap great dividends this year, quickly filling Bulldogs fans with regret.
OFFENSIVE SUMMARY
Perry will not start the season taking the snaps. Richt recently declared junior quarterback Malik Rosier will get the first chance to lead his pro-style offense after spending the past two seasons backing up Kaaya.
Kaaya struggled with a middling offensive line last year, but that was partly due to injuries, such as Linder's. If the offensive line can hold its own for Rosier, he will target sophomore receiver Ahmmon Richards, a speed threat who took 49 catches for an average of 19.1 yards last season.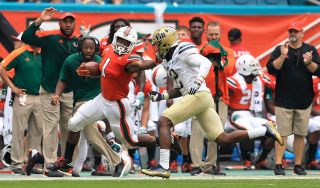 Sophomore running back Travis Homer will step into the void at back-up running back. A heralded recruit, Homer should hold his own behind junior Mark Walton. The starter gained more confidence as 2016 progressed, averaging more than four yards per carry in each of the final four regular season games, finishing with 1,117 yards on 209 carries, a 5.3 average, and 14 touchdowns.
DEFENSIVE SUMMARY
Miami's front seven could not be in much better shape, as they all return, looking to build on a season in which the defense allowed only 132 rushing yards per game and totaled 37 sacks.
Three freshmen started at linebacker last year for the Hurricanes. Suffice it to say, much is expected of them this season. (And, if thinking ahead, even more if all three return as two-year starters in 2018.) Inside linebacker Shaq Quarterman finished second on the team in tackles with 84, including 3.5 sacks and 6.5 more tackles for loss. Michael Pinckney notched 61 tackles of his own, and Zach McCloud completes the backbone of a staunch defense.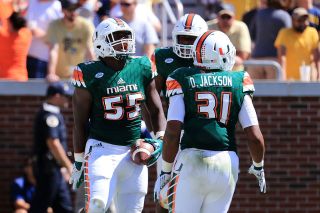 Defensive ends senior Chad Thomas and sophomore Joe Jackson combined for 13 sacks and 9.5 tackles for loss in 2016, bookending an attack buttressed by junior tackles Kendrick Norton and RJ McIntosh.
The only defensive question will be the secondary, which will rely quite a bit on sophomore cornerback Malek Young, though he made only four starts and 23 tackles last year.
SEASON OUTLOOK
Expectation are high for Richt and Miami this season, but they may go only as high as Rosier — or Perry — can take them on offense. The defensive front is up for the task, and should help compensate for a young secondary. If the offense can come within a touchdown of matching last season's 34.3 points per game, that should be more than enough. (The defense gave up an average of 18.5 points per game.)
In that scenario, topping the over/under win total of nine should come with ease. The bigger question will be how Miami fares against Virginia Tech, hosting the Hokies the week before Notre Dame's arrival, its primary competition in the Coastal Division yet again.
Monday, the 14th: Temple
Tuesday, the 15th: Georgia
Wednesday, the 16th: Boston College
Thursday, the 17th: Michigan State
Friday, the 18th: Miami (OH)
Saturday, the 19th: North Carolina
Monday: USC
Tuesday: North Carolina State
Yesterday: Wake Forest
Tomorrow: Navy
Saturday: Stanford (The same day as Stanford's opener vs. Rice in Australia.)
[protected-iframe id="4322d87b3e2eb4d11caa19723fa3b36c-15933026-22035394" info="//platform.twitter.com/widgets.js" class="twitter-follow-button"]