Modern medicine may be the key to Stanford's 2017 season, and modern travel will allow the Cardinal a unique chance to test modern medicine's effect on its starting quarterback's ACL in opening the season tonight against Rice in Sydney, Australia. (10 p.m. ET, ESPN.)
2016 REVIEW
In retrospect, Stanford's "down" 2016 was actually a solid season. Such is the standard the Cardinal have set by now. Outside of one nine-day stretch, Stanford only fell in a fluke-filled 10-5 loss to Colorado. Yes, that score was 10-5. On top of that, the Buffaloes missed three field goals and had a touchdown called back.
The nine-day span covered a trip to Washington and a date hosting Washington State. The Cardinal secondary was battling injuries at that point, and it showed, losing the two games by a combined score of 86-22.
That was it, though. Stanford finished 10-3 in a disappointing season, ending it with a 25-23 victory over North Carolina in the Sun Bowl and highlighting it with a 27-10 win vs. USC in the season's third week.
For that matter, Stanford was hardly tested in any other games. Aside from the bowl game triumph and the drop to Colorado, the Cardinal partook in only one other one-possession game, the 17-10 victory at Notre Dame.
WHAT STANFORD LOST
Few teams in the country lost as much talent as Stanford did this offseason. The same can be said for how many teams lost as few players as the Cardinal did. While those two sentiments may seem contradictory, they stand true when the three departed players of note include two top-10 NFL Draft picks and the defense's second-leading tackler.
Defensive lineman Solomon Thomas went No. 3 overall after leading Stanford with 62 tackles, eight sacks, seven more tackles for loss and seven additional quarterback hurries. One tackle behind him, safety Dallas Lloyd also contributed five interceptions last year.
Running back Christian McCaffrey went No. 8 in the draft. Suffice it to say, he drove Stanford's offense the last couple seasons. In 2016, McCaffrey totaled 2,327 total yards, led by 1,603 rushing yards and 13 touchdowns on 6.3 yards per carry. He added 310 receiving yards and three scores, plus 414 return yards.
WHAT STANFORD GAINED
Stanford signed a seemingly-intentionally small recruiting class in February, pulling in only 14 prospects, but those baker's dozen-plus one were touted enough to warrant the No. 19 ranking, per rivals.com.
Three of the recruits were five-stars, yet none of those three are likely to see playing time this year. Quarterback Davis Mills joins an already-crowded position group, and the two offensive linemen Walker Little and Foster Sarell will not be forced into action right away.
The younger brother of Irish junior receiver Equanimeous St. Brown, four-star receiver Osiris St. Brown could become part of the Stanford offense.
HEAD COACH
David Shaw enters his seventh season leading the Cardinal. Stanford has not missed a step since Jim Harbaugh handed off the program to Shaw, winning 64 games across the last six years, making three Rose Bowls and winning two.
OFFENSIVE SUMMARY
Stanford will trot out junior Keller Chryst at quarterback tonight, fewer than nine full months since tearing his ACL in the Sun Bowl victory. There was a time not long ago such a quick recovery would have defied any version of medical logic, but it is becoming increasingly common, though still not necessarily normal.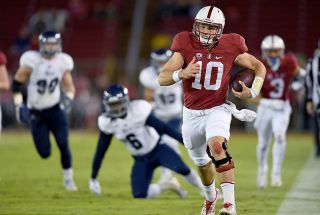 Chryst took over at quarterback following the Colorado loss last season, leading the way through the year's last six games. He had a 56.6 percent completion rate while throwing 10 touchdowns against only two interceptions.
He took over for now-senior Ryan Burns, also still around. If Chryst struggles — for rust reasons or otherwise — it will be either Burns or sophomore KJ Costello who steps in. Based on spring reviews, perhaps Costello has the pole position as backup.
Extracting Chryst's five healthy and started games shows some distinct offensive trends, but they deserve some qualifiers: Those five games also coincided with McCaffrey at his best last season, and while the opponents were solid, they were not the same fare as Washington, USC or Washington State.
In that stretch, Stanford averaged 39.6 points and 479 yards per game. In the other eight games last season, the Cardinal struggled to 18 points and 297.1 yards per contest. Clearly, Chryst made a difference.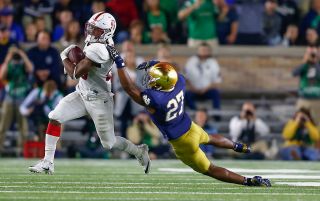 Losing McCaffrey would set back any offense. Stanford will attempt to recover with junior running back Bryce Love getting those opportunities. Considering who he had in front of him the last two seasons, it is impressive Love managed 476 total yards as a freshman and 866 last year, with 783 yards and three touchdowns coming on the ground with a 7.1 yards per carry average. He gashed the Notre Dame defense for 129 yards.
If Stanford's offensive line lives up to expectations and gives Chryst time, he will likely target a receiver more than anyone was picked out last year. Again, the equal distribution may have been a side effect of trotting out McCaffrey. Both junior Trenton Irwin and sophomore JJ Arrega-Whiteside return. The two leading receivers combined for 61 catches, 821 yards and six touchdowns last year. Junior tight end and former Irish recruiting target Dalton Schultz should emerge, as well.
DEFENSIVE SUMMARY
Losing Thomas cannot escape notice, but Stanford returns four linebackers who started all 13 games last season, providing a new focal point for its 3-4 base defense. There are even enough proven commodities at linebacker, the Cardinal often could and will reasonably shift to a 2-5 look, allowing junior defensive tackle Harrison Phillips to stuff the middle. Phillips notched the fifth-most tackles on the Stanford defense last season with 46 and 6.5 sacks.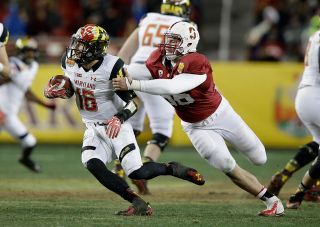 The Cardinal return its entire secondary aside from Lloyd, offering more margin for error without Thomas wreaking havoc in the opposition's backfield.
SEASON OUTLOOK
The 2016 season-long average of 26.3 points scored per game was the lowest of Shaw's tenure as head coach. The same goes for the average of 367 yards per game.
The point is, Stanford's defense held its own last season, and can presumably be expected to do so again this year. If Chryst's five-game stretch of success was more than an anomaly of a small sample size, then the Cardinal should easily cruise past an over/under win total of 8.5 (sometimes seen at nine).
The greatest litmus test for that will likely come in a reminiscent six-day stretch in early November. This year, Stanford will travel to Washington State before hosting Washington less than a week later. Those results could very well determine the Pac-12 North Division, otherwise known as the "Who will face USC in the Pac-12 title game?" sweepstakes.
Monday, the 14th: Temple
Tuesday, the 15th: Georgia
Wednesday, the 16th: Boston College
Thursday, the 17th: Michigan State
Friday, the 18th: Miami (OH)
Saturday, the 19th: North Carolina
Monday: USC
Tuesday: North Carolina State
Wednesday: Wake Forest
Thursday: Miami (FL)
Yesterday: Navy
[protected-iframe id="4322d87b3e2eb4d11caa19723fa3b36c-15933026-22035394" info="//platform.twitter.com/widgets.js" class="twitter-follow-button"]