The calendar does not yet read September, and it won't until Friday, but it may as well — it is football season. So let's dispense with a few remaining thoughts from the weekend, football and miscellaneous, as a soft-entry into a full week.
— This will be mentioned at least once more this week, but Stanford certainly took care of business in the Australian-opener against Rice. Sure, the Owls may not be the stiffest competition, but establishing a 55-0 lead against anyone is impressive unless it is against the Higher Kentucky Institute for Those Preferring Baseball.
Junior running back Bryce Love's 180 rushing yards were impressive, but not as impressive as his 13.8 yards per carry. From the outset, Love made it clear who the Cardinal will lean on this year, taking the first play from scrimmage for 62 yards. If committing the questionable-at-best statistical maneuver of removing both Love's longest rush (that 62-yarder) and his shortest, a loss of three yards, then he still averaged 11 yards per carry.
— Speaking of things that will be mentioned multiple times this week, how about multiple times in today's opening four paragraphs? It is officially game week. You made it. Congratulations.
This weekly piece should be more football-centric in the months to come.
— ESPN The Magazine features USC junior quarterback Sam Darnold in its college football preview issue this week. Despite the initial appearance, it is actually a quick read. In 15 minutes from 30,000 feet, one assessment stood out:
"He's the best college quarterback I've seen at anticipating since Andrew Luck," says Stanford's David Shaw, who coached Luck in college and isn't prone to hyperbole. "When you evaluate quarterbacks who can play at the next level, you're looking for guys who can see a play before it happens and get the ball out of their hands quick. He's the best I've seen in years."
This reader also enjoyed the line, both in and separate from its context, regarding the teaching effects of an ocean's waves: "The secret lies in figuring out how to improvise when you've got water up your nose."
— Very simply, this scribe does not think Irish coach Brian Kelly will be fired this season, and this bit is not meant to spark litigation of that. The week of the season opener is literally the most-pointless time to have that conversation. But I did make a mental note of this from the Associated Press' Ralph Russo:
Joe Moorhead is entering his second season as offensive coordinator at Penn State following a four-year stint as head coach at Fordham where he put together a 38-13 overall record. That would be quite a rapid rise for the former Munich Cowboys quarterback.
— Notre Dame remains one of the 10 programs in the country with at least 50 percent of its roster being four- and five-star recruits. This year, only 10 teams can claim that, with the Irish being the 10th. While this is not meant to say Notre Dame is a national title contender, it is meant to say a short list of title contenders should come from among those 10, with the other nine being, in order from greatest percentage to least, Alabama, Ohio State, LSU, Florida State, Georgia, USC, Michigan, Auburn and Clemson.
Per the analysis of Bud Elliott of SBNation, the 2017 Irish roster is 56 percent blue-chippers, the first time it has fallen below 60 percent in five years.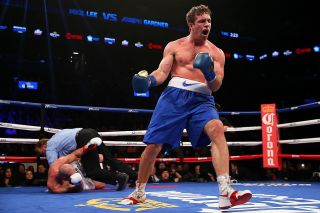 — Though I have read quite a few biographies on Muhammad Ali —  I recommend David Remnick's "King of the World" for a look at the beginning of Cassius Clay's/Ali's career and Mark Kram's "Ghosts of Manila" for a look at the end —  I am far from a boxing expert, so I will refrain from any Saturday night-specific commentary.
A conversation earlier in the day did remind me of a long-ago column on the dichotomy between two fights on one Sept. 2011 night. The bigger fight was won by none other than Floyd Mayweather. The lesser-known went to Notre Dame alum Mike Lee. Lee now boasts a 19-0 record and claims the IBF-USBA Light Heavyweight championship belt.
The point in the column that still rings true with me today: Try explaining the concept of boxing to a four-year-old. Most conversations with my niece entail more refrains of "Why?" than my patience can tolerate. Discussing boxing brought forth the penultimate letter of the alphabet more frequently than Big Bird would on an episode of "Sesame Street sponsored by the letter 'Y.'"
It is nearly, if not outright, impossible to logically explain why two men are paid to punch each other in the face.
— Do not get me wrong, I watched Saturday's fight via the wonders of 2017's technology despite being in a cabin in the hills of Tennessee lacking both internet and television while not waking the three others snoring in the room.
— This link to donate to aid for Hurricane Harvey victims is included for two reasons:
1) If I post this publicly, I will feel like a hypocrite if I do not donate, and thus I force myself to contribute whether I would otherwise or not.
2) If this link gets so much as one of you to donate, then it has earned this space and much more.
Help people affected by Hurricane Harvey. Donate now.
— Notre Dame is currently an 18-point favorite over Temple this weekend with an over/under of 53.5 points. Some quick math with rounding indicates a theoretical final score of Irish 36, Owls 18.
[protected-iframe id="4322d87b3e2eb4d11caa19723fa3b36c-15933026-22035394" info="//platform.twitter.com/widgets.js" class="twitter-follow-button"]