With the weekend in the past, consider this an attempt to set the stage for the coming week. Primarily, what questions should be answered (hopefully, possibly, maybe) before kickoff Saturday. In some cases, perhaps these will be more conversational topics than questions, hinting at mid-week pieces to come. Ponder them today with your second (or third, if it was a particularly long weekend) cup of coffee.
Will sophomore safety and Navy transfer Alohi Gilman be eligible for this season?
Given the nature of the NCAA and the varied, multi-interest parties it must navigate, some delay in rulings should usually be expected, if not even understood. This instance, however, has reached a point of nonsense. To be more precise, it reached that point no less than a week ago.
The decision regarding Gilman's eligibility is a time-sensitive one, and that time has come. It is not an item requiring witnesses, investigation or any other form of legwork. A conversation with the Naval Academy, a conversation with Notre Dame and a conversation with Gilman should provide plenty of information for this ruling.
Whether Gilman is eligible or not, one would hope the NCAA could make that known before the season opener.
Is Kevin Stepherson eligible by the common usage of the term?
In his Thursday press conference, Irish coach Brian Kelly tiptoed his way around any Stepherson questions.
"The clearest picture that I can give you is the consistent message I've been giving everyone: We're not going to put you in a competitive situation or on the field based on your talent," Kelly said when asked specifically about the sophomore receiver. "You've got to exhibit the traits that we're developing in our players. Those traits are coming along. He's making progress. His attention to detail, his focus. All of the traits that we require all of our players to have, he's working on and he's getting better. When he exhibits all those traits, he'll play."
Kelly was then asked if Stepherson is eligible.
"All of our players are eligible to play under those circumstances," Kelly said.
To most, that would mean Stepherson is not prohibited from seeing the field. His 25 catches for 462 yards and five scores as a freshman certainly indicate he is physically ready. Reading between the lines, it could simply mean Stepherson is not precluded from playing by any academic issues, a common concern at the start/end of a semester. Seeking even further clarity, Kelly was asked if Stepherson has been suspended.
"I can neither confirm nor deny."
That sure sounds like a confirmation.
Stepherson may be both eligible and suspended, technically speaking. The certain uncertainty of this situation has grown tiresome.
Who will Temple rely on at quarterback?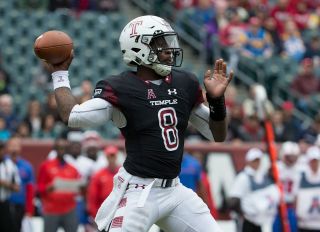 Owls coach Geoff Collins has yet to name a starting quarterback, narrowing his likely choices to senior Frank Nutile and junior Logan Marchi with freshman Todd Centeio hanging around on the fringe. Notre Dame and defensive coordinator Mike Elko should not overly struggle with any of those options, but the question stands.
RELATED READING: Notre Dame's Opponents: Temple
Robert Hainsey enters the two-deep.
This is clearly not a question or an unknown, but it should be acknowledged at some point, and due to this writer's travels over the weekend, it has not yet been in this space. Freshman offensive lineman Robert Hainsey will apparently be the backup at right tackle behind sophomore Tommy Kraemer, per Kelly on Thursday.
This does not inherently mean Hainsey will play this year. It does mean Hainsey will play if at all necessary. Rather than worry about his eligibility three or four years in the future, take this to be a positive indication of his development and potential moving forward. The Irish offensive line will be looking for two new starters in 2018 and two more in 2019. Hainsey appears primed to fill in one of those slots.
Will Indiana be able to scare OSU?
Hint: No. The spread is currently 21 points in favor of the Buckeyes. They kick off Thursday at 8 p.m. ET on ESPN.
Tulsa could compete with the other OSU, though. Oklahoma State is favored by 18 in their 7:30 p.m. the same night. The real point here: There is viable football this Thursday. That will not be the case for much of the fall.
Will Michigan State begin its recovery from a 3-9 season and even more tumultuous offseason earnestly?
The introduction to this piece indicated these questions should be answered before kickoff. Notre Dame vs. Temple is scheduled for 3:30 p.m. ET. At noon, Michigan State hosts Bowling Green. Thus, this tidbit should slip in under the wire.
The Spartans are favored by 17, but the Falcons are an above average MAC program. If Michigan State struggles in this opener, it could be a sign the long last 12 months in East Lansing are going to continue for another rotation around the sun.
[protected-iframe id="4322d87b3e2eb4d11caa19723fa3b36c-15933026-22035394" info="//platform.twitter.com/widgets.js" class="twitter-follow-button"]