Strength of schedule is not the make-or-break metric it was during the BCS era, but it still remains a vital part of any team's College Football Playoff résumé. More pertinently, keeping an eye on Notre Dame's opponents can shed a light on the contests to come.
All but one of the Irish foes will play this weekend, the exception being Stanford in its return from a 62-7 victory in Australia this past Saturday. Of those 11 teams, 10 are favored. To be more precise, eight are favored and two are in such mismatches, there is no spread for the contests.
To be clear, in discussing these games with spreads and over/under totals, the intent is not to encourage vice or virtue. Rather, these metrics are intended as a valuation tool, helping to indicate whether a team met, exceeded or fell short of expectations on a given weekend.
If anyone has incentive to gauge the games correctly ahead of time, it would be oddsmakers. Their jobs hinge on a more exact definition of being right than nearly any other profession.
Any observations along with the lines recorded here are mere hunches meant to establish bragging rights next week if they are luckily correct now. Let's place an emphasis on luckily.
In future weeks, this listing will also include a look at how teams fared in the past weekend.
(All games are Saturday unless indicated otherwise.)
Temple: at Notre Dame, obviously, at 3:30 p.m. ET on NBC. The Owls are 18-point underdogs with an over/under total of 53.5 points. As stated yesterday, some quick math with rounding establishes a theoretical final score of Irish 36, Temple 18.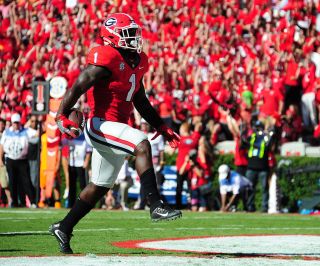 Georgia: vs. Appalachian State at 6:15 p.m. ET on ESPN. The Bulldogs are only 14-point favorites with an over/under total of 45.5 points, making for a theoretical final of 30-16. Despite the Mountaineers dark-horse Group of Five potential, that two-touchdown spread feels a bit slimmer than it should be.
Boston College: at Northern Illinois at 9:30 p.m. ET on Friday on CBSSN. The Eagles are 3.5-point favorites with an over/under total of 51 points. A 28-24 final feels appropriate by margin, but perhaps a bit more high-scoring than the eventuality.
Michigan State: vs. Bowling Green at noon ET on ESPNU. Oddsmakers project the Spartans to win by at least 17 with an over/under total of 56.5 points. Coach Mark Dantonio would certainly take a 37-20 win to start forgetting about last year's 3-9 record.
Miami (OH): at Marshall at 6:30 p.m. ET. The only underdog this week of Notre Dame's 2017 opponents, the RedHawks travel to Huntington, W. Va., looking to overcome a one-point spread. It should be noted: Home-field advantage is traditionally considered to be worth three points. With an over/under total of 50.5 points, the theoretical final score would be 26-25. Former Irish offensive coordinator Chuck Martin undoubtedly relishes being able to remind his team of their doubted status to open this season after closing last year so strongly.
North Carolina: vs. Cal at 12:20 p.m. ET on ACC Network. The Tar Heels are 11-point favorites with an over/under total of 55, making for a logical conclusion of 33-22. Obviously, these hypothetical, theoretical, logical final scores are based purely on the numbers. Landing on 33 in football would be a unique endeavor. Then again, perhaps North Carolina will score three touchdowns and kick four field goals.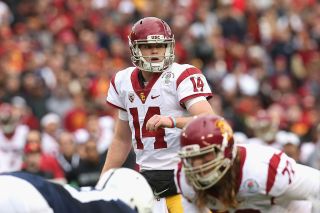 USC: vs. a P.J. Fleck-less Western Michigan at 5:15 p.m. ET on the Pac-12 Network. The Trojans are 27.5-point favorites over the Broncos with an over/under total of only 58.5. The conclusion of 43-16 seems like a low point total for the victor.
North Carolina State: vs. South Carolina at 3 p.m. ET on ESPN. In one of the weekend's marquee games, the Wolfpack claims a 4.5-point spread in its favor. The 52.5 over/under point total points to a 29-24 result.
Wake Forest: vs. Football Championship Subdivision Presbyterian at 6:30 p.m. ET on ACC Network. Typically, FBS vs. FCS games will not include spreads.
Miami (FL): vs. FCS Bethune-Cookman at 12:30 p.m. ET on ACC Network. In a season with Playoff aspirations, one wonders if Mark Richt wishes his Hurricanes were not opening with an FBS opponent.
Navy: at Florida Atlantic at 9 p.m. ET on Friday on ESPN. The Midshipmen go on the road favored by 10 points with an over/under point total of 68.5 points. A 39-29 final would likely include at least five Navy rushing touchdowns, and maybe four successful two-point conversions.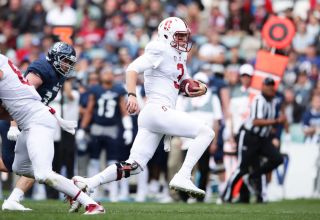 Stanford: The Cardinal beat Rice 62-7 in a game that was nowhere near so close on Saturday. The question must be asked: If a backup Stanford quarterback scores a touchdown late in the fourth quarter of a blowout but no one sees because the world is watching a boxing match, does the tree make a sound?
[protected-iframe id="4322d87b3e2eb4d11caa19723fa3b36c-15933026-22035394" info="//platform.twitter.com/widgets.js" class="twitter-follow-button"]