Irish coach Brian Kelly was not referring to the Canadian Football League when he said three of Notre Dame's running backs had "futures to play past this level." He was instead implying juniors Josh Adams and Dexter Williams and sophomore Tony Jones could all have NFL careers ahead of them.
Call it a bounty of backfield riches.
"When you have three outstanding backs, they all have to fit in what you're doing in some fashion," Kelly said Tuesday. "I think each one of them has a little bit of a different style."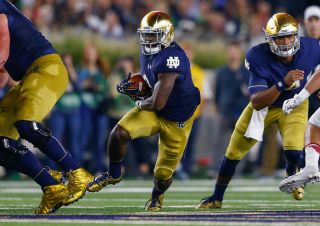 With only one football in play at a time, though, it would seem difficult to utilize all three, even if they have varied skillsets. In years past, specifically last season, Notre Dame has certainly struggled with that task. Last year senior Tarean Folston gained only 334 yards on 77 attempts while Williams took 39 carries for 200 yards. Neither became a genuine part of the rushing attack focused around Adams (158 attempts, 933 yards, 5.9 yards per carry average). Nonetheless, Kelly said he expects all three of his alleged future pros to contribute this season.
"It would surprise me if all three of them weren't actively involved in the game," he said. "As you know, we're going to play more than one back. They're all going to be actively involved in the game plan."
Some of that confidence may derive from new Irish offensive coordinator Chip Long — as of Saturday that initial three-letter adjective will no longer be either applicable or used. In his one season as offensive coordinator at Memphis, Long showed an ability to utilize multiple backs to greater effect, a tendency he presumably picked up from Tigers head coach Mike Norvell, who Long also coached under at Arizona State when Norvell was the offensive coordinator and Long the receivers coach.
Bringing that predilection with him now should allow Long to maintain the up-tempo pace his scheme desires.
"Definitely play a guy that has a hot hand," Kelly said, "but you have two other guys that if they're fresh, we're not going to run a guy where he's not at 100 percent."
Last season at Memphis, Long very clearly avoided wearing any one back out. Despite relying on the ground game, a strong run game at that, no back ever had more than 17 carries in a game, that high being reached only once. For comparison's sake, Adams reached 17 and 20 carries in two separate games and Folston touted the ball 18 times in the 2016 season opener at Texas.
No Tiger back came within 25 carries of Adams' season total, even with an extra game, yet the top-three Memphis rushers ran 38 more times than Notre Dame's did. All three of those Tigers, including two Tigers, had more chances than Folston, let alone Williams' limited 39.
Even with that lack of a reliance on a workhorse, Memphis never attempted fewer than 31 rushes in a game, once reaching as high as 53. In nine of their 13 games, they ran for at least 146 yards. Notre Dame fell short of 30 carries three times last season, and twice failed to clear even 60 yards gained. However, aside from those two games, the Irish always rushed for at least 147 yards.
The theoretical moral of this story: Combining Long's multi-back habit with Notre Dame's trio of talented backs could quickly turn a strong but inconsistent rushing attack into a game-defining mainstay.
Note the usage of could.
---
2016 Memphis:
Then-senior Doroland Dorceus: 13 games, 132 rush attempts, 810 yards, nine touchdowns, 6.1 yards per carry.
Freshman Patrick Taylor: 13 games, 93 rush attempts, 546 yards, two touchdowns, 5.9 yards per carry.
Freshman Darrell Henderson: 13 games, 87 rush attempts, 482 yards, five touchdowns, 5.5 yards per carry.
2015 Arizona State:
Then-sophomore Demario Richard: 11 games, 198 rush attempts, 1,050 yards, seven touchdowns, 5.3 yards per carry.
Sophomore Kalen Ballage: 10 games, 125 rush attempts, 653 yards, four touchdowns, 5.2 yards per carry.
Senior D.J. Foster: 13 games, 55 carries, 280 yards, one touchdown, 5.1 yards per carry.
The Sun Devils never had fewer than 28 rush attempts in a game, topping out at 55. In nine of their 13 games, they ran for at least 144 yards.
2014 Arizona State:
Foster: 13 games, 194 rush attempts, 1,081 yards, nine touchdowns, 5.6 yards per carry.
Richard: 12 games, 84 rush attempts, 478 yards, four touchdowns, 5.7 yards per carry.
Ballage: 11 games, 42 rush attempts, 126 yards, three touchdowns, 3.0 yards per carry.
Arizona State ran fewer than 31 times in only one game, a 38-34 shootout victory at USC. The Sun Devils cleared 200 yards four times.
2016 Notre Dame:
Adams: 12 games, 158 rush attempts, 933 yards, five touchdowns, 5.9 yards per carry.
Folston: 10 games, 77 rush attempts, 334 yards, two touchdowns, 4.3 yards per carry.
Williams: 12 games, 39 rush attempts, 200 yards, three touchdowns, 5.1 yards per carry.
---
Admittedly, some of this has been covered before in this space, but a refresher just before the season actually begins will not hurt anyone, and it may even serve to educate those wise few who spent their springs and summers not worrying about college football.
And to them, welcome back. Kickoff is in three days.
[protected-iframe id="4322d87b3e2eb4d11caa19723fa3b36c-15933026-22035394" info="//platform.twitter.com/widgets.js" class="twitter-follow-button"]