My father has only a passing interest in sports. He  proudly boasts an accomplished high school basketball coach once told him, "You have the sports IQ of a rock." My father did not realize his acumen deserved so much praise.
In my namesake's defense, he has made it to 29 MLB parks, including three alone occupied by the Minnesota Twins. (My count remains at 23, but I am crafting a plan to notch both Camden Yards and Nationals Park in 10 months.) This past January, he joined me in a hotel room to watch the Australian Open men's final between Roger Federer and Rafael Nadal. While the action unfolded in Melbourne, Australia, we were in Melbourne, Fla., where the sun had not yet even considered rising. He understood what he was watching, though he needed me to offer some context as to why I would wake up to watch tennis. (I was actually getting some National Signing Day prep out of the way before that Sunday's wedding festivities began.)
My father is aware enough to realize he does not know sports. He is not one to offer analysis out of turn. He does not lecture about the way things were, at least not in this aspect of the world. He has never offered a prediction my ears have heard.
However, his definition of a potent offense could not be simpler, and I have long felt it holds up. "If you want to or need to gain one yard, you gain that one yard, every time."
His definition of a strong defense runs expectedly contrary to that. "If you need to stop them from gaining one yard, you stop them from gaining that one yard, every time."
To put those thoughts into pertinent context, Notre Dame had a strong defense against Stanford in 2012 even though the Cardinal gained 171 rushing yards on 36 carries (having already removed sacks from these statistics, per usual in this space). The Irish defense may have given up 4.75 yards per rush, but when it needed to stop Stanford, it did, in no small part thanks to defensive tackle Louis Nix.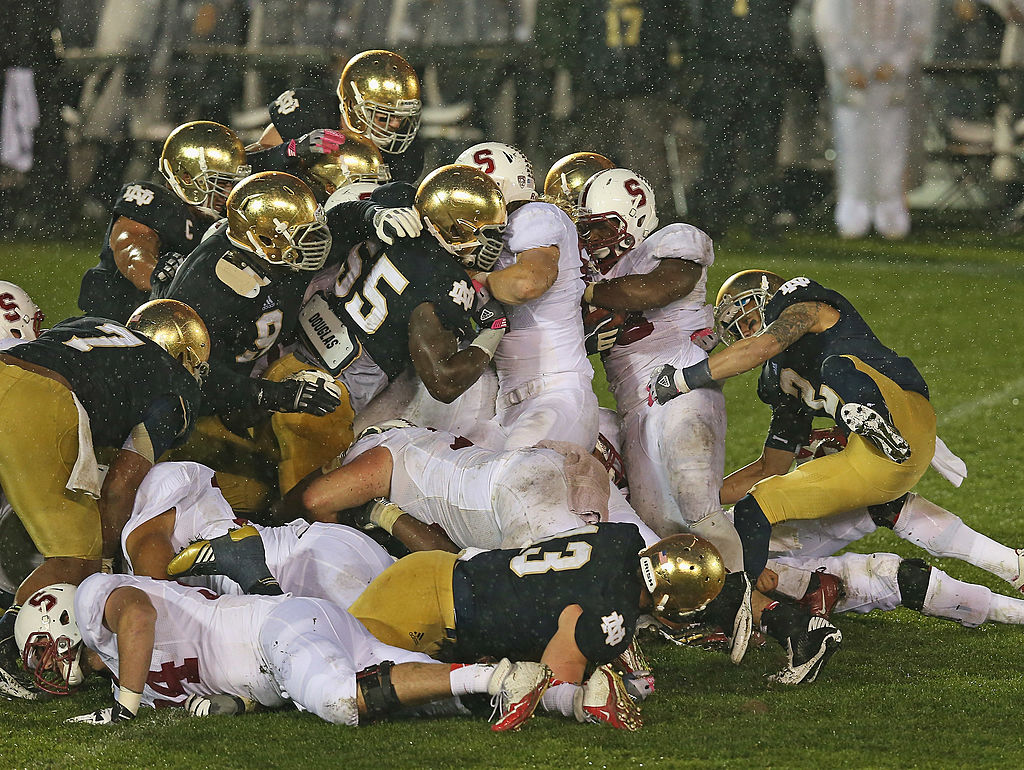 A couple years earlier, running back Robert Hughes provided a potent offense in the 2010 victory over USC despite rushing for only 69 yards. When Notre Dame absolutely needed to score, Hughes rushed for 36 of the final 40 yards on the game-winning touchdown drive with only two-plus minutes remaining.
Statistics hardly tell the story of a game. They might shed some light later on in looking back at a game never watched, but they will still miss what actually happened. Context is too big a factor. Even my father recognizes that.
There are a few statistics to take note of, though still with that grain of salt. The Athletic's college football branch, The All-American, discussed four such items this week. Much of The Athletic's content, including this particular Tom Luginbill piece, is behind a paywall, and deservedly so. We'll come back to that in a bit.
Luginbill's four statistics all make much common sense: Both third down conversion percentage and turnover margin are more accurate indicators of possession and control of the game than time of possession is. An explosive offense might find the end zone multiple times from 50 or more yards away, diminishing the time of possession while still dictating the terms of the contest. Average yards per pass attempt indicate just how frequent those big plays may be. Total rush attempts shows how confident an offense is in its ability to produce in the most basic way possible.
In fact, earlier this week, limiting big plays and creating turnovers were two of the three pillars of defense Irish coach Brian Kelly touched on when discussing improvements on that side of the ball.
RELATED READING: Three defensive tenets will define Notre Dame's and Elko's success
The additional advantage to these four metrics when compared to piles of analytics is they are all both readily understood and readily calculated. A look at Notre Dame's last five seasons tests the statistics' accuracy. Clearly, the 2012 and 2016 seasons were outliers on different ends of the spectrum. The three years between struck a more moderate level with a combined record of 27-12.
Third down conversion percentage:
2016: Notre Dame — 40.48 percent; Opponents — 38.95 percent
2013-2015: Notre Dame — 44.11 percent; Opponents — 39.34 percent
2012: Notre Dame — 46.33 percent; Opponents — 36.52 percent
Turnover margin:
2016: Notre Dame — negative four in 12 games, or -0.33 per game.
2013-2015: Notre Dame — negative nine in 39 games, or -0.23 per game.
2012: Notre Dame — plus eight in 13 games, or +0.62 per game.
Average yards per pass:
2016: Notre Dame — 7.86 yards; Opponents — 7.53 yards
2013-2015: Notre Dame — 8.13 yards; Opponents — 6.84 yards
2012: Notre Dame — 7.46 yards; Opponents — 5.98 yards
Rush attempts per game:
2016: Notre Dame — 34.17; Opponents — 42.92
2013-15: Notre Dame — 34.38; Opponents — 37.72
2012: Notre Dame — 37.54; Opponents — 27.85
Rather consistently, the direction of those numbers correlates with the ensuing records. The greatest exception would be the Irish passing game in 2012 did not make for an explosive offense. Anyone who watched that team knows as much. It was a group predicated on its defense, a rather dominant defense by these metrics.
With the 2017 season upon us, do not get too caught up in total yardages, sack counts or time of possession. Those are the micro. Keep an eye on the macro, these measurements. Even my father might understand them, especially the third down conversion question. It is, after all, nothing but a broader form of his one-yard edict.
---
As for The All-American and The Athletic, admittedly every journalist in the country, not just the sportswriters, is keen to see them find success. That aside and at the risk of giving you even more to read in a finite day, the content is worth the $8 per month or, at current discounts, fewer than $40 per year.
This read on "What happened to Michigan State football?" is not (currently) behind a paywall. Not only will you find it interesting and informative, you will find it also discusses third down conversion percentage and turnover margin as indicators the Spartans' trouble last year was coming for a while.
Make your second drink tonight a rail or a domestic rather than a cocktail or a craft. Tomorrow, mooch a hot dog off a neighboring tailgate. Just like that you have saved enough to try The Athletic for a month.
Make your third drink tonight whatever you want. Notre Dame kicks off tomorrow. You have reason to enjoy yourself.
[protected-iframe id="4322d87b3e2eb4d11caa19723fa3b36c-15933026-22035394" info="//platform.twitter.com/widgets.js" class="twitter-follow-button"]