Notre Dame does not often play SEC teams. Georgia's arrival this weekend will be the first regular season game against such an opponent since the Irish hosted and beat Tennessee 41-21 in 2005, outscoring the Volunteers by 20 points in the fourth quarter.
To gain a better look into an SEC title contender, welcome Marc Weiszer. Marc has covered the Bulldogs for the Athens Banner-Herald since 2003.
DF: Let's start with the big question. From your conversations in and around Athens, are as many Georgia fans making the trek northward as has been widely reported and advertised?
MW: Sure seems that way. Georgia's allotment of 8,000 tickets (plus another 400 for the Redcoat Band) could hardly meet demand. With the Falcons playing in Chicago Sunday and the Cubs slated to have a Friday day game (since moved to night), thousands are making it a big sports weekend.
The week has been dominated by talk of freshman Jake Fromm stepping in for sophomore Jacob Eason at quarterback due to Eason's knee injury. To my often-faulty memory, there were some rumblings of Fromm being a factor this season even if Eason was healthy. Was that just idle offseason speculation or was there something to that possibility?
Probably somewhere in between. Coach Kirby Smart set the scene of a competition this spring with Fromm pushing Eason for the job, but that was more about the freshman showing good leadership and having off-field habits of being a film room maven that I'm sure coaches would love any quarterback to emulate. Smart acknowledged Eason was the guy in July, but Fromm gave Georgia a more than capable backup and could be turned to if Eason faltered. Or, as we saw in the first quarter of the opener against Appalachian State, if injury knocked him out of the game.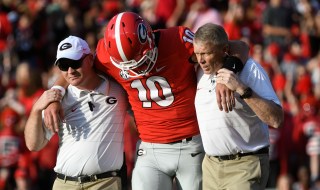 Has the injury to Eason drastically altered the mood around the program? Certainly no one on the team would ever admit such, but losing your starting quarterback must dampen expectations.
There's been no noticeable "woe is us" type response. If anything, the way Georgia's offense was energized after Fromm came in the game — three straight touchdown drives after punting on the first series — showed he could be more than just a placeholder until Eason comes back. Eason had a pretty good freshman season — 14 touchdowns, 7 interceptions, late fourth-quarter drives to win at Missouri and Kentucky — but his 55 percent completion percentage and not quite living up to the five-star hype left many looking for more this season from Eason.
From what you have seen of Fromm in practices and in Saturday's 31-10 victory over Appalachian State, what are his distinct strengths? What about weaknesses, aside from being a true freshman suddenly thrown into the action?
At 6-foot-2 and 225 pounds, Fromm doesn't have the size or probably the big arm that wows like Eason, but he showed last week his quick release can be effective and the Bulldogs used tempo with success in the 31-10 win. He seems to have the respect of his teammates and he's more fiery than Eason who was encouraged to become more vocal. It's a small sample size so far for Fromm so we'll learn a whole lot more about him after Saturday night on that stage. Then again, he hit three home runs in the Little League World Series as a 13-year old playing for his Warner Robins, Ga. team. (See Fromm introduce himself at 0:13 in the below video.)
[youtube=https://www.youtube.com/watch?v=p3uiZT9iJ_8&w=560&h=315]
Against the Mountaineers, senior running backs Nick Chubb and Sony Michel split the carries almost exactly evenly. Chubb finished with 96 yards on 15 rushes and Michel took 16 chances for 87 yards. Was that distribution a symptom of a blowout or has offensive coordinator Jim Chaney already found the balance between the two heralded senior running backs?
There's never really been any issue of a competition for carries. That's probably because due to injuries to both during their careers, they've each had time as being the featured back.  They're also roommates and best friends. Chubb is more of a workhorse, a pound-it, downhill runner. Michel may be more in the Reggie Bush or LeSean McCoy mold. Georgia will try to get him in the ball in space or line him up in the slot. They certainly give Chaney a chance to keep one fresh by turning to the other without skipping a beat.
The Bulldogs lost a majority of their offensive line from a year ago. Can that give Notre Dame fans some hope of stymieing the Chubb & Michel rushing attack?
Certainly. Even with Chubb and Michel, Georgia's ability to run the ball rests on its offensive line getting push in the trenches. That's not something they did often enough last year.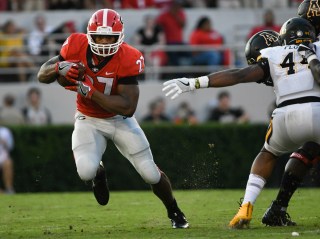 Georgia lost three starters — including left tackle starter Tyler Catalina who made the Redskins' roster as an undrafted free agent — but its best lineman remains in senior Isaiah Wynn, who shifted from left guard to left tackle. True freshman Andrew Thomas (6-5, 320) from Lithonia, Ga., won the starting right tackle job. Georgia has been rotating guards and should have first-time starters this week in sophomore Solomon Kindley and junior Kendall Baker.
Few teams can claim the return of nearly their entire defenses, especially all of their front-seven. Georgia can. What holes in the Bulldogs' defense might the Irish look to exploit?
Look to the secondary. Georgia lost Alabama graduate transfer Maurice Smith who started at the star nickelback last season. Malkom Parrish, a senior who is arguably their best cornerback, is expected to miss his second straight game with a foot injury. Senior cornerback Aaron Davis is battling a hamstring injury but may play. The Bulldogs had some transfers that thinned its depth and now rely on inexperienced players as backups. There is young talent in five-star freshman safety Richard LeCounte.
If you will allow me a catch-all here, what other notes should Notre Dame fans be aware of or what particular players should they be on the lookout for this weekend?
Some Georgia defensive players appeared to have motivation for the Irish being picked as favorites in this game — opening at 6 ½ — and talk of all the Notre Dame tradition. Senior safety Dominick Sanders talked of "punishing them from the start," and junior defensive end Jonathan Ledbetter said the team is 'ready to prove a point," going up against Mike McGlinchey and Quenton Nelson. On offense, wide receiver Riley Ridley — brother of Alabama star Calvin Ridley — is coming off a one-game suspension and is a big-play threat. So is receiver Mecole Hardman, a sophomore converted from defensive back who players raved about this preseason for his speed and playmaking potential.
How do you expect Saturday to play out? I often use spreads as evaluation metrics and was surprised to see Georgia as that 6.5-point underdog. I did not expect a freshman at quarterback to sway the line that much. Would you expect a closer game than that?
This is a hard one to pick to a certain extent. How much should we make of a strong showing against Temple after the 4-8 season last year for Notre Dame? I can see either team winning by more than two touchdowns or the game going down to the wire. Georgia's defense is a legit top 15 nationally and has a terrific run-stopper in junior tackle Trenton Thompson, but Fromm's first start is a wild card.
Dare I ask for a score prediction? It seems I do.
Without much conviction, I'll say Notre Dame 28, Georgia 24. Don't call your bookie in Vegas based on this.
[protected-iframe id="4322d87b3e2eb4d11caa19723fa3b36c-15933026-22035394" info="//platform.twitter.com/widgets.js" class="twitter-follow-button"]