Notre Dame opened the season in promising fashion last week. Then again, that was not the same Temple team as the last two years. The Irish should have kicked off the season in style. That result on its own is not necessarily a harbinger of a strong campaign to come. Just look at 2016's home-opening 39-10 victory over Nevada. It did not exactly prove to be a predictor of a promising year.
This week's top-25 matchup with No. 15 Georgia will provide an entirely different version of a test, one much more likely applicable to the future.
The Bulldogs were always going to play to their strengths, but that rings even truer now with a freshman making his first start at quarterback. How Notre Dame handles those particular strengths will teach the most about the 2017 rendition of the Irish.
Georgia's defensive front-seven is its most notable asset. It will make the Notre Dame rushing game earn every yard it gains and it will force the Irish offensive line to work for every second junior quarterback Brandon Wimbush spends in the pocket.
Will the right tackle(s) be ready for that duty?
Expecting sophomore Tommy Kraemer to again rotate with freshman Robert Hainsey, both will need to be ready to face the likes of junior defensive end Jonathan Ledbetter and senior linebackers Davin Bellamy and Lorenzo Carter. Bellamy and Carter combined for 10 sacks last season, often acting as much as defensive ends as linebackers. The Kraemer/Hainsey duo will need to slow that rush if the Notre Dame offense is to hum anywhere near as well as it did last weekend.
For that matter, this may be an indicative measuring stick for that position battle moving forward. The fact that it remains a question does not bode well for Kraemer's performance to date. No matter how well Hainsey, an early enrollee, has performed, Kraemer has had a chance to secure this starting spot for 10 months now. Not doing so definitively is his opportunity lost.
Hainsey, meanwhile, committed half the Irish penalties last week. (Committing only four total penalties is a facet of last week's performance not praised enough, including in this space.) That may have been mere freshman nerves — especially considering neither jump was enticed by the defense in anyway — but it cannot continue if he expects to usurp Kraemer.
Does Notre Dame have a developed enough passing attack to keep Kirby Smart's defense honest?
If it does, the Irish did not show it off last week, not that they needed to. The greatest concern about the passing game has been who will emerge as the second option behind junior receiver Equanimeous St. Brown. That worry may be superfluous. Yes, establishing an additional reliable target for Wimbush makes sense, but it may not be inherently necessary.
Take the last three seasons. Notre Dame's No. 2 receiver in any of those years never surpassed 48 catches, 597 yards or five touchdowns.
2016: St. Brown — 58 catches, 961 yards, nine touchdowns.
Torii Hunter, Jr. — 38 catches, 521 yards, three touchdowns.
2015: Will Fuller — 62 catches, 1,258 yards, 14 touchdowns.
Chris Brown — 48 catches, 597 yards, four touchdowns.
2014: Fuller —76 catches, 1,094 yards, 15 touchdowns.
Corey Robinson — 40 catches, 539 yards, five touchdowns.
The last time Irish coach Brian Kelly could genuinely turn to a second receiver was in 2013 when DaVaris Daniels caught 49 passes for 745 yards and seven touchdowns, trailing TJ Jones in all three categories. (70 catches, 1,108 yards, nine touchdowns.)
Graduate student receiver Cameron Smith may remain the most likely possibility to separate himself from the pack. Perhaps sophomore receiver Chase Claypool's athleticism will set him apart. Maybe the time has come for junior tight end Alizé Mack to live up to the billing.
If none of those items whole-heartedly come to pass, though, it will not mean the Notre Dame aerial attack has stalled.
On the other side of the ball, Georgia will run the ball. Can the Irish tackle two of the nation's top running backs?
Last week, Notre Dame was admittedly sloppy in tackling. That can easily be attributed to week one timing issues. Even when in a full-contact practice, senior captain and linebacker Nyles Morgan was never going to launch himself at an Irish back the same way he would at Temple junior running back Ryquell Armstead. Adjusting to that live-action pacing might take four quarters.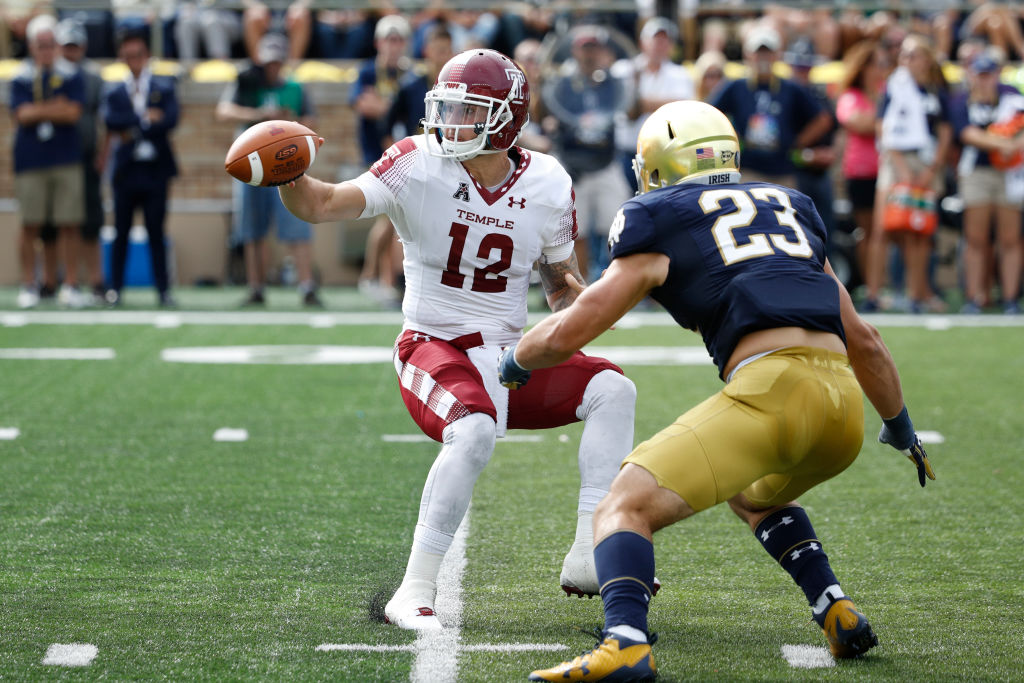 Contrarily, it could also be a sign of a season-long struggle to come.
Specifically, will the Notre Dame linebackers be able to bring down the Bulldogs senior running back duo of Nick Chubb and Sony Michel? If either of those threats reaches the Irish safeties, the battle will already be lost, and that is not meant as a negative reflection of those safeties.
If Morgan, fellow senior captains Greer Martini and Drue Tranquill, and juniors Te'von Coney and Asmar Bilal are in fact able to contain Chubb and Michel, then Notre Dame should not have much trouble with any remaining rushing attack this season (exception: Navy and its triple-option), not even with USC junior Ronald Jones.
If, however, they struggle, then those tackling woes are likely to emerge a few more times this year, a reminder of a season ago.
Can the defensive line make the linebackers jobs any easier?
This is not a week where a pass rush will be vital, though defensive coordinator Mike Elko will never complain about that luxury. This is a week were taking up space, plugging holes and occupying blockers could be crucial. If the unproven line, especially the defense tackles, can do as much, suddenly Morgan, Martini & Co. will not need to worry about a guard having an opportunity to add an un-schemed block to his week's highlight reel.
The Irish coaches, defensive linemen and even offensive linemen have spoken out in defense of the front line, insisting it is better than it is given credit for. This week provides a prime opportunity to prove as much.
Will Justin Yoon right whatever is wrong, which in this case, is too much right?
Yoon missed two field goal attempts last week, both to the right. In a game against a top-15 opponent rather than Temple, those lost six points could prove costly.
Historically, Yoon is extremely accurate. He has earned the faith of the coaching staff to endure one rough week. Extending that grace period may start to stress coaches and fans alike.
[protected-iframe id="4322d87b3e2eb4d11caa19723fa3b36c-15933026-22035394" info="//platform.twitter.com/widgets.js" class="twitter-follow-button"]