SOUTH BEND, Ind. — We learned Georgia's front-seven is all it was cracked up to be. We learned even future first-round NFL Draft picks make colossal mistakes. We learned the new video board in Notre Dame Stadium does not broadcast a post-game show after losses. Those first two are inherently intertwined, and to that last one, the response should be the same as it was when some were upset the Irish did not sing the Alma Mater after home losses: Just win the games.
What else did we learn?
Notre Dame has a defensive line. More than that, it is a strength, not the liability long presumed.
All offseason the doubts about the Irish defensive line persisted. When junior tackle Elijah Taylor suffered a Lisfranc fracture in spring practices, those concerns amplified. Then senior tackle Daniel Cage was ruled out for the season over the summer. The week one absence of junior tackle Micah Dew-Treadway due to a sprained knee only furthered the skepticism.
Beyond senior Jonathan Bonner and junior Jerry Tillery, could Notre Dame even field a defensive interior?
Yes.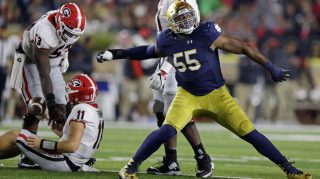 On top of that, senior ends Jay Hayes and Andrew Trumbetti have provided playmaking on the edges few, if any, saw coming. Certainly no one expected Hayes to lead Notre Dame with seven tackles Saturday night. Trumbetti added five, as did Tillery. Bonner had four takedowns, including 1.5 tackles for loss.
Even more impressively, freshmen tackles Kurt Hinish and Myron Tagovaioloa-Amosa held their own for the second consecutive week, allowing Bonner and Tillery chances to catch their breath.
Perhaps Irish fifth-year left tackle Mike McGlinchey — the aforementioned future first-round NFL Draft pick — should have been heeded when he praised the defensive line in preseason camp. He does, after all, face those exact players every day in practice.
McGlinchey took little satisfaction in reminding the world of that confidence after Saturday's loss.
"Our defense played their hearts out today, and they played a [great] game," the captain said. "All the credit to them. Everybody has had their doubts about them all season long, and they stepped up in a big way today."
That big way limited the Bulldogs' vaunted rushing attack to 193 yards. That may seem a large number, and certainly even fewer would have been preferred, but Georgia never found the presumed momentum on the ground, greatly limiting their offensive game plan.
"The defensive line especially played really well in stopping them," senior linebacker Greer Martini said. Bulldogs senior running backs Nick Chubb and Sony Michel "are obviously very special backs, but I think we handled our own."
Indeed, they did. More challenges will come this season — namely USC's Ronald Jones and Stanford's Bryce Love — but those tests no longer seem beyond overcoming for the Notre Dame front seven.
Brandon Wimbush has started only two games in his career.
Okay, that was known. But Saturday night, it was very obvious. The junior quarterback was not ready for either the stage or the opponent, or both. At no point did he deliver a WOW moment a la his opening-week dart to senior tight end Nic Weishar. His closest thing to a big play came on the opening snap, when junior receiver Equanimeous St. Brown dropped a deep pass off a flea flicker.
Including that, Wimbush completed only 20 of 40 passes. A 50 percent completion rate is not acceptable in any circumstance. He fumbled twice, though the second of the two should hardly be attributed to him, considering the nature of a hardly-slowed blindside hit.
Just like against Temple, Wimbush lucked out of multiple interceptions. At some point, one of those risky throws will cost him and the Irish dearly. Even this weekend, the incompletions off those near-interceptions were too much to overcome.
None of this is lost on Notre Dame.
"I love the way he goes out there and competes," Irish coach Brian Kelly said. "There are things happening for the first time that he's getting a chance to grow with.
"I'm glad he's on my team. We're living through a couple things here and there, but when it all comes together, these [post-game] press conferences will be a little different."
Wimbush has the athletic gifts. He has the proper mechanics and form. He does not have the experience or mental reserves to draw on in pressure-filled moments. That was very clear on Notre Dame's last two possessions, when he completed only one of four passes when quick completions were exceedingly desired.
The experience and personal assurance come with only one thing: time. While the Irish may not have much of it, it is also an inevitability.
Even in stress, this remains Chip Long's offense.
Notre Dame struggled offensively. Gaining only 265 yards emphasizes as much. The manner in which those yards were (not) gained, though, confirms the first-year offensive coordinator continues to make the schematic decisions. Those offseason and preseason claims were not mere lip service.
The Irish rushed 34 times and dropped back to pass on 43 snaps. Despite the dominance of Georgia's front-seven, Notre Dame's offense did not devolve into a chuck-it-and-hope approach. It remained patient, attempting to embrace its own strengths.
Some of that ground focus may point to a receiver dearth.
Junior running back Josh Adams gained more yards on receptions than he did on rushes Saturday. He took 19 carries for 53 yards, compared to 60 yards on six catches. Both of those latter figures were career highs, and both led the Irish against the Bulldogs.
Adams emerging as a receiving threat bodes well for his overall development, but if he is consistently the best option available to Wimbush, that simply means the receivers and tight ends are not open.
When both St. Brown and junior tight end Alizé Mack finish with only two catches apiece, the entire receiving corps is struggling. In a world where the Notre Dame offense produces consistently, Adams will not be its leading receiver.
Brian Polian may have brought the punt return of yore back with him.
Perhaps a larger sample size than one game in a taut primetime atmosphere should be awaited before making this declaration. For now, consider this a musing with an eye toward the future.
Georgia punted eight times Saturday. Irish junior returner Chris Finke returned three of them for a net of negative three yards. He quite reluctantly fair caught four more. The other was downed inside the 10-yard line.
Finke has a certain shiftiness to him. It makes him a unique threat in both the passing game and on punt returns. If Notre Dame cannot provide any version of blocking for him on those returns, though, then those return opportunities are an utter waste of time.
Not everything has changed.
It was an offseason filled with discussions of what has changed. Polian, the new special teams coordinator, joined new defensive coordinator Mike Elko and Long. Kelly implemented a new strength and conditioning program. It was supposed to be an entirely new mindset.
Yet, Notre Dame still loses painfully close games, apparently.
[protected-iframe id="4322d87b3e2eb4d11caa19723fa3b36c-15933026-22035394" info="//platform.twitter.com/widgets.js" class="twitter-follow-button"]