It's a tradition unlike any other. An underwhelming Boston College team troubles the Irish. Starting a quarterback with even less experience than Notre Dame's, these Eagles may keep up that tradition this weekend. To get a better gauge on those chances, let's consult with Michael Sullivan of Boston College's The Heights.
DF: For introductory purposes, you are the editor-in-chief at Boston College's independent student newspaper, The Heights, correct? I know that can be a time-intensive and seemingly-thankless gig. Kudos. How many years have you been on the football beat now?
MS: Thanks, Douglas. It definitely gets tough with a typical five-class schedule, especially at a place like BC. Prior to becoming editor-in-chief, I was sports editor for two years. This is my third full season covering Eagles football, from spring through fall, and I also take up the men's hockey and baseball beats.
I would like to start with a macro look. Steve Addazio is now in his fifth season as Eagles head coach. He opened with two admirable 7-6 seasons before falling to 3-9 in 2015. Last year's return to 7-6 ended with a bowl victory, the first such win in just how long? Is there any sense Addazio needs to perform this year? At what point is 7-6 not going to be enough for Boston College?
It's the first bowl win for BC since 2007, a 24-21 win over Michigan State in what was then the Champs Sports Bowl, with Matt Ryan at quarterback. So yeah, it's been that long. There's absolutely a sense right now that Addazio has to perform this year, especially with a new athletic director in Martin Jarmond. The youngest AD in the country, Jarmond comes from two high-profile programs — Michigan State and Ohio State, the latter of which where he was the No. 2 to Gene Smith. He will likely have little patience for continued failure for this program.
Whether that means bringing in a new guy at the end of the year remains to be seen — a bowl berth this season, even at 6-6, might be enough to do it. But looking critically at the Eagles' seasons shows another trend. In 2014, BC gave away a couple of winnable games: Colorado State and Clemson each were a drop in the end zone away from wins, and a missed PAT in the Pinstripe Bowl might've been a 10th. In 2015, the Eagles had the No. 1 defense in the nation, but lost back-to-back games by less than three points in which kicker Colton Lichtenberg missed a combined three field goals — 9-7 to Duke and 3-0 to Wake Forest. In 2016, same story against Georgia Tech, not to mention the 4th and 19 play that kept the Yellow Jackets alive in Dublin.
Some might say this is just a play here, a play there, and failure to execute. But, as I'm sure Notre Dame fans understand, a fanbase can only tolerate so many one-possession defeats, and it could mark the difference between a good and bad coach. This is all to say, 7-6 might be good enough this year, given BC's tough schedule. For how many years after that though? It's likely to be few, if any.
The micro view should probably start at quarterback. Freshman Anthony Brown had a rough week against Wake Forest, only a week after a rather promising debut at Northern Illinois. He'll get the starting nod again this week, right, even after being pulled after this third interception against the Deacons?
Oh absolutely, Brown is sure to start this week, and going forward in all likelihood.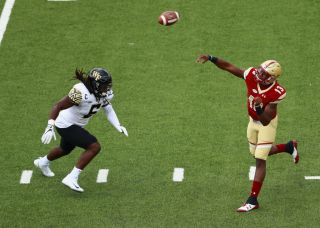 In the short-term, what are Brown's greatest strengths? Weaknesses?
He's got the kind of arm Addazio hasn't had since coming to Boston College. He really has a good amount of strength in that right shoulder and can air it out deep. His weaknesses aren't abnormal to any redshirt freshman thrust into a starting role. Brown has trouble with his accuracy right now on the deep ball. But what stands out to me is when he misses, he overthrows his receivers, rather than underthrows them. Brown does a good job keeping the ball away from opponents — if you look at the picks in the Wake Forest game, two were tipped. At the same time, he's not afraid to squeeze it in there and thread the needle when need be. All-in-all, if he can shore up the accuracy, he's going to be the quarterback the Eagles have missed since at least Chase Rettig, but perhaps since Matt Ryan.
What about the long-term? Even when Notre Dame doesn't play the Eagles, Irish fans are always aware of how that school out east is doing.
Long-term, Brown appears to be "The Answer" at quarterback, and Boston College projects still to be a six-win team this year. You can expect some easy wins against Connecticut or Central Michigan, and they'll be competitive with North Carolina State, Syracuse, and Virginia — I'd expect one or two wins from them out of that trio.
Personally, I was surprised to see Wake Forest score 34 points last weekend. A look further points out seven of those came on an interception return, and another touchdown drive needed to cover only 26 yards. Perhaps I should have been more impressed with the Deacons holding the Eagles to 10 points. How did they limit Boston College so effectively?
A big reason was because of the play of the offensive line. The Eagles have lost two starters: left guard Elijah Johnson, who tore his ACL in the spring, and center Jon Baker, who tore his ACL against Northern Illinois. With the up-tempo pace Addazio was expecting to implement, he needs a stable of linemen to rotate. Now, he's down to only five or six that can start. On Saturday, he started freshman Ben Petrula, a 300-pound tackle, at center, because left guard Sam Schmal was out and backup center Shane Leonard has been out for a month. Petrula struggled to get his feet wet, with a few bad snaps and some hard rushes by the defensive tackles that had Brown scrambling out of the pocket. Petrula will be back there on Saturday, as will Schmal, but the line really needs to hold up strong for BC for chance at a victory.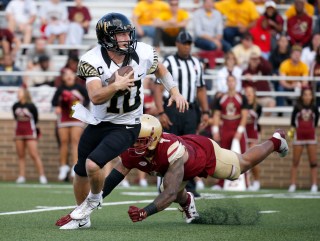 The conversation around Boston College's defense begins with end Harold Landry. Can you explain to Notre Dame fans just what makes him so dangerous? They are already doubting the Irish offensive line's competence in all facets. A few Landry sacks won't do much for morale.
Irish fans might remember Matt Milano from two years ago, the outside linebacker who, along with Justin Simmons, helped force five turnovers, most of which were on fumbles/picks of Deshone Kizer, in Notre Dame's 19-16 win over Boston College at Fenway Park. Now imagine that in a defensive end's body. Landry played outside linebacker for years in high school, learning how to drop back effectively in pass coverage. But he's just relentless when he's going after the quarterback, as evidenced by his 16.5 sacks last year, most in the nation. His pop out of the crouch on the line of scrimmage is so quick and can't be rivaled by anyone else in the country.
Aside from Landry, what can be expected from the Eagles defense?
Landry's successor, Zach Allen, plays at his opposite position on the defensive line. He's a dangerous, 300-pound monster constantly hungry for quarterbacks. The Eagles' secondary is also for real, allowing fewer than 180 passing yards per game. Seniors Kamrin Moore and Isaac Yiadom are legitimate shutdown corners, Will Harris has a Landon Collins-esque feel about him in the way he tackles, and Lukas Denis is a rising star in his free safety ability. Going to the air will be a challenge for any opposing quarterback this season.
This is admittedly a cop out, but what else should Notre Dame fans be aware of this weekend? Who or what am I missing?
The Eagles are very deep at receiver/tight end for the first time in the Addazio era. Kobay White, Michael Walker, Jeff Smith, Tommy Sweeney and Charlie Callinan, just to name a few, are among the many weapons offensive coordinator Scot Loeffler can put out there for Brown to attack. They're still working through some of the drop troubles they had last year, but they've done an excellent job, better than I've seen at Boston College, at getting open and giving Brown opportunities. For the first time in a long time, BC also appears to have foud some stability at kicker with Lichtenberg, who is 4-for-4 this year.
While we are asking the obvious questions, how do you expect this weekend to play out? The Irish are favored by 13.5. Can Boston College keep it closer than that?
That's a good line if you ask me. When it comes down to it, it'll be a matter of how well the defense can contain Brandon Wimbush. The Eagles haven't had much success against two running quarterbacks in NIU's Ryan Graham and Wake's John Wolford, who each ran for more than 90 yards. Wimbush is by far the best runner of that group, and if BC can't contain him and lock down time of possession, it'll be a long afternoon. I do, however, think the offense will rebound to the levels it showed against Northern Illinois, and the passing defense will force Notre Dame to be somewhat one-dimensional. I can't necessarily say I see an Eagles win, but I can definitely see Boston College keeping it to around 7-10 points. I'd go with a cover.
For that matter, do you have a score prediction?
24-17 Notre Dame. I think the Eagles keep it a lot closer than they did to Wake Forest, but I'm not sure if it's enough to seal the deal. An Eagles win, in a game that's sure to be emotional, wouldn't floor me given Notre Dame's own struggles, but I'll hold it to a one-possession loss.
[protected-iframe id="4322d87b3e2eb4d11caa19723fa3b36c-15933026-22035394" info="//platform.twitter.com/widgets.js" class="twitter-follow-button"]