The knee-jerk reaction to Notre Dame's loss last weekend was to lampoon the offensive line performance. The harsh judgment made sense considering the game's sealing play came courtesy of a block so missed it would be both efficient and accurate to call it non-existent.
Even fifth-year left tackle and Irish captain Mike McGlinchey focused on that block. After all, he was the one who missed the block and it was his last snap, remaining his last snap until Notre Dame takes the field at 3:30 p.m. ET on ESPN.
"You sit there all weekend and just watch that one play over and over and over again, and you kind of drive yourself insane," McGlinchey said Tuesday. "But it's one play. I guess I've got to work on the timing of my misses because it was a pretty brutal one."
The greater concern this week in conversations with Irish coach Brian Kelly has been his receivers. Kelly knows what he has in his offensive line — a veteran group recently bested by one of the nation's best defensive front sevens. For that matter, a veteran group now looking to redeem itself.
Kelly does not know what he has in his receivers.
What will Chris Finke make of his opportunity as a starter? Will someone else emerge as a viable aerial threat?
Finke saw four targets in the fourth quarter of the Georgia defeat. He caught three of them for 36 yards. Prior to that, the junior receiver had not been targeted so much as once.
That chance would likely have come eventually, but it arrived last weekend due, at least in part, to senior receiver Freddy Canteen suffering a shoulder injury. The injury combined with Finke's performance earned the former walk-on a starting chance tomorrow.
Finke will not be able to sustain a three catches for 36 yards per quarter rate. (But can you imagine a 12-catch, 144-yard performance? That would silence any remaining Finke doubters.) He should, theoretically, be able to make an obvious impact in a full day's work. Notre Dame needs him to.
RELATED READING: Offensive line notes, Irish 'begging' for No. 2 WR
Questions for the Week: A No. 2 WR, a RT decision & more
Kelly on Notre Dame's sideline 'fight,' Chip Long's play calling and shuffling WRs
Notre Dame looks for St. Brown to step up AND a No. 2 option, not OR
Kelly on Notre Dame's WRs and TEs, namely on Claypool and Kmet
Notice how many of this week's topics concerned the search for a receiver to complement junior Equanimeous St. Brown. (Also notice how few dealt with the offensive line.) This is Finke's chance to showcase himself as that feature. If he doesn't do so successfully, Kelly will have no choice but to trot out the next candidate, likely sophomore Chase Claypool.
It made sense to give Canteen a few weeks. Presuming he showed something in preseason practice, even if that something was simply consistent contributions, giving Canteen some time to show that in competition was rational. He had not done so by the time he injured his shoulder, a particular concern for Canteen after he lost more than a season to a shoulder injury when he was at Michigan.
It will make less sense to give multiple-week auditions to the next possibilities. If they had not shown what is needed in practice and the adrenaline of a game does not elicit such, then on to the next. This week is Finke's moment. What will he make of it?
For that matter, is this the week junior tight end Alizé Mack finally shakes off the rust and shows the physical gifts which had so many encouraged by his return? Entering the season, the concern with Mack was his nagging hamstring injury. Now, the worry is his questionable-to-date hands. His athleticism alone makes him a must-play, but if he cannot be relied on in key red-zone or third-down situations, Notre Dame may need to turn to senior Nic Weishar even more.
How will the Irish right tackles handle Eagles defensive end Harold Landry?
This is not a question about the Notre Dame offensive line. It is about one particular position. Sophomore Tommy Kraemer and freshman Robert Hainsey have split snaps at right tackle, the former showing more adeptness in the rushing game, the latter in the passing game.
There have been no signs of the rotation diminishing, which means each should get a chance to block Landry. The senior had 15 individual sacks last season, chipping in on three more. To put that in blunter context, last year Landry accounted for more sacks on his own than the entire Irish defense did.
Notre Dame is well aware of his potential effect. Both McGlinchey and Kelly answered multiple questions about Landry this week, something of a rarity regarding an opposing defensive player.
McGlinchey: "Quick off the edge, strong, shifty, and he has a high motor. That's normally a good combination for getting past offensive tackles like myself. … They do move him around. … A lot of speed, tries to get you around the edge most of time, but he throws a lot of different combinations of things of how he does that for sure."
Kelly: "He had a sack the other day against Wake Forest where he really beat a long-arm tackle underneath him. … He was able to bend, to get underneath the hands of an offensive tackle. We use the phrase, 'run the hoop.' Really, his ability to bend around the corner and have that kind of flexibility and certainly explosiveness, too. But first step is his ability to get off the ball, run the hoop, have that ability to bend."
If wondering what in the world Kelly means by bending underneath an offensive tackle, take a look:
Landry will test both McGlinchey and the right tackle. How each right tackle fares, and reacts to that result, could shed light on the future of that position.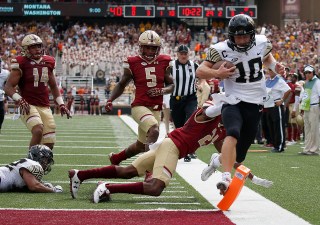 Aside from evading Landry, can Brandon Wimbush utilize his legs against the Eagles?
Northern Illinois quarterback Ryan Graham ran for 99 yards on 12 carries against Boston College. Demon Deacons' quarterback John Wolford managed 130 yards on 18 carries, adjusting for sack totals. Brandon Wimbush is much more of a rushing threat than either Graham or Wolford.
The junior quarterback has taken 23 carries for 177 yards through two games, an average of 7.7 yards per carry. It is certainly reasonable to expect Wimbush to blow past that average this week.
Notre Dame should cruise past Boston College with or without Wimbush's legs, but getting him some reps (and confidence) in that aspect of the game will be greatly appreciated next time facing an exceedingly-athletic defensive front seven. The Irish can expect that to come in mid- to late-October.
How many snaps will Dexter Williams see but not get a rushing attempt?
Last week the number was zero, because Williams tallied zero offensive snaps. That won't happen this week.
The question is phrased how it is because the wondering should not be if the junior will get to run the ball. It should be, is Williams trusted to pass block?
If he is, then that is either remarkable one-week growth or a coaching mistake last week. If he is not, then Williams remains a one-trick pony and a giveaway as to a play's intent every time he takes the field. No matter how explosive a player may be, no coach wants to telegraph a play's direction to the defense every time that player takes the field.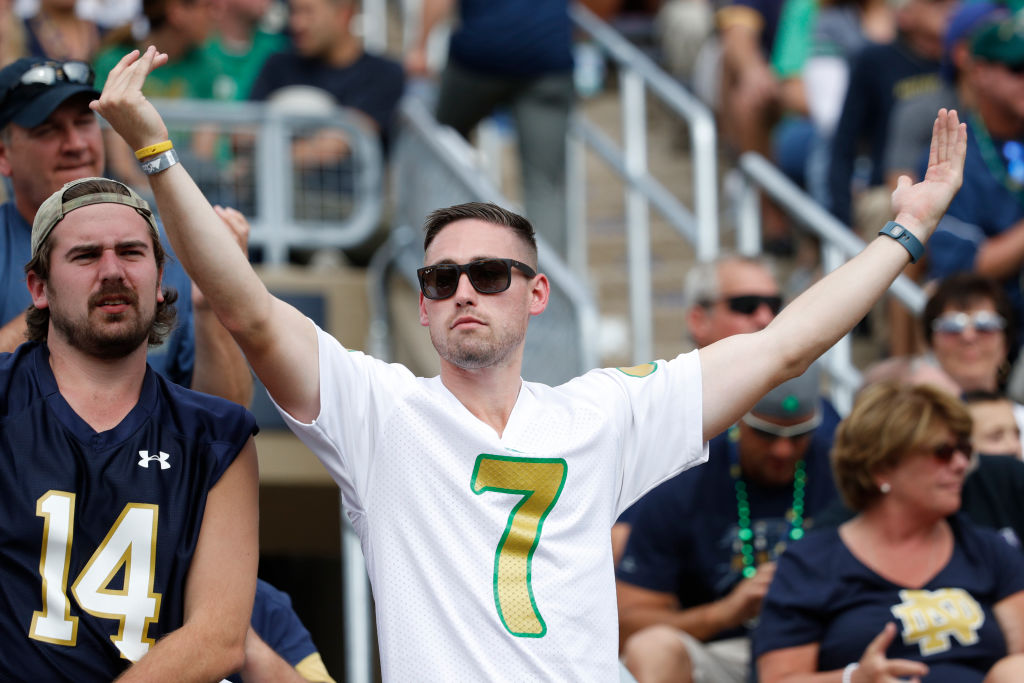 Editor's Note: Apologies to this guy for this post's tardiness. It is intended for Thursday afternoons, but travel this week precluded such if it were to be filled with halfway coherent thoughts. In some respects, pushing it to the Friday at 4 positioning may have served multiple purposes.
Otherwise, this space may have devolved into philosophical ramblings about the "fellowship of the miserable" and the redeeming qualities of moderation. Considering Notre Dame plays in Boston this weekend, those musings would have had pertinence, but they may still be best left with tonight's non-existent third drink.
Speaking of, shouldn't you be finding your first soon?
[protected-iframe id="4322d87b3e2eb4d11caa19723fa3b36c-15933026-22035394" info="//platform.twitter.com/widgets.js" class="twitter-follow-button"]