Winning if by ground, losing if by air. Thus, seven by ground, none by air.
That is, Notre Dame scored all seven of its touchdowns via rush in its 49-20 victory over Boston College on Saturday. After struggling through the first half relying on both the passing and ground games, the Irish held a mere 14-10 lead at the break. They then found and stuck to their strength to pull away with increasing ease.
"We didn't stop the run," Eagles coach Steve Addazio said. "We did not stop the run, and that was a huge deal in that game."
Yes, yes it was.
"We didn't make a lot of plays in the first half," Irish coach Brian Kelly said. "We came in at halftime and went up to the offensive line and said, 'Look, we need you to take over this football game. You're our veteran group.'
"They really responded. Really proud of the way they controlled the line of scrimmage in the second half."
It may be difficult to overstate how the afternoon shifted once Notre Dame devoted itself to the running game. At halftime, the Irish had converted only three of nine third-down attempts, also failing on one fourth-down attempt. They had outgained Boston College by only 43 yards, 271 to 228.
Beginning with the third Irish drive of the second half, the focus was singular, and the scoreboard's gradual changes reflected it. Prior to that point, Notre Dame clung to a 14-13 lead, its defense holding Boston College in check while the offense sputtered. For example, the first two Irish drives of the half combined for seven plays, 11 yards and one turnover.
Alternating with those two drives, the Notre Dame defense prevented the Eagles from capitalizing on a turnover — holding to only a field goal — and then forced a turnover on downs in Irish territory.
With the ball back, the third Notre Dame drive after halftime gained 65 of its 70 yards on the ground, seven of the nine plays being designed rushes, including junior quarterback Brandon Wimbush finding a lane in the defense for 46 yards and a first-and-goal. Three plays later, sophomore running back Tony Jones scored from a yard out, and the rout commenced.
"It all started with our offensive line in terms of being able to run the football," Kelly said.
Wimbush finished with 207 yards on 21 carries. Adams took 18 rushes for 229 yards. Junior running back Dexter Williams chipped in 50 yards and two scores on only six carries. Jones finished with five yards and a touchdown on two attempts. Even sophomore Deon McIntosh found 24 yards on four carries.
The Irish finished the day nine-of-18 on third-down attempts and outgained Boston College by 211 yards, 611 to 400.
TURNING POINT OF THE GAME
Either one of those defensive stands could qualify here. Boston College could have, perhaps should have, retaken the lead on both occasions. For that matter, the Eagles could have retaken the lead and then subsequently extended it. Keeping in mind the complete ineffectiveness of Notre Dame's passing attack Saturday, a theoretical two-possession deficit may have been too much to overcome.
The first threat came when Wimbush fumbled on the fourth play after the break. That drive began with the potential of the Irish going up two possessions themselves. Instead, the turnover gifted Boston College possession only 32 yards from the end zone. A quick rush from junior running back Jon Hilliman brought the Eagles into the red zone. At that point, Notre Dame's defense seemed to decide enough was enough. The following three plays netted Boston College negative three yards (including a false start penalty), leading to a successful 41-yard field goal.
The Irish still had a lead, the aforementioned 14-13 margin.
But, again, the offense stalled. On first-and-10, Wimbush found junior running back Josh Adams for a whopping one-yard reception. On second-and-long, Adam was stopped in the backfield. He never had a chance at gaining the needed 14 yards on third down. The three-and-out again gave the Eagles beneficial field position, again put the defense in a difficult position and again stalled any version of momentum.
A soon-to-follow fourth-and-one on the Notre Dame 30-yard line showed just how little the defense seemed to mind.
Freshman defensive tackle Myron Tagovailoa-Amosa won the initial push on the line of scrimmage, invalidating Boston College's intended point of attack. The rest of the Irish defense swarmed Hilliman — senior linebacker Nyles Morgan and junior linebacker Te'von Coney were credited with the tackle. The danger was averted.
"Our defense really ignited us with a fourth down stop, got some energy," Kelly said. "When you make plays, obviously that creates an energy, and we were able to score. I thought that was a pretty big turning point in the second half."
Notre Dame had the ball back.
Commence rout.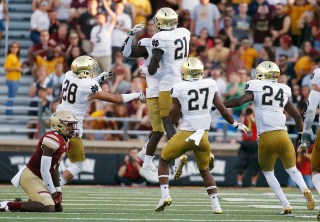 OVERLOOKED POINT OF THE GAME
Again, look to the defense. In fact, look to the possession immediately following Jones' touchdown. The Eagles were trailing only 21-13. Freshman quarterback Anthony Brown looked for a mid-range route, perhaps one that could break loose for a big gain, positioning Boston College to come within one point or tie up the game.
Instead, Irish junior cornerback Shaun Crawford won the battle for the pass, pulling in his second career interception.
"We went over those plays a number of times throughout the week, and I was in perfect position," said Crawford, who added another interception and a fumble recovery by the end of the day. "… We knew they had nothing to lose, they were going to try all their tricks, and [in the] second half we made adjustments. We came out strong."
Following Crawford's first interception, Adams took the next snap for 36 yards to the Eagles 39-yard line. Wimbush immediately connected with fifth-year tight end Durham Smythe for 33 yards to get to the six-yard line. Two plays later, the score was 28-13.
Rout in progress.
PLAYER OF THE GAME
Wimbush found the end zone four times, but this honor should go to Adams. His 18 carries for 229 yards included runs of 64 and 65 yards, setting up two of Wimbush's touchdowns.
The second of those came a few minutes before the half, leading to the 14-10 advantage. If Notre Dame had entered the break trailing 10-7, the locker room psyche would have undoubtedly been much different than it was.
Adams' run restored some of the Irish confidence.
STAT OF THE GAME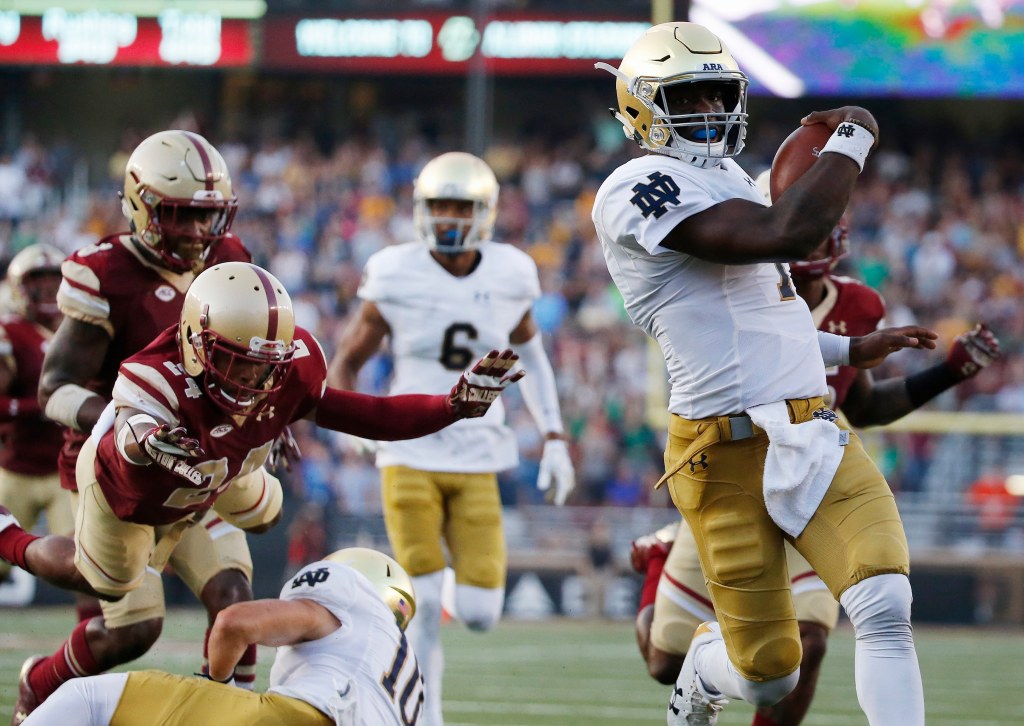 Notre Dame rushed 51 times for 515 yards. That equals an average of 10.09 yards per carry. A few items to note about those numbers.
— The Irish threw for only 96 yards on 27 attempts, an average of 3.56 yards per attempt.
— The modern-era record for Irish yards per carry in one game was 10.0, set in 1942 when Notre Dame rushed 25 times for 250 yards in a 13-13 tie against the Naval Station Great Lakes. That record, obviously, is no longer.
— The modern-era record for Irish yards in one game is 597 yards, set in 1969 against Navy. Anytime that mark warrants pertinent mention, it is a reflection of just how strong the Notre Dame ground attack was for a day.
— Per Notre Dame, and fitting with common sense, this was the first time in program history two individuals rushed for more than 200 yards in one game.
"The offensive line did a [great] job again and opened up lanes for myself, Josh Adams, Dexter and Tony, and even Deon got in there at the end and got a couple yards there," Wimbush said. "When you're running in the open field, it feels great to open up a little bit and obviously have that red jersey off of you."
QUOTE OF THE AFTERNOON
Heading into Saturday afternoon, much time had been spent discussing how tough Boston College seems to always play Notre Dame. Recent results prove some validity to the point. When mentioned early in the week, Kelly met the thesis with a "Heck yeah [they do.]"
With that background, the thumping stands out.
"Playing Boston College is always a challenge for us at Notre Dame," Kelly said afterward. "It's always one that we expect their very, very best, and we get it …
"We were able to break them, and it's hard to do."
QUESTIONABLE COACHING DECISION OF THE AFTERNOON
Boston College senior defensive end Harold Landry came off the field for entire series at a time in an apparent attempt to keep him rested for a productive fourth quarter. Seemingly whenever that occurred, Notre Dame found space for a long run. Both of Adams' 60-plus yarders came with Landry sidelined. When Wimbush broke loose for that 46-yard run to set up the third Irish touchdown, Landry watched from his coach's vantage point.
Not only did his absence play a part in Notre Dame's first three touchdowns, but the rest also did not produce its desired effect. When Wimbush opted not to shovel a pass to senior tight end Nic Weishar and instead race for a 65-yard touchdown, his fourth score of the day, the greatest obstacle was Landry. The NFL prospect was waiting in the backfield, likely playing a role in Wimbush not tossing to Weishar.
Rest or no rest, Landry did not slow Wimbush.
SCORING SUMMARY
First Quarter
7:52 —Boston College field goal. Colton Lichtenberg from 38 yards. Boston College 3, Notre Dame 0. (10 plays, 32 yards, 4:16)
6:28 — Notre Dame touchdown. Brandon Wimbush two-yard rush. Justin Yoon PAT good. Notre Dame 7, Boston College 3. (4 plays, 75 yards, 1:24)
Second Quarter
11:59 — Boston College touchdown. Charlie Callinan 22-yard reception from Anthony Brown. Lichtenberg PAT good. Boston College 10, Notre Dame 7. (9 plays, 85 yards, 3:01)
1:57 — Notre Dame touchdown. Wimbush one-yard rush. Yoon PAT good. Notre Dame 14, Boston College 10. (7 plays, 92 yards, 1:55)
Third Quarter
11:25 — Boston College field goal. Lichtenberg from 41 yards. Notre Dame 14, Boston College 13. (5 plays, 9 yards, 2:19)
5:04 — Notre Dame touchdown. Tony Jones one-yard rush. Yoon PAT good. Notre Dame 21, Boston College 13. (9 plays, 70 yards, 2:36)
2:38 — Notre Dame touchdown. Wimbush three-yard rush. Yoon PAT good. Notre Dame 28, Boston College 13. (4 plays, 75 yards, 1:34)
Fourth Quarter
13:41 — Notre Dame touchdown. Wimbush 65-yard rush. Yoon PAT good. Notre Dame 35, Boston College 13. (5 plays, 83 yards, 1:59)
9:02 — Boston College touchdown. Callinan 14-yard reception from Brown. Lichtenberg PAT good. Notre Dame 35, Boston College 20. (14 plays, 75 yards, 4:39)
6:23 — Notre Dame touchdown. Dexter Williams three-yard rush. Yoon PAT good. Notre Dame 42, Boston College 20. (2 plays, 35 yards, 0:28)
4:57 — Notre Dame touchdown. Williams 15-yard rush. Yoon PAT good. Notre Dame 49, Boston College 20. (5 plays, 33 yards, 1:16)
[protected-iframe id="4322d87b3e2eb4d11caa19723fa3b36c-15933026-22035394" info="//platform.twitter.com/widgets.js" class="twitter-follow-button"]