We learned the working definition of a modern record is anything after the start of World War II. Why is such a designation necessary? Well, the Irish modern record for rushing touchdowns in one game is 10, set against Dartmouth in 1944. The actual highest number? That is the casual 27 rushing touchdowns Notre Dame scored against American Medical in 1905.
We learned this rendition of the Irish will not fold at the first sign of adversity, last week's defeat, or the second, Saturday's subpar first half.
We learned it will be a long, long season in Chestnut Hill as Eagles head coach Steve Addazio has to worry more and more about his long-term employment prospects.
What else did we learn from Notre Dame's 49-20 victory?
The Irish passing game is nowhere near ready to win a game.
Throwing for only 96 yards on 27 attempts cannot be explained away on any one player's or position's shoulders. Neither Wake Forest nor Northern Illinois have threatening or dynamic offenses, yet they threw for 151 yards and 203 yards, respectively, against Boston College. Neither figure is astounding, but both show just how dismal the Notre Dame aerial attack was.
Wimbush was never sacked, and Eagles senior defensive end Harold Landry never truly threatened him, so perhaps the offensive line should be excused from this conversation this week.
Rather, the questions now surround both Wimbush and the receivers. He was not accurate Saturday, but even if he had been, his playmakers were not getting open.
"Our passing game will have to be better, and I think that means not necessarily just from the quarterback position," Irish coach Brian Kelly said. "We're going to have to make some catches that are contested. We're going to have to step up and make some big plays at the receiver position and assisting our quarterback."
Wimbush finished 11-of-24 with one interception off a deflected pass, tipped by junior receiver Equanimeous St. Brown. On that route, St. Brown was open downfield and Wimbush missed his target. That said, it could be argued St. Brown could have made the play. What's that old saying? If you can touch it, you can catch it.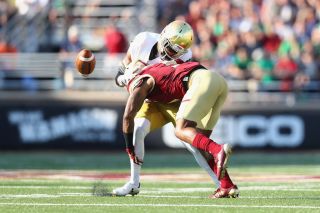 That trope is not entirely true, and perhaps applying it on that particular play is being overly-critical of St. Brown. That pass was a reach, but as a whole, the sentiment rings true. Supposedly the offense's best downfield threat, St. Brown finished with one catch for three yards, a second-down screen midway through the second quarter. A quick look through the play-by-play shows at least seven more passes intended for St. Brown. Some of those tie to Wimbush throwing the ball where his guy can catch it. Some of those tie to his guy, well, catching it.
"There's a couple catches out there that some of those guys need to make for him," Kelly said. "There's a little bit of inaccuracy there, where [Wimbush is] a little rushed at times, where he's just got to settle into the game."
As a unit, the receivers made three catches for 11 yards, sophomore Chase Claypool providing the other two for eight yards in his first career start. A receiving corps accounting for three receptions on any given night is as much a sign of poor route running, a lack of separation and a subpar performance as it is of a quarterback's accuracy issues.
For his part, Wimbush shouldered all responsibility. To be clear, he should have, both because that is what a mature leader does and because a good amount of Saturday's inabilities to pass trace to his performance.
"The offensive line did a [great] job again, and the receivers of getting open, and the backs," he said. "They all did a great job. I've just got to understand that I've been playing quarterback for a very long time now, and it's natural to me, and understand that and get these guys the ball."
The lone bright spot in the passing game may have been junior tight end Alizé Mack. He entered Saturday with four catches for 58 yards on the season. Against Boston College, Mack was the closest thing to a safety valve available to Wimbush, catching five passes for 43 yards.
While waiting on the passing game, Notre Dame can lean on its rushing game.
Especially in the next three weeks, the Irish should be able to keep games close enough to not need to resort to a desperate two-minute offense or need to score three times in one quarter. If those games are not close, it would logically be because Notre Dame finds itself a lead as it did against the Eagles.
RELATED READING: Notre Dame offense may trend toward run, partly thanks to Wimbush
If Boston College is routinely lauded for its habit of playing the Irish tough, then next week's matchup against Michigan State should elicit similar conversations, perhaps underscored with a touch of, "Weird things happen in Spartan Stadium."
Turning to the running game should again help Notre Dame limit the physical opponent's ability to dictate the game's terms.
"Our endurance, mental and physical endurance, was just a little bit better than [Boston College's] today," Kelly said. "… We were able to exert ourselves today longer and come up with some big plays."
For that to continue to be the case, it will be done by the Irish running game.
Nice to meet you, Mr. Crawford.
When recruited three years ago, junior cornerback Shaun Crawford was one of the highest-rated defensive back prospects to land at Notre Dame in recent history. Though only 5-foot-9 and 178 pounds these days, he remains one of the Irish defenders with the highest ceiling.
When healthy.
Crawford lost each of his first two seasons to injury. The second of those, a torn Achilles, could hamper an athlete's explosiveness for a long time to come. That possibility tempered expectations of Crawford this offseason.
His performance against Boston College may warrant those expectations to again be uninhibited. Two interceptions and a recovered fumble fit the playmaking hopes the Irish coaching staff always had for Crawford, tracing back to that recruitment.
His reemergence may allow sophomore cornerback Julian Love to chip in more often at safety. Between Crawford and senior Nick Watkins, Notre Dame has two viable cornerbacks in addition to Love.
Field position is a problem. Special teams are not holding their own.
Notre Dame's punt return unit might as well be non-existent. Junior Chris Finke returned four for all of five yards, fair catching three more. The Irish did not return any kicks.
Looking at possessions beginning off an opponent's foot — as in, not turnovers or turnovers on downs — Boston College started its average possession at its 28.5-yard line. Notre Dame started eight yards further back than that.
That may not seem like much, but it essentially means the Eagles needed to gain one fewer first down every trip down the field toward pay dirt.
Field position matters. The Irish special teams are not helping that cause.
The defense's future is bright.
There are nine games left in 2017. With bowl eligibility, 10 more games. Let's skip the pipe dream of 11 more games and get to the point here.
Any discussion of 2018 is not to look past those 10 remaining games. It is simply an acknowledgement of the seasons to come. In the next of those, all of Notre Dame's defensive line will be eligible to return with the exception of current-senior defensive end Andrew Trumbetti. These days, Trumbetti is part of a three-man rotation filling the two end spots along with sophomore Daelin Hayes and senior Jay Hayes, no relation.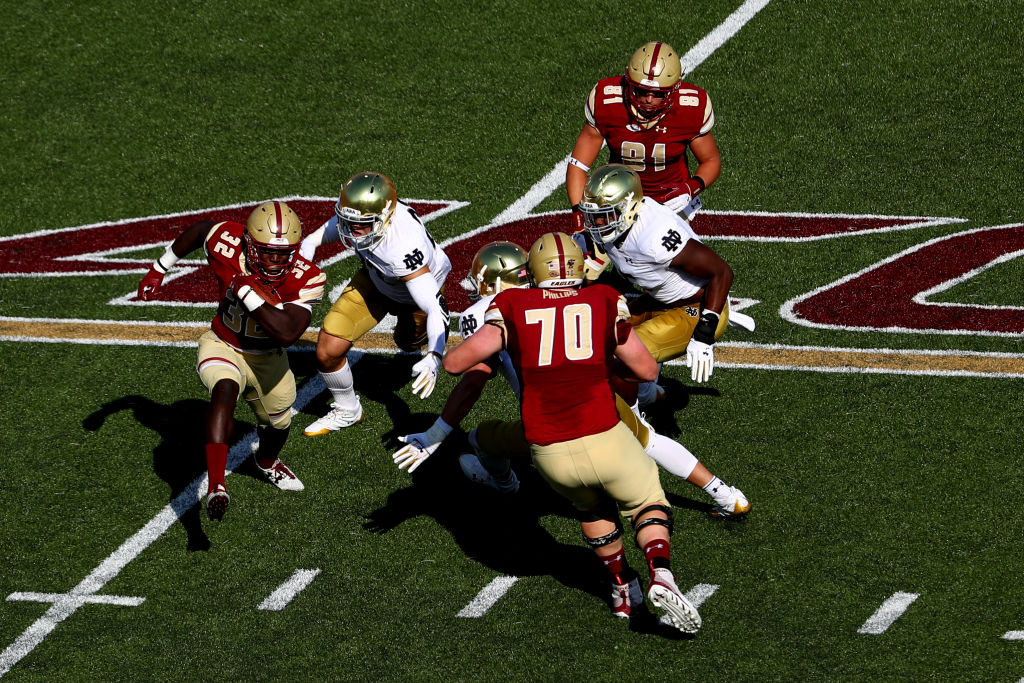 Sophomore Julian Okwara has cracked that rotation and, more pertinent to this conversation, will be a promising complement to the younger Hayes in 2018 and 2019. Okwara finished Saturday with three tackles, a tackle for loss, a quarterback hurry and a forced fumble. His quickness and nose for the ball will continue to make an impact these next few months. More than that, they should readily fill the void left by Trumbetti next season.
Similarly, junior linebacker Te'von Coney has exceeded expectations to this point. Unlike Okwara, Coney is doing it in a primary role, rather than in limited, supplementary spots. Entering the weekend, he trailed only senior linebacker Nyles Morgan in tackles. With 13 takedowns of Eagles, compared to Morgan's nine, Coney now leads the Irish with 25 this season.
His role will only expand, both this year and next.
[protected-iframe id="4322d87b3e2eb4d11caa19723fa3b36c-15933026-22035394" info="//platform.twitter.com/widgets.js" class="twitter-follow-button"]