It is not quite an unstoppable force meeting an immovable object, but when Notre Dame travels to Michigan State this weekend, the focus will be on what success the Irish can have running the football against a staunch Spartans defense.
Michigan State has hosted Bowling Green and Western Michigan thus far this season, holding the two to a combined 220 rushing yards on 55 attempts (when adjusting for the Spartans' five sacks for a loss of 37 yards), an average of 4.0 yards per carry.
Notre Dame, meanwhile, has gained 1,023 yards on 127 carries, an average of 8.06 yards per rush.
Something will have to give.
"They do what they do. They're stingy against the run," Irish coach Brian Kelly said Tuesday. "They're very physical in the back end. They play tight man coverage. They mix it up very good with their pressure package.
"Led by coach [Mark] Dantonio's philosophy, they've always been really good defensively."
That "tight man coverage" thought may seem an outlier when discussing Michigan State's penchant for stopping the run, but it is that man-to-man coverage allowing Dantonio to devote an increased number of bodies to stopping the run. It could also be the item allowing Notre Dame junior quarterback Brandon Wimbush to break loose at times.
When those defensive backs, and perhaps even linebackers covering tight ends or running backs, turn to cover a route, they lose site of the quarterback. With a mobile passer such as Wimbush, the backs of those helmets can turn a run-pass option play into a quick run for a worthwhile gain.
"If teams are feeling as though playing man-to-man and turning their back on the quarterback is the way they want to defend us, he's going to run a lot," Kelly said. "I know I wouldn't want to be in man-to-man versus option offenses. It's the last thing that you want to do, turn your back on an option quarterback and give him all the field to run.
"Teams are starting to figure out how to defend us, too. … If we see more zone coverages, he's going to have to be able to throw the football. We've got to continue to grow as an offense in both those phases."
The aerial phase of the offense will be determined by any improved accuracy from Wimbush and the emergence of more reliable receivers, an unavoidable topic following a game where that combination managed a meager 96 passing yards.
While Kelly did not excuse the extent of that struggle, he did indicate a slow start to the season might have been expected of Wimbush. This is, after all, his first collegiate action.
"We're three games into this, he's only going to feel more comfortable each and every week," Kelly said. "These conversations that we're having right now are totally natural for a first-year starter. He's had a clipboard and a headset, that's it. Now he's in the middle of it.
"You'll continue to see progress from him from week to week."
That progress notwithstanding, look for the Irish to rely on the run as much as possible this weekend. Along with that will come zone reads, counters, and the rest of the ground game gamut.
"We can't appease people in terms of what looks good as much as we're were going to be good at," Kelly said. "If running the football is what is going to be the common denominator for wins, then that's what we're doing. Efficiency is the most important thing."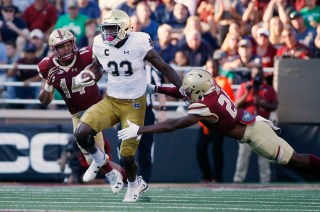 Resting Josh Adams six days a week
Wimbush may have scored four rushing touchdowns last week, but junior running back Josh Adams absorbs more of the physical toll of the ground game than any other Notre Dame ballcarrier. To date, Adams has taken 56 attempts for 443 yards.
To keep the bell cow fresh, the Irish coaching staff has reduced some of his workload during the week.
"We're very cognizant of how we practice him, making sure that he gets the proper work, that he's sharp when we get to Saturday," Kelly said. "We let our best players play.
"It's really incumbent upon us to do a great job of preparing him, but understanding that he's got to feel really good when we get to Saturdays."
The return of Cam Smith
Fifth year receiver Cam Smith missed the Boston College game due to a sprained ankle suffered in practice last week. Kelly said he expects Smith to be 100 percent this week.
A recruiting conversation about the NBA
In recent conversations, Kelly has praised the football intelligence of a few players, most notably junior cornerback Shawn Crawford and freshman receiver Michael Young. That may seem a difficult quality to gauge when recruiting 17-year-olds. So, Kelly doesn't. Instead, he focuses on their broader understanding of and interest in sports.
"I actually like to talk about other sports," Kelly said. "If they don't know anything about Kyrie Irving and the trade with the Celtics, I get a little nervous."
Typically, whenever Kelly mentions a Boston professional sports team, it is meant in jest as a reminder of his fandom allegiances. In this instance, it was an accurate acknowledgement of the biggest non-football sports story of the summer. At least, the biggest in this country.
"Those that understand sports, whether it be basketball, football, whatever they follow, other sports other than football itself, they generally have an understanding of the games," Kelly said. "There are so many carryovers with other sports.
"I get a little nervous when somebody doesn't know anything about any other sport."
[protected-iframe id="4322d87b3e2eb4d11caa19723fa3b36c-15933026-22035394" info="//platform.twitter.com/widgets.js" class="twitter-follow-button"]