Michigan State has yet to be tested this season. Certainly, the Spartans have not seen a test the likes of Notre Dame, no matter what one's view of the Irish may be. To get a better idea of who Notre Dame will face Saturday night, let's turn to Chris Solari of the Detroit Free Press.
Chris, I appreciate you taking the time to educate us here at "Inside the Irish." First off, how long have you been covering the Spartans for the Free Press?
I have been with the Detroit Free Press since last August, but I spent the previous 10 years following Michigan State for the Lansing State Journal and have been covering the Spartans off and on since 1994 when I was attending MSU.
It is somewhat remarkable how closely Notre Dame and Michigan State have paralleled each other over the last 13 months. Two miserable seasons followed by interminable offseasons, and now hopes of strong returns to success, though yet somewhat unfounded. At least, that is the mood around the Irish. Is it something similar up in East Lansing?
MSU's situation goes beyond the 3-9 season last year, along with having four players dismissed for their involvements in two separate sexual assault cases and nine others having left the program. The optimism from the 2-0 start is very much tempered based on beating two Mid-American Conference opponents, but fans are warming to the improved efforts on offense and defense. However, coaches and fans alike know this is a young team with a lot of questions remaining to be answered.
I don't know that the Spartans have realistic College Football Playoff hopes this year, but playing spoiler in the Big Ten certainly seems a possibility, especially with games at Michigan and Ohio State and home against Penn State. (Lucky to dodge the Boilermakers offensive powerhouse this year.) Where does facing Notre Dame fall in a macro view up there?
The next three games against ND, Iowa and Michigan will go a long way to determining both the Spartans' identity and the course of their season. The game with the Irish really is the start of that trilogy after playing two up-tempo teams. It's the first traditional, line-em-up, smashmouth game — in primetime on national television, no less — for a team with 19 true and redshirt freshmen playing.
It's a young but talented collective, and MSU has shown surprising depth despite the aforementioned attrition. This week's game will show just how deep the rotation will be going into those first two Big Ten games. All that said, after last season's swoon, the young Spartans know they cannot be looking two or three opponents ahead.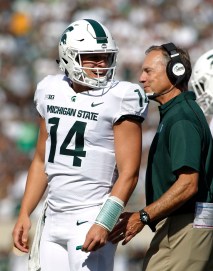 Junior quarterback Brian Lewerke saw some work last year, but has become the offensive leader only this season. Through two games, he has rushed for 150 yards and thrown for 411. Has his dual-weapon effectiveness been a result of Michigan State's MAC-filled schedule so far, or is that kind of playmaking something Irish fans should expect to see this weekend?
Lewerke showed his legs last year at Maryland with 79 rushing yards and against Michigan with a 24-yard run, so it's a significant part of his arsenal. He runs the read-option better than his predecessors, but MSU needs more from his arm to maintain its successful start. Brian Kelly knows this and, like I expect the Spartans to do with Brandon Wimbush, will attempt to make Lewerke show he can hit throws downfield and make wise decisions when he takes shots deep. He hasn't shown great accuracy on long passes yet early in his career, but he has a strong arm (as Wimbush does) and is not afraid to take chances and be a "gunslinger" QB.
Maybe I am being presumptuous, but I would have expected junior running back LJ Scott to be the engine behind the Spartans offense. Averaging 5.4 yards per carry and gaining 994 yards in a dismal team campaign catches my attention like that. As Lewerke emerges, is there any chance Scott continues to be the secondary piece or is his assertion something of an inevitability?
Take out Scott's 44-yard run on fourth-and-1 against Western Michigan, and he's averaging 2.5 yards on 32 other carries this season. He had two fumbles in the opener against Bowling Green, and he's coming off multiple shoulder surgeries in the offseason that were meant to correct a "numbness" he said he would feel when he gets hit that goes all the way back to high school. Of the three running backs, all of whom have been featured at times the past three seasons, Scott provides the most versatility in running styles and ability to catch passes (including a touchdown catch on a wheel route against the Broncos). The staff remained committed to giving him the ball after his fumbling issue in the opener, but Gerald Holmes also showed last year at Notre Dame he can be the bell cow if Michigan State wants him to shoulder the load of carries. Nonetheless, there's no question the Spartans expect and want Scott to be their feature back.
In Michigan State's nine losses last year, the defense allowed more than 32 points per game. That would be disappointing for any team, but even more so for a Mark Dantonio-led unit. Before looking at this year, what went wrong defensively a season ago?
First, start at the MSU-ND game a year ago. That's when Riley Bullough first got injured and missed the first three of a seven-game skid. Then Jon Reschke, who shined against the Irish, got hurt against Wisconsin and missed the rest of the year before leaving the program in the offseason. Malik McDowell was on and off the field all season with one minor injury after another. Demetrious Cox battled leg issues, and then Vayante Copeland was lost for the season. Losing those veterans last year forced MSU to play a number of untested players, many of whom were not quite ready early in the year but improved with experience (showed against Ohio State). Beyond that, MSU managed just 11 sacks all last season with those injury issues and inexperience. The Spartans also struggled to get off the field on third downs and wore down in the second half. They were outscored 220-136 after intermission, including 120-59 in fourth quarters and overtime. That was the first time in Dantonio's first 10 seasons MSU was outscored after halftime and just the second time the Spartans got outscored in the fourth quarter and overtime in his tenure.
How much of that has changed this year?
The depth through two games has been surprising, even with most of the offseason attrition coming on defense. MSU has rotated six defensive ends and four defensive tackles, and its flipped pairings at both safety and cornerback regularly. That has kept the front seven fresh and quick to stop the run and get more pressure in the backfield. The Spartans' third-down package has changed to more of a three-man front, with redshirt freshman Brandon Randle and senior Demetrius Cooper the pass-rushing ends. They are first in the country in allowing just an 11 percent third down conversion rate.
A year ago, the Spartans limited Notre Dame to 68 rushing yards (sacks adjusted). These days, as made quite clear last weekend at Boston College, the Irish could not be much more reliant on the run. Presuming Michigan State can't limit Notre Dame to sub-70 again, will it be able to still force Irish junior quarterback Brandon Wimbush to win via the pass?
Dantonio admitted that allowing a quarterback to run for 200-plus yards is a recipe for failure, so expect the Spartans to spy him throughout Saturday night. Linebacker Chris Frey called him a "capture" quarterback as opposed to one who the defense believes it can go for sacks, which means they likely will put more eyes in the box on Wimbush and force him to show more accuracy in the passing game. There could be chances for Wimbush as well. True freshman Josiah Scott has made an immediate impact at cornerback, though the Spartans' young secondary has benefitted from opposing quarterbacks missing throws and receivers dropping passes when they've been burned in coverage. As Kelly showed in the 2013 game, Notre Dame believes it can move the chains by throwing the ball up against Michigan State when it plays press man coverage and simply hoping the Spartans get too handsy and are called for pass interference penalties.
What else am I missing? Who or what should Notre Dame fans be looking for this weekend?
It's expected to be a hot night in mid-Michigan, which could affect the players and cause cramping. Honorary captain Kirk Gibson's Ring of Honor ceremony for being elected to the College Football Hall of Fame will amp up the crowd. So, too, will the first game under the new permanent lights at Spartan Stadium — night games in East Lansing create a different intensity Notre Dame teams have survived (2006) and failed (2010) in front of. It's also worth noting Michigan State has won 11 of the last 18 meetings in the series, and this could be the last time these two teams play again until 2026. Everyone up here is cognizant of those facts, especially Dantonio, who knows it might be his last game coaching against a Notre Dame team he followed as a kid growing up in Ohio.
It strikes me you keep as close an eye as I do on spreads and such. Certainly, those are only for evaluation purposes and no other endeavors. This game opened with Notre Dame favored by 4 or 4.5 points, depending where you looked. It has already fluctuated toward 3 and 3.5 before seeming to settle at 4. How do you see Saturday night playing out?
I expect this to be a close game like most of the Michigan State-Notre Dame games have been during the Dantonio-Kelly era. It very well could come down to which team executes best on special teams. Justin Yoon is experienced, while Spartans kicker Matt Coghlin has yet to attempt a field goal.
While we're at it, can I get you to commit to a score prediction?
Notre Dame 27, Michigan State 24.
[protected-iframe id="4322d87b3e2eb4d11caa19723fa3b36c-15933026-22035394" info="//platform.twitter.com/widgets.js" class="twitter-follow-button"]