WHO? Notre Dame at Michigan State. Many years, this matchup would warrant anticipatory headlines. In this rendition, two teams coming off historically-disappointing seasons are looking to prove they are on the path back to top-flight competitiveness.
WHAT? As may become a theme this season, this will come down to how the Irish offensive line fares against the Spartans' defensive front seven.
WHEN? 8:00 p.m. ET. Kickoff is scheduled for 8:12, though if the preceding game runs long, a five-minute contingency should be expected. At that point, though, the game will begin one way or another.
WHERE? Spartans Stadium, East Lansing, Mich. Years ago, a venture to this site is where I first learned a traveler's rule of thumb: Never make a trip where the roundtrip travel is longer than the time spent at the destination. I have since violated the rule a total of once, when the New York Yankees visited the Detroit Tigers in the 2011 divisional round. The wrong team won. Speaking of baseball and apropos of nothing else aside from being reminded of it this week, Cy Young threw 749 complete games, a full 110 more than the next-most in history, Pud Galvin's 639.
Fox has the broadcast this week. Aside from that meaning Gus Johnson will be providing the exhilarating play-by-play, not sure what else to share about that fact.
WHY? This will be the last game — unless a bowl situation were to arise — between Notre Dame and Michigan State until 2026. Whoever wins will get to display the vaunted megaphone trophy for nearly a decade without worry. If that doesn't get everyone's competitive juices flowing, well, then that is not much of an indicator of anything because it is actually a pretty absurd keepsake.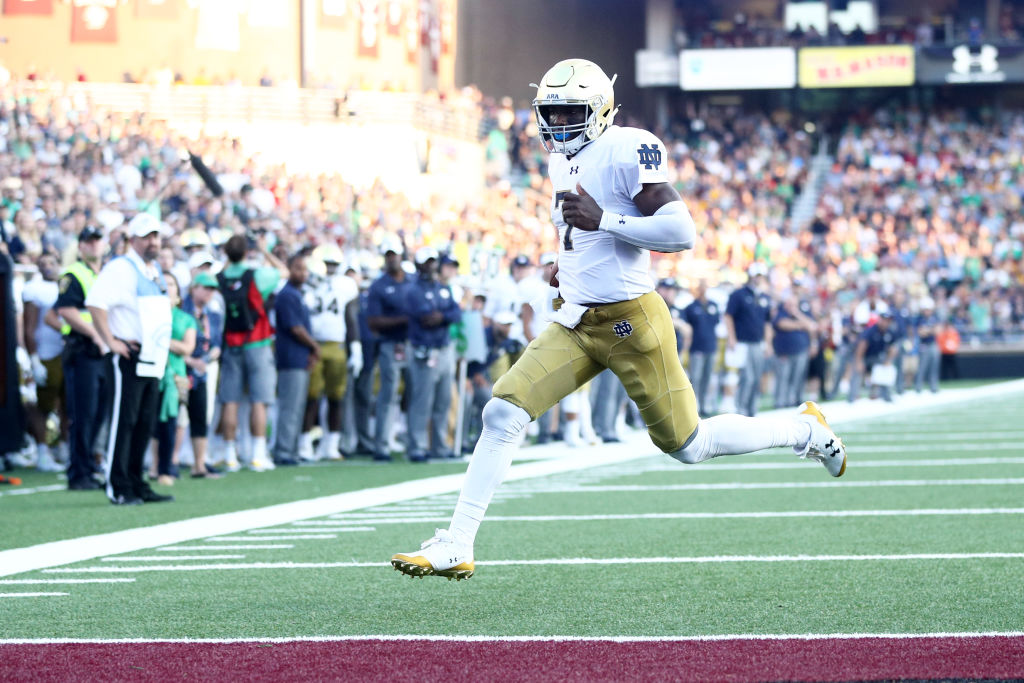 BY HOW MUCH? This line moved as high as Notre Dame by five, never to this eye falling below three, and that is where it settled in as of this Friday evening typing. With a combined points total over/under of 54, the theoretical projected score would be an Irish 28-25 victory.
That might be a bit high-scoring, especially considering the performance of Notre Dame's defense to date. If Georgia could not surpass 20 points, there is no reason to think the Spartans can.
Notre Dame 23, Michigan State 17. (2-1 record on the season.)
THIS WEEK'S INSIDE THE IRSH READING:
—Monday Morning Leftovers: Notre Dame should punt less, a Georgia ticket arrest & Bob Diaco's fate
— Questions for the Week: Ankles, Claypool and Notre Dame's history at Spartan Stadium
— Notre Dame's Opponents: Ready for a tough week for the dozen foes, but that could mean some promising upsets
— MSU's man-to-man pass D may allow Notre Dame & Wimbush to rush more; Kelly on resting Adams
— Who among Notre Dame's receivers might emerge?
— And In That Corner … The Michigan State Spartans and a recovery from a 3-9 season
— Things To Learn: On Notre Dame's defensive line, offensive line and Wimbush's road readiness
— Kelly on C.J. Sanders, Kevin Stepherson and punt returns; injury update
— Friday at 4: Four things you do not see
INSIDE THE IRISH COVERAGE FROM THE BOSTON COLLEGE GAME
— Notre Dame rushes past Boston College and record books
— Notre Dame offense may trend toward run, partly thanks to Wimbush
— Things We Learned: Notre Dame lacks an aerial attack and a punt return, has a defensive future
— Sunday Notre Dame Notebook: Canteen out for the season, Javon McKinley probably sitting also; Kelly on blocking strategy
THIS WEEK'S OUTSIDE READING:
— Georgia ticket broker arrested for overselling Notre Dame vs. Bulldogs tickets
— The NFL's Crisis on Offense … may reflect a collegiate trend
— At USC, Sundays and Mondays matter just as much as Saturdays
— Remembering Michigan State's epic "Little Giants" fake field goal against Notre Dame
— Joe Thomas on measuring a running attack's success
— Nebraska fired athletic director Shawn Eichorst, putting the future employment of head coach Mike Riley, and by extension his defensive coordinator Bob Diaco, in doubt
— A long look at Bob Davie's checkered past as controversy swirls in New Mexico
— The Unforgettable, Inspirational CFB Gameday Inside Iowa's Children's Hospital
— A five-by-five Pac-12 After Dark bingo card for anyone staying up late to watch UCLA at Stanford
— 10 years after Mike Gundy's "I'm a man! I'm 40!" rant, the columnist it was aimed at reflects
[protected-iframe id="4322d87b3e2eb4d11caa19723fa3b36c-15933026-22035394" info="//platform.twitter.com/widgets.js" class="twitter-follow-button"]