Each week, these questions have led off with an acknowledgement of Notre Dame's various ankle concerns. This week, that may not be as necessary. Irish coach Brian Kelly was confident both Saturday night and Sunday afternoon junior running backs Josh Adams and Dexter Williams would be fully healthy for kickoff at North Carolina despite each nursing sprains currently.
Instead of that recurring bit, let's turn to what could become another one.
Will Kevin Stepherson move up the depth chart?
The sophomore receiver did not show anything this Saturday to force this issue just yet, but his success as a freshman makes it a possibility, if not this week, then at some point in October.
Currently, Stepherson is not listed on Notre Dame's two-deep. In order to move up at boundary receiver, where he will most likely see time, Stepherson would need to surpass fifth-year senior Cam Smith or, more plausibly, either freshman Michael Young or junior C.J. Sanders.
More practically, sophomore Chase Claypool has emerged at the boundary position, no matter what the depth chart may read. With that logic, Stepherson's best odds may come when viewing the Irish receivers as a position-less whole. Claypool and junior Equanimeous St. Brown have established themselves as the top two. After that, everything remains in flux.
"We feel a little bit more comfortable on the perimeter with Claypool and [St. Brown]," Kelly said after Notre Dame's 52-17 victory over Miami (OH) on Saturday. "We're still a work in progress with some of the other receivers. … We're still evolving. We're getting closer, but no, I'm not ready to tell you that we're solid in our first three guys yet."
If Stepherson continues to drop passes as he did with the second ball thrown his way in this weekend's first quarter, then cracking that top three is a far-fetched thought. Double that point when remembering junior receiver Chris Finke's diving grab of an Ian Book pass in the fourth quarter. Finke has consistently shown strong hands, part of why he is an option to be the established No. 3 receiver.
How high will the spread rise before kickoff at North Carolina?
Technically speaking, the Irish opened as 14.5-point favorites over the Tar Heels, but that number quickly jumped to 17 points, where it currently stands. (On that note, a strict definition of "opened" is the very first number bookmakers release. Some, yours truly included, prefer a working definition of where the spread lands after the initial action, typically a more precise figure to have in mind through the week.)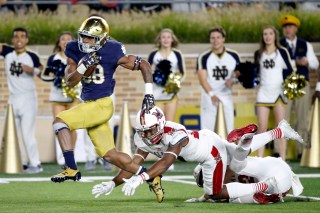 North Carolina gave up 403 rushing yards to Georgia Tech this weekend, further lowering a poor rush defense's rank to No. 112 at 221.8 yards per game. Even if removing the option's success Saturday, the Tar Heels have allowed 176.5 rushing yards per game. That would rank No. 89 in the country. To give that some context, the RedHawks rate No. 76 currently, giving up 161.6 rushing yards per game. (Removing Notre Dame's 303 rushing yards, Miami jumps to No. 33 at 118.75 yards per game.)
North Carolina is allowing 33 points per game. Its only win came against FCS-level Old Dominion, 53-23. If keeping to Football Bowl Subdivision teams, the Tar Heels are winless and giving up 38 points per game, repeatedly getting gashed on the ground.
The Irish, meanwhile, have allowed only 18.2 points per game. And you may have heard, Notre Dame showcases an above average running game, rushing for the country's seventh-most yards per game with 301.4.
Will North Carolina State prove correct those bullish on the Wolfpack?
No. 17 Louisville heads to No. 24 North Carolina State on Thursday (8 p.m. ET on ESPN). After falling 35-28 to South Carolina in the season opener, the Wolfpack have reeled off four wins. In beating Florida State and Syracuse the last two weeks, North Carolina State did not pull away at all — both were one-possession wins — but the Wolfpack controlled each of those contests.
That season-opening defeat could be written off as an anomaly, a slow start, knocking off the rust. Beating the Cardinals would strengthen that argument and establish N.C. St. as the only challenger to Clemson in the ACC's Atlantic Division.
Will Wake Forest fold after a loss?
The Demon Deacons caught most off-guard with a 4-0 start. They lost to Florida State this weekend, but by no means is a 26-19 defeat to the Seminoles something to hang their heads about.
Losing by a touchdown this weekend would be one of the more surprising results of the year, in a good way as it pertains to Wake Forest. It heads to No. 2 Clemson (12 p.m. ET, Saturday, ESPN2). The Tigers have yet to truly be challenged yet this year, no matter what the scoreboard might reflect from their 14-6 win vs. Auburn on Sept. 9. It is not that Clemson has not played tough teams. It has. They just have not been a challenge.
Wake Forest likely will not be, either. (The current spread favors the Tigers by a slim three touchdowns.) If the Demon Deacons are competitive, though, that would establish them as a bona fide foe, despite preseason expectations.
Will the Yankees ease by the Twins?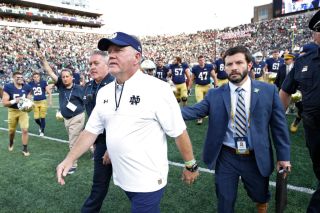 Yes, that is a baseball question, but it will tie to Irish football without too much effort. The American League Wild Card game is Tuesday at 8 p.m. ET on ESPN in Yankee Stadium. How does it relate to Notre Dame football? The winner will face the Cleveland Indians, directly impacting the mood of Irish director of media relations Michael Bertsch. Whoever wins that series could face the Boston Red Sox, Kelly's preferred nine.
[protected-iframe id="4322d87b3e2eb4d11caa19723fa3b36c-15933026-22035394" info="//platform.twitter.com/widgets.js" class="twitter-follow-button"]