Junior quarterback Brandon Wimbush injured his foot at some point during Notre Dame's 52-17 victory over Miami (OH) on Saturday, Irish coach Brian Kelly announced Tuesday. Wimbush will be day-to-day this week in practice, with the severity of the injury largely-unknown at this point.
"We're not going to push him really hard today," Kelly said. "We'll get him probably moving a little bit, throwing … but I'm not in a position where we need to have him practice today. My vision would be more toward getting him out there Wednesday for practice."
Kelly said the injury occurred during the game but Wimbush did not feel any discomfort until later in the evening. At that point, he cut short his night and headed home, informing the medical staff of the pain at the mandatory Sunday noon check-in.
"Specifically, we don't know exactly when it happened," Kelly said. "But it's pretty common. That's why we have a check-in at noontime on Sundays. We get a lot of soft tissue injuries that don't show themselves right after the game and will show themselves later after a period of time."
Both an MRI and an X-ray came back clean, indicating the right foot issue is entirely in the soft tissue. For now, Wimbush is in a walking boot. Practicing Tuesday will be more of a medical evaluation measure than a football exercise.
"We put him in a walking boot to be really, really conservative in this instance," Kelly said. "We're going to take it off today to kind of see what we have. Rob Hunt, our trainer, couldn't give you a diagnosis really in terms of what it is until we get [Wimbush] moving and flexing."
To play at North Carolina on Saturday (3:30 p.m. ET, ABC), Kelly said he would prefer Wimbush get some genuine work in Wednesday, though even that may not be absolutely necessary.
"I'm not in a rush to judge here where he's going to be," Kelly said. "We're still pretty optimistic that he's going to be able to do something. It's early in the week for us."
As much as anything else, a quick recovery will be determined by Wimbush's comfort level. Obviously, the dual-threat quarterback relies on making sharp cuts to incur much of his damage, especially as he works to develop consistent accuracy. If that is not the case by Friday, it would be very unlikely Wimbush starts against the Tar Heels.
"He's got to feel comfortable and he's got to feel 100 percent like he can put his foot in the ground do the things that he can do," Kelly said. "… He wants to play. He's a competitor."
On internet rumors
Given there was no apparent sign of an injury in Saturday's game and neither Kelly nor Wimbush mentioned one immediately after the game, when sightings of Wimbush in a walking boot hit the internet, rumors swirled the injury occurred while living the college life on a Saturday night. Kelly dismissed those notions.
"I trust what Brandon tells me," he said. "I have no reason not to trust 100 percent what Brandon tells me.
"He went out and felt his foot was not right, and he went home. That's what he told me. I believe him. I have no reason not to believe him based upon my relationship with him over the last three years."
On backup quarterback Ian Book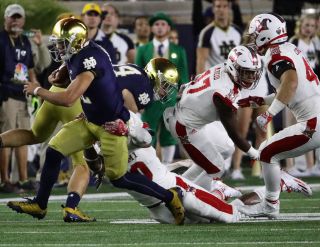 Kelly said the sophomore has received about 40 percent of the snaps in practice throughout both the preseason and the last month. A 60/40 split would be typical for Kelly's tenure.
"[Book has] gotten a lot of meaningful reps," Kelly said. "This is not an NFL operation where the starting quarterback gets all the work."
Book completed his first career passes against the RedHawks, leading the Notre Dame offense in three fourth quarter drives. He completed 3-of-5 passes for 51 yards, including a 48-yard completion to junior receiver Chris Finke. Book added 37 yards on three rushes.
[protected-iframe id="4322d87b3e2eb4d11caa19723fa3b36c-15933026-22035394" info="//platform.twitter.com/widgets.js" class="twitter-follow-button"]