Football fans and reporters alike may not enjoy admitting it, but they often do not know exactly what a specific play's intentions were. What looks like an overthrow may actually be a misrun route. What appears to be a hopeless halfback dive in the first quarter may in fact be setting up a play-action pass just after halftime. Unless in the film room discussing each snap with the players and coaches, that reality is only guessed at, often from a short-sighted viewpoint.
In the third quarter of Notre Dame's 52-17 victory over Miami (OH) on Saturday, the purpose to the passing plays was clear: Get junior quarterback Brandon Wimbush some work. The blowout allowed for some leeway.
"It was really delving into some of the playbook for Brandon and some across-the-board reads that we hadn't really gotten to," Irish coach Brian Kelly said afterward. "… We got into some of that in the third quarter. Again, it's an apprenticeship, right? We're still learning as we go, but he's making some really good progress."
Using that prism — one of expecting good reads followed by accurate throws, not necessarily looking for runs for first downs or setting up plays to deploy later on — how do Wimbush's three third quarter pass attempts look?
The first appears to be thrown as a version of getting rid of the ball with a slight chance of a positive result. Wimbush goes through his reads, considering a throw to senior tight end Nic Weishar (No. 82) along the sideline, but the coverage on Weishar is too tight. If Wimbush had made that choice, the defender looks to be in prime position to jump the throw, a mistake the first-year starter has made a few times this season.
Instead, Wimbush moves to his left to get a better view of that side of the field, then throwing somewhat across his body toward fifth-year receiver Cam Smith. There may be occasions where that is a dangerous throw, but in this instance, Wimbush's arm strength allows him to still get the pass out in front of Smith, though it falls incomplete.
Wimbush holds the second attempt much too long. Furthermore, he seems to focus on Weishar for the entire play, a thinking strengthened by the subsequent aerial replay. If Wimbush makes the decision he eventually comes to but a few seconds earlier, he could have — should have — had a touchdown. Again, the delayed pass comes so close to being a success only because of Wimbush's natural arm strength.
The final pass, the simplest one, may be the greatest illustration of Wimbush's struggles thus far this season. In the previous two moments, his arm strength compensated for his gradual decision-making. At this point in his career, Wimbush taking an extra moment to process a coverage is understandable. His failing to complete a screen pass in stride is not. There is no read. There is no decision to make. It is a throw needing to lead sophomore running back Deon McIntosh forward.
It brings to mind a route to the flat run by junior tight end Alizé Mack in the first quarter. Wimbush could not connect with Mack despite it being a throw with no complications.
These misses cost more than the obvious yards.
Consider North Carolina State's linebacker Airius Moore or senior defensive end Kentavious Street. Through five games, Moore has two quarterback pressures and three pass breakups including one interception. Street has 3.5 tackles for loss including one sack, another quarterback pressure and two pass breakups.
At the end of October, there will be frequent situations where either Moore or Street has the assignment of at least shading Mack for a few yards off the line of scrimmage. As athletic as Mack is, both are capable of covering him on routes, perhaps with some safety consideration on deep routes.
If the Wolfpack do not respect Wimbush's ability to complete what should be sure-fire passes to Mack — or to a running back in stride on a screen — the North Carolina State defense may adjust, sending Moore and/or Street on pass rushes. Their ignoring of Mack could lead to a quarterback pressure forcing Wimbush to miss a chance at a deep completion to Chase Claypool on the sideline.
The two-yard out route may have a reasonable ceiling of no more than eight yards, and missing it may not be as dangerous as missing on other throws, but those mistakes diminish the passing game's potency, nonetheless.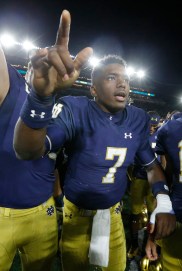 Let's be clear, none of this will jeopardize Wimbush's starting gig.
"What's most important is his ability to lead, first and foremost," Kelly said Tuesday. "Does he clearly communicate? Does he have the trust of the other 10 players? Is he a great competitor? … If you look at the [Boston College victory] where he wasn't throwing the ball very well, he found a way to win."
While Wimbush finds those ways to win, the Irish coaching staff will cater to his strengths.
"We will go with what we need to do to make it work for Brandon until he develops the balance necessary within the offensive scheme of things," Kelly said. "It's just a matter of time.
"So it's just easier for us to adjust to him than him adjust to us, because he's got all those other traits. … It's much easier for us to adjust to him and give him the time to continue to grow."
Editor's Note: This article began with intentions of speaking only to Wimbush's passing (in)accuracy, but with Tuesday's injury news, adding a packaged clip of sophomore quarterback Ian Book at the end seems appropriate.
Book attempted five passes in the fourth quarter, completing the first of his career to freshman Michael Young after a designed rollout made the out route a simple endeavor.
Book's next attempt bounced off McIntosh's chest. The color analyst may say Book intended to put the ball on the back half of McIntosh's chest/shoulders, but if that was the case, it was a mistake. If a play is not designed as a back-shoulder throw, the receiver's forward momentum will make a catch thrown there always more difficult than necessary. Yes, McIntosh should have caught it, but Book should have offered a better delivery, as well.
Miami covered Book's third pass, a screen, well. Simple as that.
Then comes the deep completion to junior receiver Chris Finke. Not much can be said about that ball except wow, perfect placement.
Book's day ended with another ball not thrown where it should have been, but still within the receiver's reach.
[protected-iframe id="4322d87b3e2eb4d11caa19723fa3b36c-15933026-22035394" info="//platform.twitter.com/widgets.js" class="twitter-follow-button"]