For at least a day, No. 21 Notre Dame could survive without junior quarterback Brandon Wimbush. Testing that fate long-term might be a riskier proposition.
Irish sophomore quarterback Ian Book started in Wimbush's stead during Notre Dame's 33-10 victory at North Carolina on Saturday. Book completed only 17-of-31 passes for 146 yards and one score, also throwing two interceptions and rushing for 47 yards on 11 carries.
Those statistics certainly qualify as underwhelming — especially the 4.7 yards per passing attempt, compared to Wimbush's 5.9 to date — but Book did not need to put up dazzling numbers to qualify as a one-off success. He needed to avoid crippling mistakes, he needed to keep the Irish offense on-task and he needed to make a play here or there. That much, Book did.
"He's a very confident kid," Irish coach Brian Kelly said. "He overthrew a couple of balls here and there. For a first start, I was really pleased with what he did today. To win on the road is hard to do. The ideal situation is to start at home in a more comfortable environment but I thought he went in and did some really good things for us."
Even the two interceptions were tolerable. One came from Notre Dame's own three-yard line. Without many options available, Book heaved a pass downfield for junior receiver Chris Finke. Slightly overthrown, it gifted possession to the Tar Heels at the 47-yard line. Essentially, it served as a punt without the risk of a punt block in the end zone.
The other pick came when Book overthrew fifth-year tight end Durham Smythe. That mistake cost the Irish a red zone opportunity, but it may have been the result of Book's inexperience more than anything else. To the untrained eye, it looked as if Book expected Smythe to run the route a yard deeper, but Smythe gauged the coverage slightly differently.
Neither turnover qualified as "crippling."
Wimbush should be back against USC in two weeks. (More on that, and other injuries, in a bit.) Presuming that is the case, Book served the spot starter role well. More than that, though, he showed the potential to carry the load down the line.
His arm is not as strong as Wimbush's, few are, but it was more than able to get passes into tight windows. Some of that can be attributed to accuracy, a rare sight around the Irish offense with Wimbush at the helm.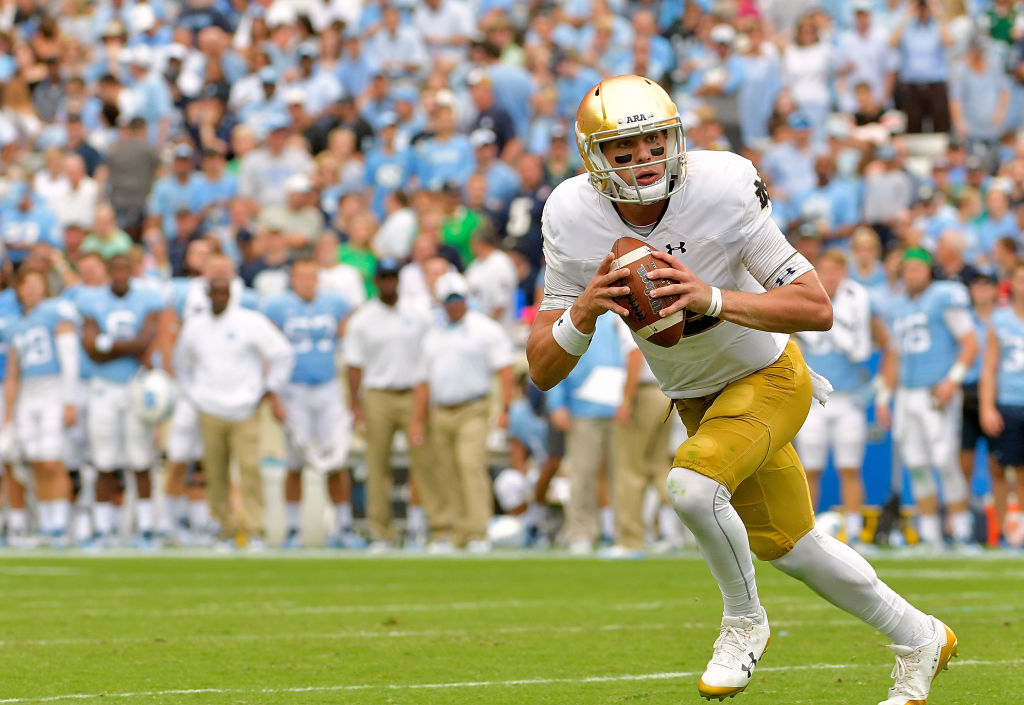 Book lacks Wimbush's big-play running ability, but he was mobile enough to throw on the move. That skill, in fact, played a part in Notre Dame's 25 first-half passes. From the outset, Kelly wanted to play to Book's strengths.
"We wanted to mostly take advantage of some of the play-action opportunities to complement our run game," Kelly said. "It was going to be a run-centered game for us. Getting some high-percentage throws, on the move, where he didn't have to sit in the pocket and do progression reads across the field."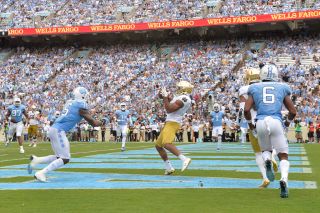 Those play calls served to simplify Book's reads and to tilt the field toward his favor. Without Wimbush's speed, Book's rollouts-turned-scrambles were never going to gain 30-plus yards, but he frequently took advantage of open space available. Most notably, he ran for nine yards on a second-and-10 from the North Carolina 20-yard-line at the end of the first quarter. Two plays later, Book found fifth-year receiver Cam Smith for the first score of the day. That scramble kept the drive moving forward, preventing a worrisome third-and-long.
Book worked through his progressions well. He knew where his safety valves were. With more time, those skills would only grow, and he would better understand what Smythe sees in a defense.
Book did not play so well Notre Dame hopes he gets that playing time in the near future, but he did play well enough the Irish won't need to panic should that situation arise.
Wimbush should be back after the bye week. As should everybody else.
Kelly claimed he debated playing Wimbush up until Saturday. The starter looked good Friday, very much wanting to play, but on game day, Kelly did not see the requisite "bounce" in Wimbush's step as he recovers from a grade one right foot strain.
"Today he just didn't have it in him," Kelly said. "He just didn't feel great. He didn't have any bounce. Yesterday he looked good in our walk-through preparation and he had a lot of energy. It went back-and-forth."
In other words, Wimbush should be good-to-go with a bye week's rest ahead of him. The same goes for junior running back Dexter Williams. He did not even dress for the contest, following the same timeline as sophomore running back Tony Jones did a week ago coming back from an ankle sprain Kelly has compared to Williams' now.
Junior running back Josh Adams had another short day, partly due to dehydration. Junior receiver Equanimeous St. Brown also saw limited action thanks to cramping. Anyone worried about senior linebacker Nyles Morgan need not do so: The captain suffered a stinger in the third quarter and was back to full health by game's end. None of those should linger past, well, past Sunday, frankly.
Senior right tackle Alex Bars suffered an ankle sprain, but Kelly made it clear it was not a high ankle sprain. Traditionally speaking, that is considered a good thing.
But if Bars is out, Hunter Bivin will not be the answer.
When Bars first went to the sideline, fifth-year offensive lineman Hunter Bivin stepped in at right guard, as would be expected. Then Bivin committed two penalties within three plays to knock Notre Dame out of an ideal first-and-goal from the four-yard line. His day ended.
The Irish shifted sophomore Tommy Kraemer from his timeshare at right tackle, allowing freshman Robert Hainsey to take over those duties full-time.
This personnel development is worth remembering for two reasons: Obviously, if the ankle plagues Bars down the line, this will be the alignment deployed. Beyond that, it speaks to Hainsey's rapid development. If he could not be counted on at right tackle, Kraemer would need to remain there. Bivin would then be the best option available at right guard, no matter how inconsistent he may be.
In the long-run, an argument can be made Kraemer's best future is at guard. Hainsey's emergence makes that more of a possibility, one that just might bring the beginnings of a consideration of a smile to Notre Dame offensive line coach Harry Hiestand's face.
Hey, look, that's Alizé Mack chipping away.
The junior tight end was targeted 10 times, catching six of them for 38 yards. Just more than three dozen yards and no scores may sound like another underwhelming stat line. That would be too simple of a reading, and an incorrect one.
Four of Mack's catches yielded first downs, including a fourth-and-one conversion and a third-and-two conversion. This is the consistent production expected of a tight end presenting the target Mack does.
Entering the weekend, he had caught six passes of fewer than 15 yards. Those receptions hold merit, much merit. At North Carolina, Mack matched that total.
Chunks of 32 or 33 yards may be preferable, but they cannot be counted on. Gains of seven, six and even three yards are the plays that keep drives moving down the field.
All good things must end.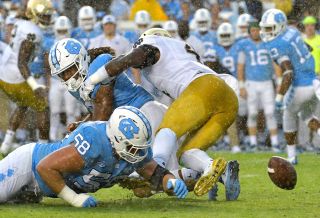 Two stats had become the preferred methods of illustrating just how different these Irish are from last year's version. Notre Dame had scored on all 22 trips to the red zone this season, and the Irish had scored touchdowns after 10 of 11 forced turnovers, the one exception coming less than a minute before halftime.
Both storylines became cluttered this weekend. A trip to the red zone resulted in one of Book's aforementioned interceptions. That stat line now stands at scores on 24 of 25 trips with 21 touchdowns. It remains hardly something to scoff at.
Of the three Tar Heels turnovers, only one resulted in any Notre Dame points, and that was just a field goal. Nonetheless, the Irish have now outscored their opponents off turnovers by a whopping margin of 73-10.
C.J. Holmes joins the running back fray.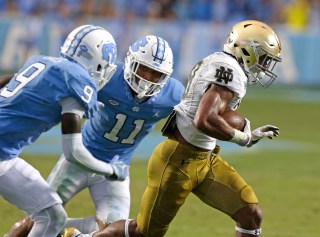 If sophomore running back Deon McIntosh continues to turn mop-up duty into a starring role — taking 12 carries for 124 yards and two touchdowns against the Tar Heels — then freshman C.J. Holmes will be stuck as the fifth running back on Notre Dame's depth chart. However, a week ago that designation would have been nominal only. Now, it is a sincere description.
Holmes took eight carries for 32 yards in his first collegiate action, also participating on at least three of the Irish kicking units.
With Adams, Williams and Jones all tending to battered ankles already, Holmes may be needed yet this year, fifth running back or not.
[protected-iframe id="4322d87b3e2eb4d11caa19723fa3b36c-15933026-22035394" info="//platform.twitter.com/widgets.js" class="twitter-follow-button"]