Editor's Note: Excuse the title change from the usual "Monday Morning Leftovers." It's bye week. These things happen.
Halfway through the season, Notre Dame has already exceeded its win total from all of a year ago. That may not mean as much when the preceding standard was four victories, but it is a sign of improvement, nonetheless. It is not the only one, either.
The Irish defense has already matched the 2016 total of 14 turnovers. The split in those takeaways varies a bit thus far, but the shift points to a more sustainable aggressiveness.
2016: eight interceptions, six fumbles recovered, eight fumbles forced.
2017 through six games: six interceptions, eight fumbles recovered, 10 fumbles forced.
Both interceptions and fumble recoveries can be dictated by the unpredictable bounce of an oblong ball. Being in the vicinity more often obviously helps those numbers, but it can still come down to chance. The increase in forced fumbles — and keep in mind, that increase has come in just half the number of games — indicates Notre Dame will continue to disrupt opposing offenses in the most effective manner possible.
"Our ability to give our offense additional possessions by takeaways, we've been starving in that area for a few years," Irish coach Brian Kelly said Sunday. "To see our defense really transform itself from a group that really never came up with those plays to one that is thriving in that regard, that's probably the biggest transformation."
Continuing with some increased defensive marks of note, Notre Dame has 13 sacks through six games, led by junior defensive tackle Jerry Tillery's three. 2016's total? All of 14.
Including those sacks, the Irish have made 35 tackles for loss this season, led by senior linebackers Drue Tranquill and Nyles Morgan with 4.5 apiece. Notre Dame did not register its 35th tackle for loss until its eighth game in 2016, amassing 61 total.
If removing that eighth game — a victory over Miami with 12 tackles for loss — the Irish brought down the ballcarrier behind the line of scrimmage only 49 times in 11 games. Again, this year's defense is well ahead of that pace.
The offense has already outperformed its predecessor, as well.
The most obvious difference between Notre Dame in 2017 and its dismal 2016 is the emphasis on the running game. That change has been most felt, intentionally so, in the red zone.
"We've got really good players that we want to feature, and [it is a] commitment that I made to change the focus of the offense toward a much more physical approach to running the football," Kelly said following the 52-17 topping of Miami (OH). "We've got really good players. So making sure that we utilized out strengths, and our strengths are we've got two guys on the left side that are going to playing on Sundays as well as a very good center, right guard, and our right tackles are coming along, as well.
"… Maybe I just woke up one morning, hit my head and came to my sense and said, let's go to our strengths and run the football."
In 12 games last year, the Irish rushed for 18 touchdowns.
Through six games this year, Notre Dame has rushed for 23 touchdowns.
That is playing to your strengths, indeed.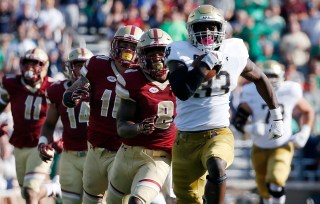 Six of those ground scores have come from more than 30 yards away. The Irish have 16 total rushes of at least that length, as well as seven passes. Last year, only 25 plays in 12 games exceeded 30 yards, seven rushes and 18 passes.
That is not to say the receivers have not been routinely involved in the big plays this year. Kelly has given them distinct credit for some of the longer runs.
"The physicality does not stop at the offensive line," he said earlier in October. "The physicality is all over the field. We've got guys at the wide receiver and tight end position that are sustaining blocks and are playing really physical all the way down the field. That says a lot about their commitment to what we're doing.
"At times, you can get frustrated that you're not getting the ball but these guys are really doing a great job."
Junior running back Josh Adams has eight of those 30-plus yard carries as well as one reception in that category. Junior quarterback Brandon Wimbush has four such rushes, and junior receiver Equanimeous St. Brown has three receptions qualifying.
RELATED READING: Friday at 4: A 2014 win over Stanford helped create Notre Dame's current offense
Another factor has changed from preseason expectations: The Irish schedule.
Notre Dame's 2017 was always going to be split into two halves. The first would feature the unknown in a Georgia team with unproven potential, but otherwise be devoid of challenge. The second half would showcase two Pac-12 national title contenders.
Well, Stanford is out of the title race and USC cannot afford another loss if it wants to remain in it. Georgia, however, is in the thick of it, and Michigan State displayed some validity Saturday by upsetting Michigan on the road.
The emphasis here should echo Kelly's sentiments from Sunday: The back half of this schedule is loaded, with five of the six opponents currently ranked. Of those five, though, the ACC duo may present more of a challenge than the Pac-12 pair. Few would have seen that coming before the season.
Do not be surprised at all if North Carolina State beats the Irish a week after Notre Dame outdoes the Trojans. If that occurs, do not mark it up as a "letdown" or a "trap game." No. The Wolfpack just might be that good, and USC might be a step below.
Such is the flip that can occur in just six weeks.
With that in mind, a reminder: The polls are meaningless.
The first College Football Playoff committee ranking comes out Tuesday, Oct. 31, at 7 p.m. ET on ESPN. Until then, every top-25 poll mentioned is done so only to provide conversational fodder and offer some delineation between the contenders and the rest of the country.
The polls have no meaning, no consequence, no effect. They do not influence the committee, they do not change coaches' game plans, they do not alter broadcast times.
Frankly, there is no reason to think North Carolina State is not better than the Trojans, even though the Associated Press ranks USC at No. 13 and the Wolfpack at No. 20. The beauty of college football is the Irish will provide a pertinent comparison point between the two teams by the end of the month.
Maybe Will Fuller was the secret ingredient to 2015's success.
Fuller left Notre Dame for the NFL after his junior season, depriving quarterback DeShone Kizer of his preferred target in 2016. In only his second game of this season, Fuller caught two passes for 57 yards and two touchdowns last night in a loss to the Kansas City Chiefs. The Houston Texans receiver now has four touchdowns this season. To reiterate, Fuller has played two games this year.
Kizer, meanwhile, was pulled after his second turnover as the Cleveland Browns lost to the New York Jets yesterday.
Got questions? It's bye week. Let's try to answer them.
Later this week, this space intends to run a mailbag. If you have any questions for it, drop them into the comments below. They do not need to be litigated there — and they just might "disappear" if they are — but good ones will be noted and hopefully answered by week's end.
[protected-iframe id="4322d87b3e2eb4d11caa19723fa3b36c-15933026-22035394" info="//platform.twitter.com/widgets.js" class="twitter-follow-button"]